It was derby day in Ohio and boy was it bitter sweet. Columbus Crew SC hosted rivals Chicago Fire in their last meeting of the regular season. The outcome of the match went very well for the home team, as they defeated their Bridgeview counterparts by a score of 3-1.
Columbus Douse The Fire 3-1
In just the fifth minute of play, the Crew almost snagged the lead when Artur headed home a deflected ball, but it went wide of the net and Fire keeper Matt Lampson. Seven minutes later, they almost struck again, but couldn't find the back of the net.
Chicago eventually tought Columbus how to score when midfielder Michael de Leeuw headed home a cross into the back of the net in the 13th minute.
Manneh Equalizer
Five minutes later, after the Fire goal, winger Kekuta Manneh pounced on a loose ball in front of goal and chip Lampson to tie the game 1-1 in the 18th minute. Manneh tried to get his second of the game when he was able to spot a wide open goal from midfield, but his attempt went over the cross bar and out for a goal kick.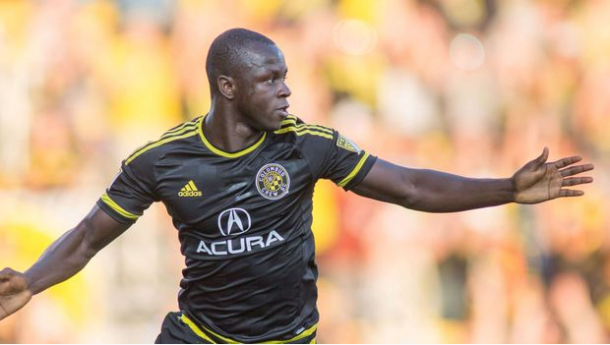 Crew SC bests Fire in second half
It took Columbus until the 73rd minute to double their lead. Midfielder Justin Meram one-touched the ball into the back of the net on a pass from Waylon Francis to score his tenth of the season, and Columbus' 1,000th goal in club history.
There were two more golden opportunities, but Columbus could not capitalize on either.
First, Kamara went in on goal and volleyed a ball to chip Lampson, but his try went out and on the roof of the net. Just seconds later, Meram was eyeing the goal and took a shot that went wide of the far post.
Kamara puts away the Fire
With three minutes remaining in the game, Kamara drew a penalty inside of the box. Matt Lampson took down the Norwegian striker, and cost Chicago the game. The play could've gone to the VAR to see if Lampson would be shown a red card, but referee Armando Villareal opted not to.
Kamara stepped up to take the penalty and converted after a small stutter step to give Columbus a 3-1 lead.
The scoreline would hold, and Columbus would grab a deserving three points at home. Chicago remains winless at MAPFRE Stadium.
Columbus Crew SC is back on the road next week as they travel to take on Orlando City SC (7:30 pm EST). Meanwhile, Chicago is also on the road as they travel north of the border to take on the Montreal Impact (7:30 pm EST | MLS Live, TSN) before heading back home to host Toronto FC (8:00 pm EST | MLS Live, TSN).