Toronto FC is a very good team. Top of the East, leading the Supporters; Shield race, and with seemingly nothing to stop them from maintaining both of those statuses, it was always going to be a tough job for the Portland Timbers to go to BMO Field and get any kind of result. I'm not necessarily surprised the Timbers lost in Toronto. I am, however, surprised (and disgusted, and annoyed) at the manner in which they lost, a 4-1 capitulation in which nobody in green - players or coaches - really emerges with any credit at all.
The Good
45 minutes. The first half started out so promisingly. The Timbers ran out their 14th different back four in 25 games, but this back four was reasonably strong, missing only Liam Ridgewell from what would be considered the optimal back four at this point in time. Lawrence Olum slotted in for Ridgewell, but otherwise, Alvas Powell, Larrys Mabiala, and Vytas are as close to a first choice defense as Portland has.
And for the entire first half, that defense not only held but didn't appear to be working too hard to do so. Toronto's best chance came from a dangerously placed Sebastian Giovinco free kick that Jake Gleeson pushed away, in his last significant action before going off with an injured hamstring; otherwise, the Timbers dealt with Toronto's multiple threats pretty well, closing off Michael Bradley and even creating a few chances of their own, chances that, frustratingly, they didn't convert. This would turn out to be deadly, because...
The Bad
45 more minutes. ...because then, the second half arrived. Toronto seemed to be more focused, and Portland kept up with them and carried on as they had in the first half, until Alvas Powell Alvas Powelled it up, doing...something that I can't identify instead of controlling a ball that Giovinco lofted into the area, that then fell really nicely for Justin Morrow to smash home and give Toronto the lead, which had the effect of opening the floodgates. And wow, did they open wide.
Alvas Powell. He was directly culpable for that first goal, he took a half-swipe at the pass that led to Giovinco's assist for the second goal, he took another half-swipe - while being out of position - at the ball leading to the third goal, and while he had absolutely nothing to do with the fourth goal, I'm going to blame him for it anyway because it feels like it was his fault just because.
Alvas Powell is not good enough to be a starting MLS defender. And yet he is the Timbers defender with the most starts this season - he's Porter's starting right back. Thing is, though, I don't blame Powell for being bad; I blame Caleb Porter for both continuing to start Powell and for failing to recognize last winter that he's clearly not good enough and failing to even try to upgrade.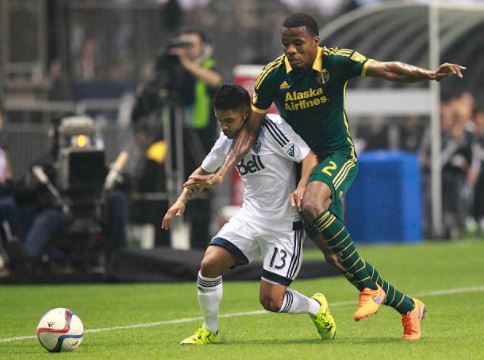 The Ugly
Reactions. Here we are, back talking about intangibles, my least favorite thing to talk about. And yet, they're a problem again. After a goal, you as a player and you as a team have two choices: You can hang your head, kick at the ground, and wish you were somewhere else because this sucks and you hate everything, or you can suck it up, fight back, and try to right the ship.
Guess which one the Timbers chose on Saturday? The same one they chose against Real Salt Lake in early July. The same one they chose in Montreal and in San Jose in May. They chose to fold. The Timbers have lost four games this season by three goals, which if you're a team with league winning aspirations is really not good enough.
I'm not sure where best to apportion blame here, either. Should Caleb Porter shoulder the blame for not getting his team in the right frame of mind to deal with adversity? That's a coach's job, after all, to coach guys through these things. Should Caleb and Gavin Wilkinson get an outsized share of the blame, for recruiting players that crumble under pressure? Or should all the blame go to the players, who fell apart like a wet paper bag at the first sign of trouble on Saturday?
That's the thing, though - there probably is enough blame to go around. There's no smoking gun, no right answer. But there are a lot of wrong ones, and that's what the Timbers seem to be finding the most of these days. If that tendency doesn't get fixed, this team has some serious work to do this off season. And if that tendency doesn't get fixed, I have very little confidence that work will pay off.