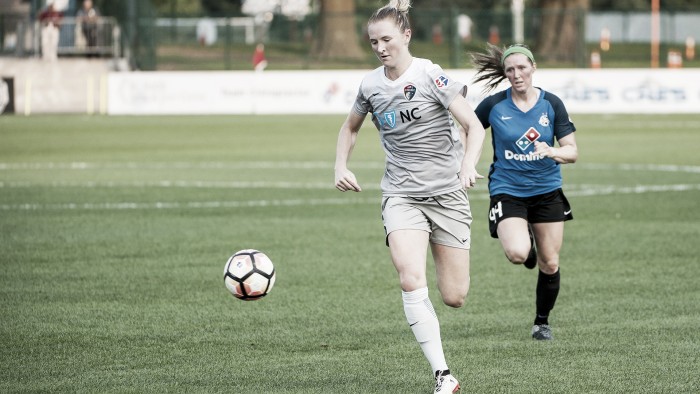 Samantha Mewis was named the NWSL Player of the Week for Week 16 after a sterling performance against Seattle Reign FC this past weekend. Mewis helped her team, the North Carolina Courage, end a long unbeaten streak for Seattle at home and push the Courage four points clear at the top of the National Women's Soccer League standings.
Two goals from Mewis down the Reign
The first of Mewis' goals in the 2-1 win over Seattle came in the 24th minute of the match. Mewis started off the move that resulted in a goal by finding Jaelene Hinkle out wide as the Courage moved forward. Hinkle then passed to Jess McDonald who broke into the box and passed the ball to an unmarked Lynn Williams. Williams unselfishly laid the ball off for Mewis who thumped the ball into the net from the top of the penalty area.
Mewis then got the game-winner in the 74th minute after Seattle had found a way back into the match. Mewis won the first header from a long throw-in and when the Reign failed to clear the ball, Mewis pounced on the rebound and finished from close range.
Mewis' strong midfield play has the Courage close to a playoff spot
Samantha Mewis has carried on from her great season last year and played every single minute of this NWSL season. Along the way, she has picked up four goals and four assists as the Courage look to not only book their place in the playoffs but also finish as the 2017 NWSL Shield winners. Her play has kept her in the starting lineup of the United States Women's National Team and was one of the players to come out of the recent 2017 Tournament of Nations with favorable performances.
If she continued on in this vein, the NC Courage will feel that they can be the first team to win both the NWSL Shield and the NWSL Championship in the league's history. Her performance last weekend made her the first Courage player to win the Player of the Week award this season and she will certainly remain in the spotlight as the season reaches its climax over the next few weeks.
The NWSL Player of the Week is selected each week of the regular season by the NWSL Media Association, a collection of writers that cover the league on a consistent basis.