 NOTE: This was written before, and is not intended as a reaction to, Friday night's win over the Red Bulls.
The Timbers have had a very up and down MLS existence. In 2011, their first MLS season, they barely missed the playoffs, which for an expansion team at the time wasn't a bad showing, and everyone thought 2012 would see the Timbers push on and establish themselves as regular postseason participants.
Instead, 2012 was a dire year for the Timbers, easily their worst in MLS in terms of results, to the point where the team felt it necessary to apologize to supporters at the end of the last game of the season. That season also saw Caleb Porter hired as coach - John Spencer, hired as coach in 2010, was fired in July 2012 after a terrible start to the season, following a humiliating three goal loss to Real Salt Lake.
General manager Gavin Wilkinson coached the team for the remainder of 2012, and University of Akron coach Caleb Porter was announced as the new coach at the end of August, his hiring to take effect during the 2012-2013 offseason.
Porter was widely hailed as an excellent hire, and his work paid off quickly - Portland won the Western Conference in 2013 and finished two points off the Supporters' Shield, and again, Timbers fans were primed for 2014 to be a season that picked up right where 2013 left off.
It didn't happen that way; the Timbers missed the playoffs that year as well. 2015, of course, was a much better year - it ended with the Timbers lifting the MLS Cup. Was 2016 going to be a continuation of that excellence? If you've read this far, you know the answer, because it fits the theme.
But as we know, for every up, there's a down, and for every left, there's a right. Pick whatever metaphor you care to use - the Timbers became only the second team in the 20 year history of MLS to win MLS Cup one year and miss the playoffs the next. It was small comfort that Cup final opponent Columbus also missed the playoffs and were markedly worse than Portland; the Timbers' title defense was supposed to be so much better than it turned out to be.
So far, 2017 is basically 2016 on repeat - the Timbers get in their own way too much, stumble when they should be sprinting, and as of this writing are in no way a lock to make the playoffs this year. This raises the question of Caleb Porter's job stability, and more specifically, the question of how far do the Timbers have to fall in order for that stability to be called into question?
Like everything else in life, that question does not have a simple, binary answer set; the answer to "how safe should Caleb Porter's job be" depends on the answers to a bunch of other questions. Today, we'll look at two areas of Caleb Porter's influence, and tomorrow, we'll take a look at a couple more.
Talent acquisition
This is the most obvious statement I could make, I know, but teams depend on their players in order to win games (this is why I make the big bucks, folks). It isn't really known how much autonomy Caleb Porter has in selecting players, whether it's solely his job or whether that job is shared between himself and Wilkinson, but after five years in the job, I think it's fair to say that Porter has a significantly greater than 0% say in the players that the team brings in.
Which makes it fair to look at those players and evaluate whether they're good enough, and by extension whether Porter is a success at evaluating talent. That exercise for every single player would be tedious, labor intensive, and long, so instead, I'm going to bump up a level and look at player types, because five years of roster moves is a pretty decent sample size from which we can draw some broader conclusions.
One small thing: I'm excluding the draft from this analysis, as the MLS draft is a really, really bad distributor of talent, and I don't think it's right to judge a manager or GM on the quality of their drafts.
With that in mind, "Porter's guys" tend to be one of three types of player:
The Zips. Guys he coached in Akron, or who came through the Akron system. The most visible example of Portland's Zippiness is Darlington Nagbe, of course, but he's not a Porter acquisition - the Timbers drafted him in 2011. Ben Zemanski and Darren Mattocks, still with the team, and ex-Timbers Michael Nanchoff and (very briefly) Steve Zakuani are all Akron guys that Porter brought in, presumably because he knew their talents and thought they would mesh with the Timbers pretty well.
The problem is, Zemanski and Nanchoff aren't that good; Ben Zemanski, bafflingly, continues to get meaningful minutes for the Timbers despite not really bringing much to the table apart from an occasional ability to defend. Of all the Porter Zips, the inconsistent Mattocks is probably the best, which is not exactly a resounding endorsement of this class of player at the MLS level.
The Argentines. This is where Caleb's squad selection really, truly shines. Diego Valeri, Maxi Urruti, and Norberto Paparatto were all fantastic additions to the squad, and while Gaston Fernandez and Lucas Melano didn't work out, the superstar quality of the first two and the reliability and occasional awesomeness of Paparatto, who left because Fanendo Adi and Melano were ahead of him on the depth chart, really does validate the Argentinian approach.
The workhorses. Every soccer team has them, every soccer team needs them. These are the guys who aren't flashy but who get the job done, and they're often the guys whose names you can't quite remember without prodding but you know their work really well. Guys like Ryan Johnson, Michael Harrington, and Eric Alexander (and more recently, Zarek Valentin and Jack Barmby) are what make an MLS team work, and for the most part, Porter gets these largely interchangeable parts right, or at least he doesn't get them wrong enough for it to be an issue.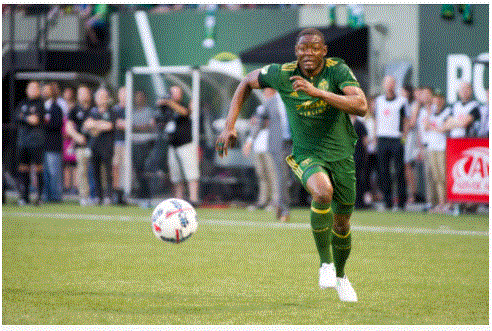 Tactics/Philosophy
This is where we can start getting a little more specific. I will be the first person to tell you I'm not a very sophisticated tactical analyst, and I won't try to be one here. I'm not going to break down individual games and try to find examples of specific situations where Porter's tactics have failed - if you dig deep enough into any coach, you'll find plenty of individual-game failures. That's how the game works.
But you can still take a look from 5,000 feet and see some shapes and patterns, and those can be easily talked about. When Porter first started, there was a lot of talk about him playing "Porterball", which, first of all, wasn't ever a thing, and second of all, didn't really describe all that much.
What people meant when they said "Porterball" was that he wanted to, and for a lot of 2013 did, play a style that, somewhat paradoxically, called for a ton of possession AND for the Timbers to be quick and direct on counterattacks.
And in 2013, that worked like a charm, because teams weren't expecting it. MLS was at the time, and still sort of is, a league that values physicality over technical skill, and the Timbers were able to exploit that on a weekly basis because Porter quickly drilled them into a pretty disciplined attacking side who could take care of the ball.
That Timbers team reeled off a streak of 15 games unbeaten from mid-March to late June, and that streak carried them to the playoffs, where they lost to Real Salt Lake in the conference finals.
Problem was, other teams were watching. In 2014, the book on the Timbers was simple: disrupt their flow, get up in their faces, rattle their cage a bit, and you'll throw them off their game and can beat them. And that's what happened - the Timbers took a pretty big step back that year, largely because Porter didn't really have a Plan B to give to his players when their Plan A failed.
In 2014, in an attempt to find that Plan B, Porter started looking outside his "typical" type of player - fast, direct, technical - and went after a striker with a more traditional style, signing Fanendo Adi on loan for three months and then making the loan permanent two months into that period.
Adi changed up the Timbers quite a bit - he's very much a back-to-goal player, which is in no way a bad thing (as evidenced by the fact he's the Timbers' all time leading scorer), but it does necessitate a different style of play than Porter may have employed in 2013.
And while I'm not suggesting that Adi is the problem - or even that Adi is a problem, because he's absolutely not - it's more that the presence of Adi has necessitated a switch away from that faster, possession based attack to one that funnels the ball to Adi as much as possible, all while maintaining, or trying to maintain, that quickness and pace.
What that means is that the Timbers, at their best, currently play an odd hybrid of really exciting, quick pass-and-move stuff over 2/3 of the pitch, and then, in the final third, they look for that cross into Adi instead of continuing the passing-and-moving play to get better shots closer to goal. That switch in style leaves the Timbers open to giving the ball away and having to scramble back to defend a counter.
It's not that that approach can't work - just look at 2015 for an example of how well it can. It's just that to make it work, your supporting cast has to be really, really aware of where the ball is at all times, because that switch from fluid movement to "hey let's see if we can get the ball to Adi" is a very risky phase of attack, and if Timber midfielders aren't looking, it's easy to take the ball off them, and then all of a sudden the Timbers are on the back heel, defending a counter.
I'm not sure how to weight this in the overall "should Porter keep his job" discussion, honestly; Adi is a huge asset to the team, and penalizing Porter for realizing that and doing what he can to maximize utilization of that asset would be dumb. If there's a criticism to be leveled at all here, it's that Porter hasn't really solved the "who else can consistently score" problem if Adi and Diego Valeri aren't scoring, but that's kind of a luxury problem when you have those two leading your scoring charts.
In part two, we'll take a dive into some of the intangibles, and attempt to reach some sort of conclusion.