 D.C. United hit the road once again as they travel across the country to Colorado to face the Colorado Rapids.
It is a contest between two of the three worst teams in the MLS, but both sides will try to salvage their season with a win. Even if they don't pull off a miraculous playoff run, it is critical for the two teams to try and set a good path for next season.
After losing to Real Salt Lake due to a defensive error from Marcelo Sarvas, the Black and Red are looking to snap an eight game winless streak (nine in all competitions). Their last win came on June 21st when they defeated Atlanta United FC 2-1.
Colorado, on the other hand, has drawn three out of their last four games, two of them being against Toronto FC and FC Dallas. A draw against D.C. wouldn't be ideal, but their push for the playoffs is a little more in reach than their opponent's chances.
A rejuvenated D.C. looks to perform
A busy transfer window saw D.C. transform the setting around the team. Despite being in last place, the fans are filled with hope. That's what happens when the owners finally decide to use their wallets, answering the fans' calls for quite some time.
Unfortunately for United fans, they will have to wait on one of their signings. Zoltan Stieber has not been granted his visa quite yet and has returned to Europe to sort that out, meaning he is not eligible to play this Saturday. They will, however, still be able to see the main man Paul Arriola and potentially Bruno Miranda and Russell Canouse. Miranda was brought on against Real Salt Lake and impressed with the time he had, showing fans his potential.
The Colorado Rapids have also gone through a revamp of their own. They announced the firing of head coach Pablo Mastroeni and will be led by Steve Cooke for the time being.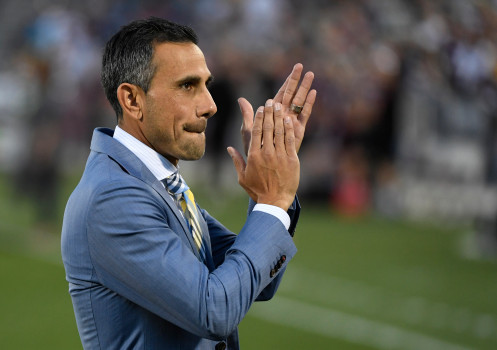 Rapids new man Luis Gil might also feature this match, but his adjustment to higher altitude might keep him on the bench for now.
Keys to win
In their loss to Real Salt Lake, D.C. showed one thing: They can control the game and play well, but still manage to lose. Colorado just needs to take advantage of one opportunity given. Luis Silva of RSL was gifted a chance when Marcelo Sarvas committed a huge error on his clearance and gave RSL the goal needed to win. If Colorado maintains their ground on the defensive side, they should at least grab one point from this contest.
The visiting Black and Red have struggled, but they have also made quite a few additions to the team that will surely help them. If United keeps controlling the games, the goals will come. Expect Paul Arriola to continue to be the spark in D.C. attacks, but also keep an eye out for Bruno Miranda. His debut for United impressed many and he will look to continue.
Injury Report
Colorado Rapids: Out – Bobby Burling (foot), Zac MacMath (meniscus), Axel Sjoberg (undisclosed)
D.C. United: Out – Deshorn Brown (concussion), Ian Harkes (ankle), Patrick Nyarko (concussion, eye), Rob Vincent (meniscus)
Match Information
Date: Saturday, August 19
Kick-off: 9:00 PM EST
Location: Dick's Sporting Goods Park (Commerce City, Colorado)
Referee: Alex Chilowicz (USA)
Watch: D.C.: NewsChannel 8