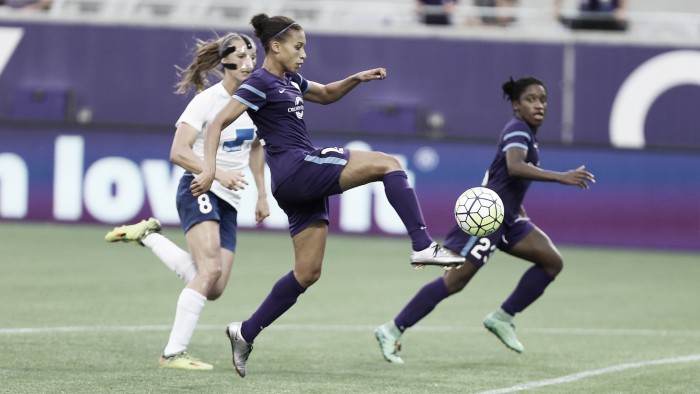 Thanks for joining me today and I hope to see you all next time. This is Kudzi Musarurwa once again, signing off.
Boston Breakers 1, Orlando Pride 2.
Full-time: And that was the last kick of the game. Amanda DaCosta leaves the game with a goal to her name but Orlando are the winners on the day.
Boston Breakers 1 - 2 Orlando Pride
Harris guesses the right way but DaCosta packs a lot of power into her penalty and it goes flying by Harris.
90+7' GOAL! DaCosta steps up to take it....and scores!
Well, well, well. There is some drama very late in this game. Fields come sin late on Leon inside the box and the referee doesn't hesitate to point to the spot. Leon is still in some discomfort and has not moved since the tackle that led to the penalty.
90+5 PENALTY TO BOSTON!
90+5' YELLOW CARD: Julie King gets a yellow for a foul on Fields at midfield.
90+2' Matt Beard is unimpressed with the stalling tactics by Orlando but Boston eventually get ball and throw the ball in to resume play.
89' The ball bounces around in the box and Catley has to kick the ball away with no direction to stop any Boston player from getting to it inside her own area.
88' Purce tries to pick out Dowie and White in the box but Ali Kreiger gets a head to it and concedes the corner.
86' Orlando are in complete control now and dominating possession, which they can afford to do with a 2-0 lead at this point in the game.
83' SUBSTITUTION: New Hampshire native Rachel Hill comes in for Marta.
80' Boston make in roads into the Orlando box and Leon goes for goal but it goes over the crossbar.
75' SUBSTITUTION: Amanda DaCosta is set to come in for Andrews and her last appearance as a professional soccer player.
75' Orlando try to get their third quickly as Morgan plays a ball towards Marta but it gets cut out and then Morgan herself is fouled for another Orlando free kick. Morgan receives treatment on her thumb and has to tape it up.
73' SUBSTITUTION: Spencer must have picked up an injury during all of that action as she is replaced by Jamia Fields.
Boston Breakers 0 - 2 Orlando Pride
Boston are still reeling from whatever that discussion was about and are not prepared when Orlando take their set piece. The ball is lobbed towards Morgan who brings it down well and chips the ball over Smith to get her second of the day.
73' GOAL! Morgan gets a brace!
72' There seems to be all kinds of discussion going on here before the free kick. Smith has come a long way out of her goal to talk to the referee and we're not sure why.
72' SUBSTITUTION: Natasha Dowie comes in for Stengel.
71' YELLOW CARD: Morgan Andrews is the next in the referee's book after kicking the ball away when the whistle blew for an Orlando free kick.
71' Boston are having trouble getting out of their own third here as Orlando take shot after shot. Eventually, Orlando win the free kick in midfield due to a handball and the pressure stays on Boston.
69' CHANCE! Marta will be kicking herself for this! Spencer uses her pace to get into the box and lays it off to Marta who has the goal at her mercy. The Brazilian takes too long to get her shot off and Frisbie gets back to make the block.
68' Boston try to create something with a ball out wide to Purce but her cross is blocked and Orlando is able to remove the danger.
66' SUBSTITUTION: Jasmyne Spencer replaces Ubogagu.
64' SUBSTITUTION: Adriana Leon comes in for Chapman as the Breakers' first change of the game.
62' Boston win another corner but it's an easy one for Harris to catch and keep.
58' Morgan Andrews puts the ball in and after a few messy touches, Orlando wins the free kick for a foul on Kennedy in the area.
58' YELLOW CARD: Boston get the ball back in transition and Catley fouls Onumonu to prevent her from getting into the box.
56' Frisbie lofts in a lovely cross that is just too high for Stengel but it comes off of Mônica and Boston get a corner kick, their first of this half. The corner is cleared away and falls to Frisbie but her effort goes well wide.
55' Orlando send some balls into the box but each time, those crosses can;t find a teammate. Boston regain possession through a goal kick.
52' YELLOW CARD: Stengel gets the second yellow of the game because of that foul.
51' Orlando win another corner on the other side which Marta takes and Smith has to be sharp to tip the ball over her crossbar for the third Orlando corner in a row. The Breakers clear it but Stengel fouls Marta right on the edge of the penalty area.
51' Camila sends in the set piece and Smith gets a strong punch to the ball that goes out for a throw-in on the other side.
50' Purce brings down Morgan and Orlando get the free kick. The ball goes towards Morgan and Salem has to get across quickly to stop Morgan from going for goal.
46' Katie Stengel gets things started in the second half for us.
Boston Breakers 0 - 1 Orlando Pride
Half-time: Orlando lead but Boston could have easily squared this up if they had taken their chances.
44' Another corner comes in from Marta and it's met by Kennedy who sends it over the bar under no pressure. She should have down much better with that.
43' CHANCE! Boston give Camila space to shoot from the top of the box and Smith has to get down quickly to her right to keep the ball out. Everyone knows how accurate Camila is from outside the box yet Boston continue to give her space to take her shots.
39' CHANCE! Orlando find space on the break again as Kennedy leads the charge. She finds Marta out wide who swings the Ball towards Morgan at the near post but the No. 13 can't redirect her header on target.
37' Marta tries to beat the high line that Boston is holding but so far, the Breakers' backline are holding their line well.
35' Marta brings the ball forward as Orlando counter off a Boston free kick but Megan Oyster? gets a vital touch on Marta's pass that slows down the break and allows Boston's defenders to get back and recover the ball.
32' CHANCE! How did Boston not equalize there? Margaret Purce gets to the byline after Boston get forward really well and both Onumonu and White miss an obvious tap in right in front of the goal! It really should be 1-1 now.
31' White is okay to continue and rejoins the action.
29' Chapman comes forward and tries to find Stengel but her pass is cut out. Harris comes for the ball and collides with White who remains on the ground after the whistle blows for an Orlando free kick.
28' CHANCE! Morgan goes for goal again after Catley plays the ball to her in the box and again Smith is equal to the task.
26' CHANCE! Angela Salem takes a shot on goal but it's blocked by Weatherholt. Orlando break quickly with Camila and she plays Morgan through. Morgan goes for goal but Smith parries the ball away.
25' Frisbie makes a great run moving into the middle of the field but she takes one touch too many and Alanna Kennedy thumps the ball out to touch.
24' YELLOW CARD: Kennedy gets the first card of the game after halting Rosie White's run on the break.
21' CHANCE! The ball comes in from a Boston corner and Harris gets the ball but mishandles it and it falls out of her hands. Kennedy is on hand to clear the ball before it crosses the line and play is stopped as the referee whistles for a foul in the box. A little nervy handling by Harris there.
18' That goal by Orlando has taken some of the wind out of Boston's sails after the home side had started well.
15' Steph Catley gets forward and sends in the cross towards Ubogagu who can't control the ball and it goes out for a goal kick.
13' CHANCE! The initial corner is cleared but the ball comes out to Camila again. She cuts inside to her dangerous right foot and Abby Smith gets down quickly to smother the ball.
13' Ubogagu gets forward and tries to cross the ball but wins another Orlando corner instead.
Boston Breakers 0 - 1 Orlando Pride
Boston will debate that call for a long time as it leads to them conceding. Marta sends the ball in and the Breakers don't defend it well. Camila loops the ball back into the mix and Morgan gets to the ball after a missed header from a Boston defender. She finishes smartly from six yards out and Orlando are ahead.
8' GOAL! Morgan opens the scoring!
8' Alanna Kennedy tries to pick out Marta at the far post and Frisbie seemingly knocks the ball off Marta and out for a goal kick but the referee signals a corner.
7' Boston are doing very well pressurizing Orlando in their half but they just haven't found that final pass yet. Ubogagu wins a free kick which releases the pressure on the Orlando defense.
4' CHANCE! Onumonu wins the free-kick and ends up being on the end of that set piece from Amanda Frisbie but Ashlyn Harris makes a great save to stop Boston from taking the lead early on. The resulting corner is cleared away by Orlando. Big save by the goalkeeper.
3' A loose ball by Morgan in midfield allows to Katie Stengel to pick up the ball in a dangerous area for Orlando but her pass out wide to Ifeoma Onumonu is just too far wide.
2' Chioma Ubogagu tries to play Alex Morgan in but the US international is called back for being in an offside position.
1' Orlando start us off!
The teams are walking out onto the field now and kick-off is just a few minutes away here.
Orlando Pride notes: The Pride keep an unchanged starting lineup after their dominant performance last weekend as they look to extend their good form today by picking up a win in Boston.
Boston Breakers notes: Adriana Leon and Natasha Dowie drop to the bench while Allysha Chapman and Katie Stengel get the nod to start after the Breakers midweek loss. Margaret Purce is also fit to start today after picking up a small knock during the midweek game.
Orlando Pride Starting XI (4-2-3-1-): Harris; Edmonds, Mônica, Kreiger, Catley; Weatherholt, Kennedy; Marta, Camila, Ubogagu; Morgan.
Boston Breakers Starting XI (4-3-3): Smith; Purce, Oyster, King, Chapman; Andrews, Salem, White; Frisbie, Stengel, Onumonu.
Hello once again to Week 18 in the National Women's Soccer League. VAVEL USA is happy to give you the LIVE update of the match between the Boston Breakers and the Orlando Pride. Starting lineups are as follows:
Boston Breakers 0, Orlando Pride 2.
Prediction: It will take an almighty effort for Boston to not only recover from their midweek game enough to trouble Orlando but to also put together a solid enough team to keep both Morgan and Marta off the score sheet. I can't see this game ending in anything other than an Orlando Pride win as Boston just do not have enough healthy players to stop Orlando.
Projected Lineup for Orlando Pride: Harris; Edmonds, Monica, Krieger, Catley; Weatherholt, Kennedy, Camila; Ubogagu, Morgan, Marta.
Projected Lineup for Boston Breakers: Smith; Purce, Oyster, King, Frisbie; DaCosta, Salem, White; Leon, Dowie, Onumonu.
Match officials assigned for this game are as follows; Gustavo Solorio will be the center official, Gjovalin Bori and Ian McKay will be the assistant referees and Thomas Snyder will be the fourth official.
The match will be played at Jordan Field in Boston, Massachusetts on August 19th, 2017. The game will kick off at 4:00 PM EST and will be broadcast on go90 and nwslsoccer.com.
Even though they have kept two clean sheets in their last two games, Orlando have been porous at the back which is surprising given the players in their backline. The Pride have conceded 24 goals so far this season even when goalkeeper Ashlyn Harris was available and it will be something that head coach Tom Sermanni will hope to correct as the season reaches it's apex. Sermanni will look to Steph Catley and Ali Krieger to better their performances and keep the likes of Natasha Dowie and Rosie White quiet on Saturday afternoon when they kick off against Boston.
The visitors this weekend are the Orlando Pride who, after some inconsistencies, have seemingly found their groove now and are looking to book their place in the NWSL Playoffs for the first time in their history. The Pride have won three of their last five games which include some impressive performances against Sky Blue FC and FC Kansas City. The return to full fitness of Alex Morgan has given the Pride a more clinical edge in front of goal and has given Marta a partner in attack to play off of. Supporting those two forwards has been Camila who has been magnificent for Orlando in her midfield role. The three above-mentioned players are now in great rhythm with each other and it's helped Orlando's push up the standings to where they are now. With only one point separating them from being in fourth, the Pride will look to take advantage of an out-of-sync Breakers side and put pressure on Seattle Reign FC who sit right above them in the table.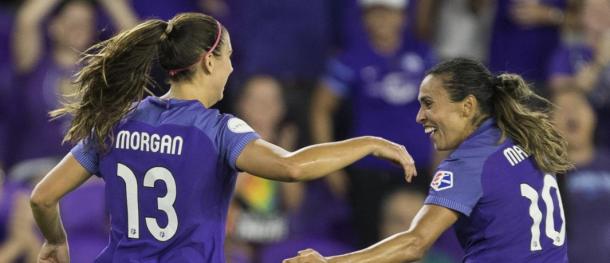 What seems to be still a bright spark for the Breakers is the performance of goalkeeper Abby Smith. The second year player has kept Boston within touching distance for most of their games and even though she has conceded many goals, she has kept Boston's goal difference as low as she possibly could for the most part. Smith has had a makeshift backline and midfield in front of her for most of the season but that has not stopped her from being at her very best and it's earned her call ups to the United States Women's National Team recently.
The Breakers are coming off a 3-1 loss to the Houston Dash and are in dire straights at the moment. After what looked like a great start to the season, injuries have taken a toll on the Breakers and it's caused them to tumble down the standings to joint bottom of the table. Missing in action for Boston right now is Rose Lavelle, Brooke Elby and Christen Westphal and they could be joined by Margaret Purce on the injury table this weekend if Purce does not recover quickly enough to line up against Orlando this weekend. The depleted roster makes things difficult for head coach Matt Beard to still field a competitive team which can truly show how he wants his team to play. Until he has full roster again, Beard will have to make do with what he has and try and finish this season on a high.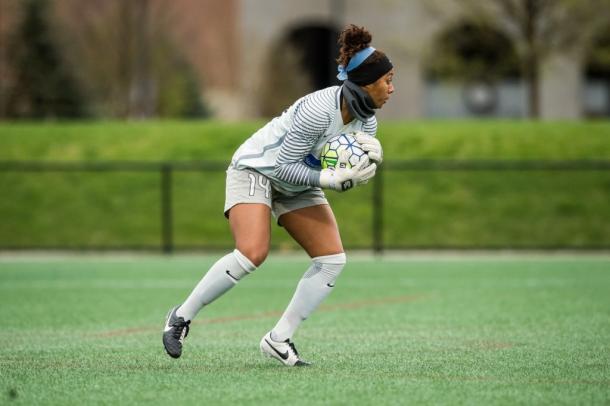 The Boston Breakers and the Orlando Pride have already met once before this season in Orlando, where the home side on the day, the Orlando Pride, ran out as 2-0 winners. This could be a repeat scoreline this weekend as the Breakers are coming off a tough midweek game while the Pride won their last two games in some style.
Hello one and all and welcome to this weekend's National Women's Soccer League match up between the Boston Breakers and the Orlando Pride. I'm your host, Kudzi Musarurwa, and I will be keeping you updated with all the action from this game in Massachusetts.