The Seattle Reign FC (7-5-6, 4th place), coming off a comeback victory against Chicago on Wednesday, stay on the road to take on Sky Blue FC (7-9-2, 6th place), a team looking to bounce back from a 5-0 loss to the Orlando Pride last Saturday. This is the third and final meeting of the 2017 NWSL season between the two clubs. On opening weekend back in April, Sky Blue FC and Seattle tied 1-1. Then, on July 22nd, in a match where 9 goals were scored in a single game, an NWSL record, Seattle escaped with the 5-4 victory, after Sky Blue leveled the Reign's 4-0 lead.
Seattle holds the edge over the New Jersey side with an all-time record of 4-3-5 against Sky Blue FC. In New Jersey, the Reign are 2-1-2 against Sky Blue. Games between these two teams tend to become goal-fests. Seattle has scored 17 goals and allowed 15 against the Sky Blue.

With only a month and a half left of the regular, this matchup is vital to both teams playoffs aspirations. Seattle reclaimed the number four spot after defeating the Red Stars and can stay within the top four bubble with a win. Sky Blue FC, despite its 4-game winless streak, is only 4 points away from 4th place. A win is a must if they hope to stay in contention. The matchup is scheduled for 7 PM EST and can be streamed via go90 APP, go90.COM, and NWSLSOCCER.COM.
Sky Blue FC Storylines
After an early summer of comeback victories and Sam Kerr growing in notoriety with a hat-trick, along with becoming the NWSL all-time leading scorer, Sky Blue FC had everyone wondering if they were the team to keep on their radar. However, the New Jersey team has begun to struggle. Sky Blue has suffered three consecutive losses, allowing 14 goals in those games with 11 of those in the second half.

Furthermore, this past week, head coach Christy Holly resigned. No official announcement has been made as to who would take over on an interim basis, but the club hinted that its assistant coaches (Paul Greig, Jill Loyden, David Hodgson, and Maria Dorris) would share the responsibility.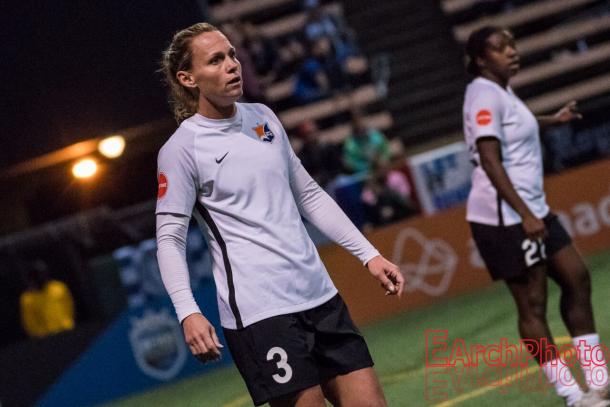 Injuries have also plagued the team. It was announced that veteran Christie Pearce was done for the rest of season for accumulative injuries. Pearce had already announced that 2017 would be her final season. Leah Galton is also not available for the crucial matchup due to a back strain, and Erin Simon continues on the 45-day disabled list. Questionable for the weekend are veterans Tasha Kai (right calf strain) and Kelley O'Hara (right abductor strain).
Seattle Reign Storylines
The Reign lost Megan Rapinoe for five weeks to a knee injury that she suffered at the Tournament of Nations. The NWSL's leading scorer was instrumental for Seattle's high-scoring offense. In 18 games, Seattle has scored 33 goals, tying them with Orlando for the most goals this season.

Though Rapinoe's absence was felt for two matches as they were swept by the North Carolina Courage, the Reign showed on Wednesday against Chicago that they could stun any team as they scored two goals in the final minutes against the Red Stars. Nevertheless, Seattle has shown that road games are difficult for them. Seattle has been shutout on the road four times in 2017, tied for second-most in the NWSL.
Game Storylines to Follow
1) Can Sky Blue FC overcome its winless streak and return to become serious playoff contenders?
2) Will Sam Kerr continue her MVP-like performance and inspire a young Sky Blue team once again?
3) Can Seattle overcome its road games woes?
4) Can Sky Blue even out the season series against its west coast counterpart?
5) Will Seattle stay within playoff contention?