The Chicago Red Stars have had three home games within the past eight days and tonight marked their final match of that stretch against FC Kansas City.
The Blues took the field at Toyota Park and the Red Stars maintained their ground early on in the game as they were outshot 6-0 and saved by Kansas City goalkeeper Nicole Barnhart.
Groom assists on first two goals
Chicago's two USWNT players, Christen Press and Julie Ertz, came out determined, as they both had opportunities on goal early in the match. In the 23rd minute, forward Shea Groom dribbled the ball down the field and made a pass to Sydney Leroux. Leroux timeed her shot to perfection, as she found the bottom left corner to open the scoring for Kansas City early on in the match.
Just six minutes later, Groom swooped the ball away from defender Sam Johnson. As she went one on one with Red Stars goalkeeper Alyssa Naeher, Groom passed the ball back to defender Katie Bowen, who scored the second goal of the match, giving the Blues a 2-0 lead.
While Groom found success with two assists inside the opening half, she was issued a yellow card in the 45th minute for dangerous physical contact with Casey Short and Chicago was awarded a penalty kick. Press took the kick, but was confidently stop by Barnhart to end the opening 45 minutes.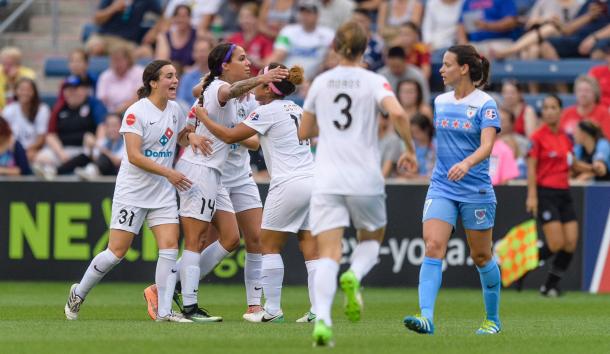 The Red Stars seeking out every opportunity
Chicago returned to action determined to see a goal. It was not until the 64th minute of the match until that occurred when forward Yuki Nagasato made a nice pass between the Kansas City offense to Ertz. She then took a shot on goal and got the Red Stars back in the match, cutting the lead in half.
Blue's substitute Maegan Kelly had her first touch of the match in the 72nd minute when Groom once again made an excellent pass, this time to Kelly. The sub then had a goal with her left foot but was just too wide of the goal.
Several minutes later, Kelly controlled the ball in motion and with a Chicago defender by her side just on he outside of the box, chipped the ball past Naeher, who came out of goal, and put the finishing touches on an impressive 3-1 victory.
This match marked the Blue's third consecutive win. The Red Stars have a record of ten home losses and three out of the ten have occurred within the past eight days. Kansas City earned all three points with tonight's win and now sit in seventh place, as the Chicago Red Stars remain in third place with 29 points.