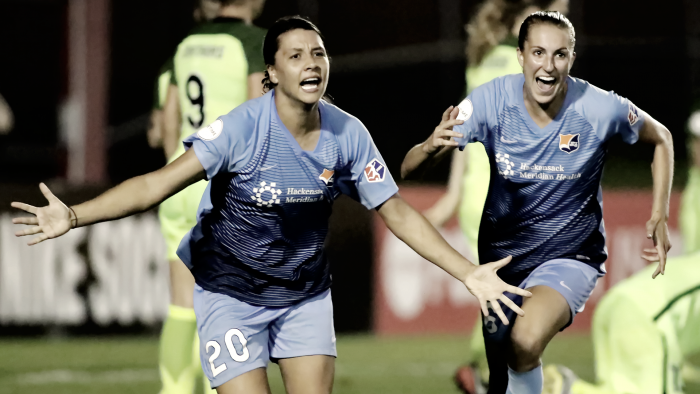 Sam Kerr lead her team, Sky Blue FC, to a 5-4 comeback win against the Seattle Reign. After scoring four goals, which has never been done before, she was unanimously voted Week 17's Player of the Week. This is Kerr's third time winning the award this season, adding to her two in previous seasons.
Kerr leading Sky Blue's victory
Sky Blue was down 3-0 at half time, but it did not take Kerr long into the second half to strike. In the 48th minute, Kerr scored off a scramble in the box. Then she scored two goals just three minutes apart to tie the game in the 68th minute and 71st minute assisted by Daphne Corboz and Sarah Killion, respectively. Seattle went up in the 85th minute, but Maya Hayes equalized again for Sky Blue in the 91st minute. It was Kerr with the game-winning goal in the final minute of stoppage time.
Kerr's four goal show she put on Saturday night was enough to put her three goals ahead of Seattle's Megan Rapinoe for top scorer in the league. Kerr now has 41 career goals, none of which came from the penalty spot. Kerr's hat trick Saturday night was her second of the season, making her the first player to ever score two hat tricks in one season in the NWSL.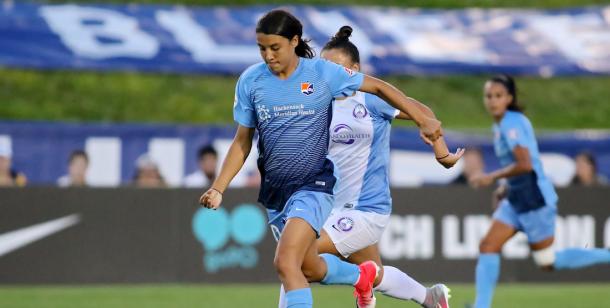 Kerr overcoming Sky Blue's hard week
Sky Blue's win on Saturday has given the team hope after losing back to back to back games, falling into sixth place. Week 17 came with a lot of surprises for the New Jersey team. It was announced early in the week that head coach, Christy Holly, had parted ways with Sky Blue. The decision was mutual and effective immediately. Following Holly's departure, it was also announced that Christie Pearce would not be playing for the remainder of her final season, due to accumulative injuries.
Previous Winners