Pre-match predictions had Toronto FC coming out as comfortable winners over the Philadelphia Union and the away side did nothing to dispel those predictions as they could only watch while Toronto put on another great performance in front of their fans. Goals from Sebastian Giovinco, Nicolas Hasler and Jozy Altidore sealed a comfortable victory for the 'Reds' and kept them firmly on top of the standings in Major League Soccer.
Toronto sew up the win in 45 minutes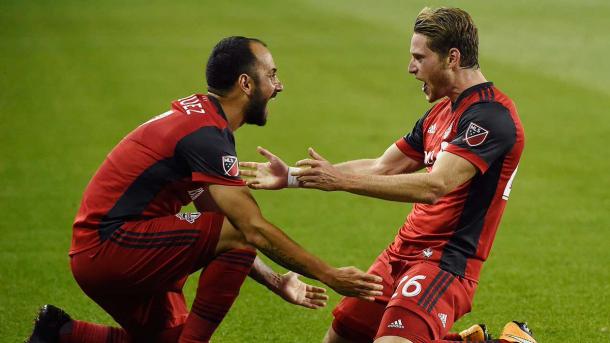 Anyone watching Toronto this season will have seen just how fluent they have been going forward but also how impressive they have been defensively as well. This time around, head coach Greg Vanney switched from his usual 3-5-2 formation and went with a simple 4-4-2 but his players didn't skip a beat. The front two and the midfielders behind them cut through the Union's defensive lines time and time again, and probably went into half time disappointed they had only managed to convert two of their chances.
Toronto set out their stall early and Philadelphia had to rely on a big save by goalkeeper Andre Blake to stop Giovinco from scoring in the seventh minute. That warning sign was not heeded by the Union defenders as two minutes later, they conceded a free-kick right on the edge of their own area after a flowing attack by the home side. Giovinco stepped up to take the free-kick and curled it superbly into the far corner, giving Blake no chance this time around. Toronto continued to attack and picked up their second goal in the 30th minute when Hasler met Víctor Vázquez' corner and headed it powerfully home for his second goal in as many matches. Vázquez was creator-in-chief for Toronto's third when, in the 57th minute, he played a lovely one-two with Altidore which the US international went on to finish cleanly past Blake. Toronto could have had more on the night but will be happy with their overall performance as they head into their next match against the Montreal Impact in four days time.
The Union craft some chances but ultimately not enough to turn the tide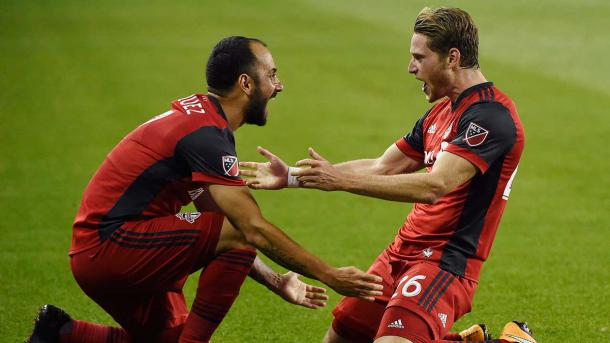 Credit must go to the Philadelphia attackers who never gave up and tried to make the most of the chances they got. Their first chance of the game came in the 19th minute when Giovinco gave the ball away dangerously in his own half to Haris Medunjanin who then attempted to chip Alex Bono from a long way out. Bono back-tracked quickly and was able to get a hand on the ball and carry it over his crossbar to stop the home side conceding.
Bono was asked to come up big again in the 62nd minute when he dived spectacularly to his right to keep Ilsinho's shot out of his goal. He then followed that up with a point blank save off the corner kick which had found Chris Pontius unmarked in the 18-yard area.
All in all, Philadelphia's efforts were not enough as they succumbed to their twelfth loss of the season, and extending an awful run on the road this year.
The week does not get any easier for the Union as they will be welcoming another attacking powerhouse in Atlanta United FC at home this weekend. Head coach Jim Curtin will be hoping his defense cope better at home than they did tonight or they will be in for another rough loss.