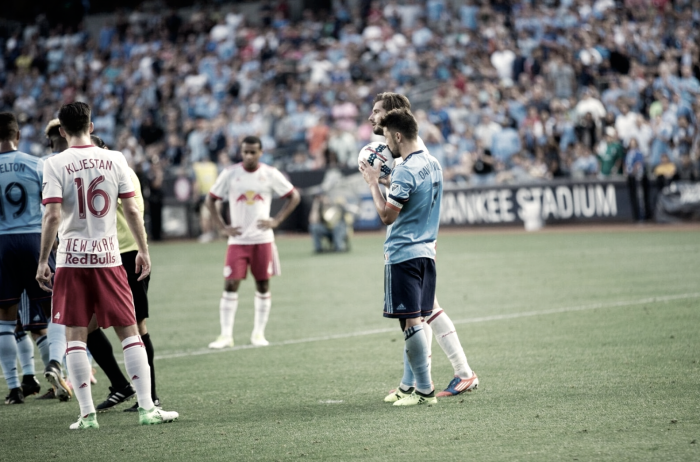 The New York Red Bulls welcome Hudson River Derby rivals New York City FC to Red Bull Arena, as the former hope to avoid a season sweep on Friday night.
NYCFC took the first meeting with a near flawless 2-0 victory at Red Bull Arena. They then completed a comeback against the Red Bulls in a 3-2 win at Yankee Stadium just two weeks prior to Friday's meeting.
Despite the losses to NYCFC, the Red Bulls are enjoying a very good spell. Including Red Bulls' loss to Portland last week, the club has lost just three of their last 12 matches in all competitions and is quickly improving on what was a slow start to the season.
However, if you look a little deeper into those three losses, two of them have been against Friday's opponents. Both teams have a lot to play for as NYCFC could move 11 points clear of their rivals. That point gap could become almost unreachable in the table if the blue side can grab all three points on Friday.
Team News
New York Red Bulls: The red side of New York will be without three or four players in the final regular season Hudson River Derby of the 2017 MLS season.
Two of the players missing the match will be no surprise to anybody who has followed the club. Both Gideon Baah and Mike Grella will miss the remainder of the MLS season with injuries. Having started just six MLS matches since his arrival in New York at the start of the 2016 MLS season it is fair to say watching on from the sidelines is nothing new for the 25-year-old defender. New York native Mike Grella has also missed a large portion of the season through injury. Grella underwent knee surgery earlier in the season and will not return to the Red Bull lineup in a hurry.
Unfortunately for the Red Bulls, they'll be without Daniel Royer as he picked up an injury in the opening 15 minutes of the most recent edition of the Hudson River Derby earlier in August. Prior to the injury Royer had scored six goals in his last four league matches and was really beginning to to prove his worth before hyperextending his right knee in Yankee Stadium.
In addition to the three injuries already listed, Aurélien Collin is listed as questionable. The French defender has featured in 9 MLS matches this season including the 2-0 loss to NYCFC at Red Bull Arena earlier in the season.
New York City FC: The blue side of New York will also be missing some players on Friday including some game changers. NYCFC will be missing players for a few reasons including international duty, injuries and a suspension.
The biggest miss for NYCFC will be Venezuelan midfielder Yangel Herrera. The teenager is a key part in the clubs' dynamic midfield trio. Herrera was controversially booked in NYCFC's 2-1 win over New England last weekend and will be forced to watch from afar on Friday.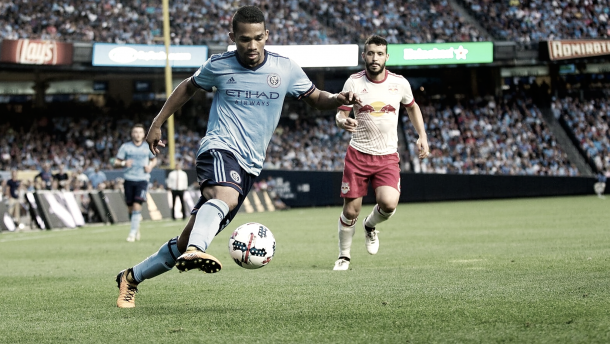 Yangel is just one of five players missing Friday's match. 17-year-old James Sands is currently on international duty as him and his u17 American teammates prepare for the u17 World Cup. Sands signed the first ever homegrown contract for NYCFC but is yet to make his competitive debut as an injury and international duty has kept him on the outside looking in.
Another player missing for NYCFC will be Ronald Matarrita. The Costa Rican international has had the misfortunes of battling injuries for a majority of the season. The fullback underwent surgery on his foot in late June and is expected to miss most of the regular season. Another player expected to miss most of the remaining MLS games is Miguel Camargo. Camargo showed flashed of brilliance at the CONCACAF Gold Cup this summer but sustained a hip injury which has had him sidelined since. Both players are aiming to recover before the MLS season comes to a close.
Finally, Maxime Chanot is the newest addition to NYCFC's growing injury list. Chanot has not appeared for the club in over a month due to injury but has just completed a procedure this week in hopes of healing the pelvic injury. The procedure will force Chanot to the sidelines for an even lengthier period of time as NYCFC will have to go another 6-8 weeks without the Luxembourg international's presence in the backline.
Key Facts
The New York Red Bulls have only lost one game at home since May and that loss came to NYCFC. A season sweep would mean that NYCFC are to blame for both of the Red Bulls home losses in over that timespan. However, the Red Bulls are playing with confidence and their recent results will tell you that. The young players in the Red Bulls' lineup have grown into the team and a mix of hungry experienced players is a recipe for success.
NYCFC have won all of their last three matches and will be hoping for a fourth straight win for a second time this season. Every club needs to start winning games as this stretch over the next few weeks could be make or break for a lot of clubs. If NYCFC continue to win despite all the injuries they're facing it proves that this team is a contender. However, a few losses could prove the club is a "pretender" and not a serious contender. Same goes for the Red Bulls as a few good results could see them move ahead of their rivals in the table but if things go south, they could miss the playoffs.
What's Next?
Following Friday's match at Red Bull Arena, the home side will prepare to take on FC Dallas away from home. The side will travel to Dallas and continue with a road trip to Bastian Schweinsteiger's new home in Chicago to take on Chicago Fire. Red Bulls will be hoping to come back home with as many points as possible in hopes of catching the top Eastern Conference teams.
New York City FC on the other hand will welcome two Western Conference sides following Friday's match. First up is Sporting Kansas City who currently own the best defense in MLS. SKC has built one of the fiercest backlines in recent years in MLS and it is going to take a hot David Villa to score against this side. Following a strong defensive team, NYCFC will prepare for an attacking Portland Timbers side at Yankee Stadium. Just like their rivals, NYCFC will be hoping to take as many points as they can in the game following the derby.