 The Timbers are playing a bit better in recent weeks. Six points from six, they're playing something resembling reasonable defense, and the season that looked so scattered and hopeless a month ago is starting to look solid again. Second in the West on points, fourth on PPG, the Timbers are definitely rounding into something resembling playoff form right now, and they'll look to continue that turnaround in form against....
/pauses writing
/checks schedule for next opponent
/runs from room, screaming
That's right. Portland's next opponent is the Seattle Sounders, the second team in Cascadia to win an MLS Cup. They're local rivals, of course, but more germane/interesting to Sunday's action, they're also unbeaten in their last 10 games, of which they've won six. If the Timbers are rounding into form, the Sounders have already rounded, and they're running with a full head of steam, downhill, with the wind at their backs, towards winning the West.
Oh, and the extra dose of mustard on the chocolate sundae that is this fixture is that it's in Seattle. The Timbers' record of success in Seattle in the MLS regular season is, well, it's nonexistent:
P9
W0
D2
L7
Yup. Two points from nine visits to Seattle since 2011. The last time Portland got a point in Seattle during a season was four years ago, in March of 2013. They've been outscored 14-4 in the nine games up to this point, and have never scored more than a single goal in any game played up in Seattle.
So, while history doesn't play games and while that record of futility doesn't really matter except in a banter sense, by any measure, given the respective way these teams are playing lately, this weekend's going to be tough. If Portland wins, though, they will both take over first place in the West and also put one hand firmly on the Cascadia Cup, with only the game between Portland and Vancouver in October to play in that series.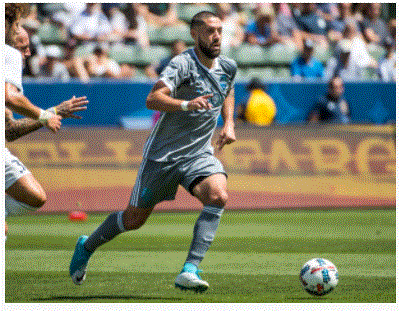 ABSENCE
This game will be made even tougher for the Timbers by a trio of absences. David Guzmán will miss this game after stupidly picking up his fifth yellow card on Wednesday against Colorado, and Fanendo Adi and Liam Ridgewell will not make the trip as they continue to recover from their respective injuries. Look for highly promising Jeremy Ebobisse to get the start in Adi's place; Darren Mattocks started on Wednesday and didn't play all that well, so between that and the tiredness factor, Ebo should be up front for the kickoff.
Jake Gleeson is also out, as the Timbers' starting keeper also continues to recover from his hamstring pull.
Seattle, meanwhile, is missing Brad Evans and Lamar Neagle through injury, and Joevin Jones through an unanticipated self-callup to Trinidad & Tobago's team for a friendly, which is probably the last thing Sounders fans will remember about him, as he's off to Germany after this season (and maybe, as a result of going AWOL, more like now-ish).
PREDICTED LINEUPS
Portland:
Attinella; Vytas, Mabiala, Olum, Valentin; Chara, Okugo; Nagbe, Valeri, Blanco; Ebobisse
Seattle:
Frei; Nouhou, Marshall, Torres, Leerdam; Alonso, Roldan; Morris, Dempsey, Lodeiro; Bruin
WHAT/WHERE/WHEN/HOW
Portland Timbers at Seattle Sounders
CenturyLink Field, Seattle, WA
Sunday, August 27, 2017
6.30PM PT
US TV: Fox Sports 1
Elsewhere: MLS Live (subscription service, blackout rules apply)