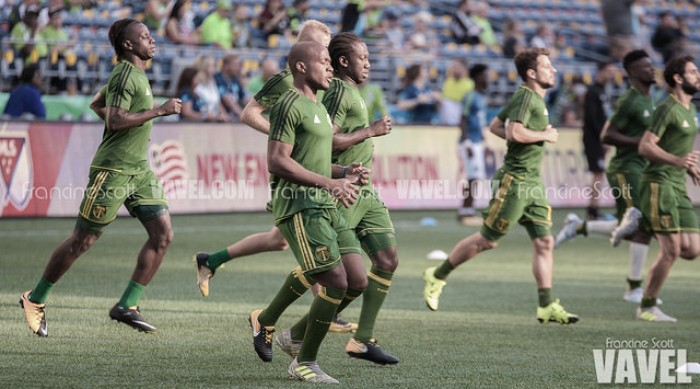 One of the fascinating things about soccer is how varied the results can be. In other sports, there's a binary: you win or you lose. In soccer, there's a list:
- Win and feel like it was well deserved
- Win and feel like you got a bit lucky
- Win despite playing like garbage
- Draw and feel like it was a win
- Draw and feel like it was a loss
- Draw and feel like it was a fair result
- Lose and feel hard done by
- Lose and feel like it was a fair result
I mean, there are so many gradations of each result it's almost comical. Going into Sunday's game, I was fearing the worst - the Portland Timbers doesn't have the most stellar record at CenturyLink Field against the Seattle Sounders, winning only once in 10 previous trips up that way (and never in MLS regular season play). But, this may be a new Timbers team - they dug deep, they worked hard, and most importantly, they worked for 90 whole minutes and never switched off.
For all that, they were rewarded with a precious road point. A win was always going to be a big job in Seattle, because the Sounders were unbeaten in 10 prior to this game and Portland has been...wobbly, so this 1-1 definitely falls into the "draw and feel like it was a fair result" category. It doesn't quite feel like a win because the Timbers had a few chances to actually score that second goal that went unconverted, but all in all I'll take the point.
The Good
Fortitude. The Timbers' 2017 season has been marked, mostly, by laughably bad defending, particularly on set pieces. For all their offensive prowess, the Timbers' goal difference right now stands at three. This late in the season, that's a problem.
And while it's true that the Sounders' goal on Sunday came from a set piece, this particular goal was just a big ol' pinball-style mess that Jeff Attinella should have done better with, but that was also the fault of the three Timbers who failed to clear the ball.
The rest of the game, though, saw the Timbers do two things: remain defensively compact and not get down on themselves. They've struggled with both this season, and I have very little faith right now that that is a permanent change, but it was nice to see in a game against Portland's biggest rival, with more at stake than just bragging rights.
Two months ago, Seattle scoring a goal in the 18th minute would have opened the floodgates, and the Timbers would have been on the end of a hiding by the final whistle. But on Sunday, the Timbers held firm, and it was nice to see.
Defending. It goes with the fortitude thing, but the Timbers put on probably one of the most solid defensive displays I've seen from them this season. It wasn't pretty at times - deep defending rarely is - but it was great to see a defense that kept its shape well, and that closed down passing lanes (most of the time). And even when they got caught out, they recovered and, again, didn't give up. Caleb Porter, in his postgame comments, called it a good first leg of a playoff series, and he's not wrong; the more results like that the Timbers can gut out, the better served they will be.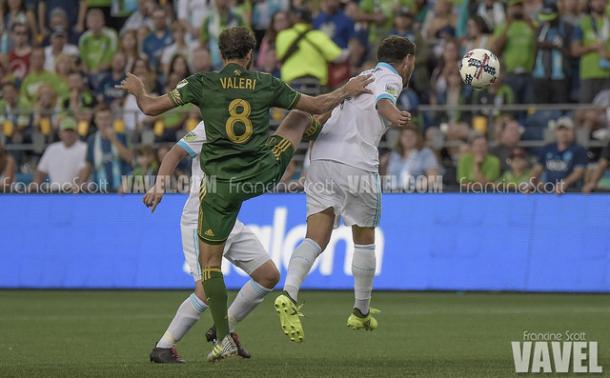 The Bad
Two halves. I don't know what it is about half time. Do the players take naps? Do they watch cartoons? I mean, I'm sure there's team talks and stuff, but for what seemed like the millionth time this season (don't @ me, I know there's not a million games on the schedule), the Timbers came out for the first half guns blazing, attacking, playing directly, and not fearing anything much. Then, in the second half...nothing. They came out slow, and they reverted to their tendency to push the ball out wide and blast balls into the penalty area hoping for the best rather than working to create shots. Fortunately, the defense was there to be a backstop, because there wasn't much going offensively in the second half, which turned into a containment exercise for the most part.
The Ugly
Diego Valeri. Goal aside, this is definitely a game he'll want to forget. He spent as much of it complaining as he did playing, and his night was capped off with a ridiculous dive, in which he wasn't even close to being touched - after which he turned to shout at the ref for not giving a card to...the turf? The air? I don't really know. I do know that Valeri is a much better player than he showed on Sunday night. Sometimes he lets his emotions get the better of him, though, and Sunday was one of those nights.