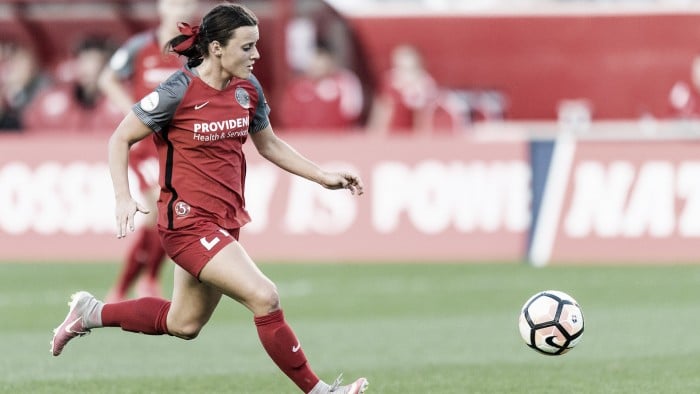 Hayley Raso has been a regular on the Portland Thorns' starting lineup this season, a breakout role for the Australian international. On Saturday, as the Thorns played against the Seattle Reign at Memorial Stadium in the Cascadia Rivalry where they had not won ever, Raso's two-goal performance helped Portland defeat their Pacific Northwest rival, 2-1. Her brace, Raso's first of her NWSL career, plus her 4 shots on target earned Raso NWSL Player of the Week honors.
"It's really exciting," Raso said after scoring her brace during the postgame interviews at Memorial Stadium. "We come here and play against our biggest rival, so we want to win that game. It was very exciting; it was a great effort from our girls; we're pumped about it."
Raso's Brace
In the 49th minute, Reign goalkeeper Haley Kopmeyer restarted play from within the Seattle penalty box and played a short ball to defender Kristen McNabb. However, McNabb misplayed the pass back to the goalkeeper, and Raso took advantage to finish for the goal.
Later in the 85th minute, Christine Sinclair sent a long ball from Portland's half towards the far side of the field where Raso awaited. The ball bounced into a space between Raso and Seattle defender Lauren Barnes. Raso's speed closed the distance, and the Australian forward was able to head straight for goal as Barnes attempted to slow her down. At goal, Kopmeyer came off her line and blocked the initial shot, but the ball rebounded to Raso. Her second attempt was successful to give Portland the 2-0 advantage.
The goal was Rason's fifth of the season, leading the Thorns in scoring along with teammate Christine Sinclair.
Previous Winners
The NWSL Player of the Week is selected each week of the regular season by the NWSL Media Association, a collection of writers that cover the league on a consistent basis.
Hayley Raso's quote is courtesy of the official NWSL press release.