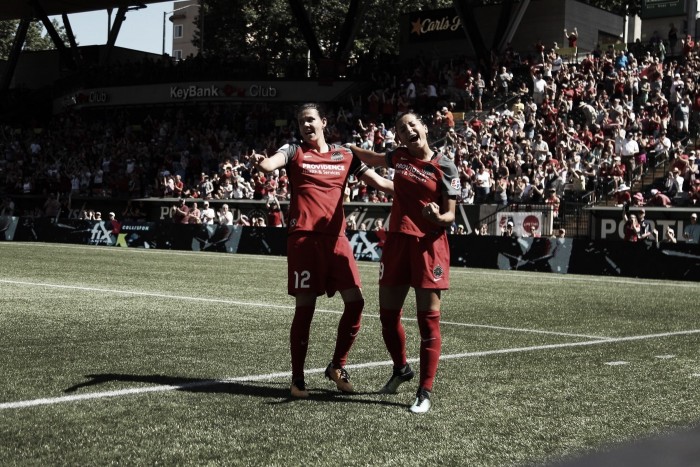 Before kickoff for The NWSL Game of the Week on Lifetime between the Portland Thorns and the Washington Spirit, it was well known that this matchup could help the Thorns book their playoff spot for the second consecutive year. Portland would still need some help from FC Kansas City to either defeat or draw Sky Blue FC in their match on Sunday.

The Thorns would do their part in a dominating win against the Spirit, who had been eliminated from the postseason.
Thorns Score Three in First Half
A penalty awarded to the Thorns in the 23rd minute would open up scoring for Portland after Allie Long was taken down in the box by Washington goalkeeper Didi Haracic. Danish international Nadia Nadim, Portland's main penalty kick taker, took the shot, but Haracic managed to stop it. However, the stop would result in a rebound right back to Nadim, and Haracic was unable to recover to stop it. Nadim's goal gave Portland the 1-0 lead in the 22nd minute.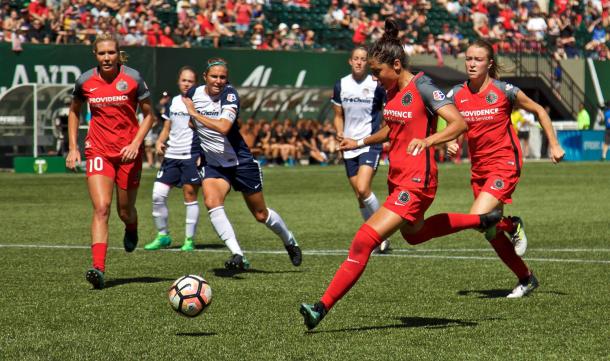 Three minutes later as Portland pressed on the Washington side, and the Spirit looked to clear the ball away from danger, but Christine Sinclair stole the ball away to put it in the net for a 2-0 Portland lead.
Before halftime, on the 40th minute, on a Portland corner kick, Emily Sonnett was wide open for a header, sending it right towards the Washington goal as Tori Huster looked to clear it, unsuccesfully.

At halftime, Portland controlled the game with a 3-0 lead.
Thorns Add One More and Move Closer to a Playoff Berth
The second half was filled with less goal scoring action than the first, but that didn't stop Portland from pressing for more goals, and Washington tried to cut the lead. Still, despite the Spirit's few chances in shots, all that went high or were saved by goalkeeper Adrianna Franch, Portland did not relent.
In the 81st minute, on another corner kick, Sinclair was able to score a brace after it deflected off the goal post after a Portland header towards the goal. Sinclair was in perfect position when the ball rebounded off the cross bar. The goal gave Sinclair her 30th all-time goal in the regular season, becoming the sixth player to do so.
There simply wouldn't be enough time for Washington to come back from the deficit, and they looked defeated. It's quite a 180 for a team that reached the NWSL Championship in 2016. The Spirit now look to rebuild for 2018.
The Thorns, with the win, moved one step closer to clinching a playoff berth. They now wait for the result between FC Kansas City and Sky Blue. The four goals they scored against Washington were the most they ever scored in a shutout, and it marked the third consecutive win for the Thorns, and the seventh victory in the last eight games.