Slovenian international Andraž Struna has signed for New York City FC for the remainder of the season with an option to extend his stay into the 2018 and 2019 seasons. Struna is an experienced player having been capped by his country 25 times since 2012 where he scored on goal in the qualifications leading up to the 2016 UEFA Euro tournament.
The 28-year-old defender's most recent club was Heart of Midlothian FC. The Slovenian arrived at that club in January of 2017 and made thirteen appearances which included a goal before making the move to the Big Apple.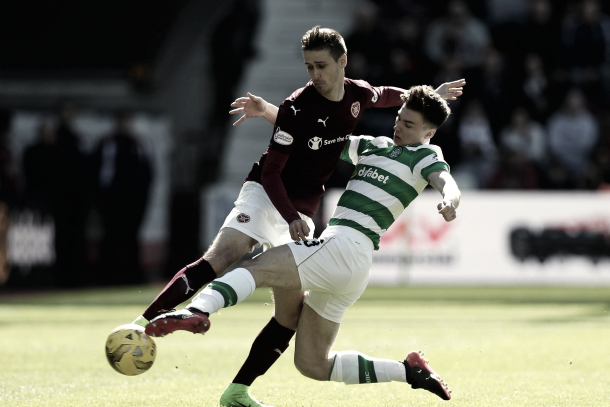 Who is Andraz Struna?
Andraž Struna was born in Piran, SFR Yugoslavia. His résumé will tell you that he has been capped by Slovenia 25 times and has bounced around Europe at club level.
25 caps with Slovenia's national team
Struna started his career with NK Portorož Piran, a club in his native country. Andraž quickly climbed his way up the Slovenian ladder and found himself in Slovenia's first division when FC Koper signed him. While at the club, Struna began building his trophy cabinet as he won the Slovenian First League and the Slovenian Supercup. Following a successful stint in his homeland, Andraž moved to KS Cracovia, a Polish side. Following a few season in Poland, he moved to Greek club PAS Giannina FC where he would go on to play for three years before moving to Scotland in January of 2017.
After just thirteen appearances with Heart of Midlothian FC, he now finds himself at New York City FC where he will hope to continue growing and adding to his trophy cabinet. Struna will be learning under Patrick Vieira while teaming up with football icons David Villa and Andrea Pirlo, none of which are bad people to be associated with.
Eager To Start
Andraž is excited to come to a club which quite honestly lacks depth in his position due to injury. Ben Sweat and RJ Allen were the only healthy fullbacks available to the club before Struna's arrival. In NYCFC's official release he was quoted as saying: "There are many reasons why I'm glad to be here, such as the club having a solid foundation and giving me the opportunity to work with great experts."
He went on to say: "This is a big thing for me because I think I can learn a lot from the likes of Patrick and all of the experienced people at the club."
The Slovenian international topped it all off by saying: "I have a good opinion about MLS – it's popular in all parts of the world and it's getting better and better all the time. What I expect is to find is good football, great atmospheres in nice stadiums with a lot of fans."
Both parties end up with happiness as Patrick Vieira and NYCFC adds depth to a heavily lacking depth chart and Andraž Struna adds a little bit of experience under his belt as he takes on the challenge that is MLS.