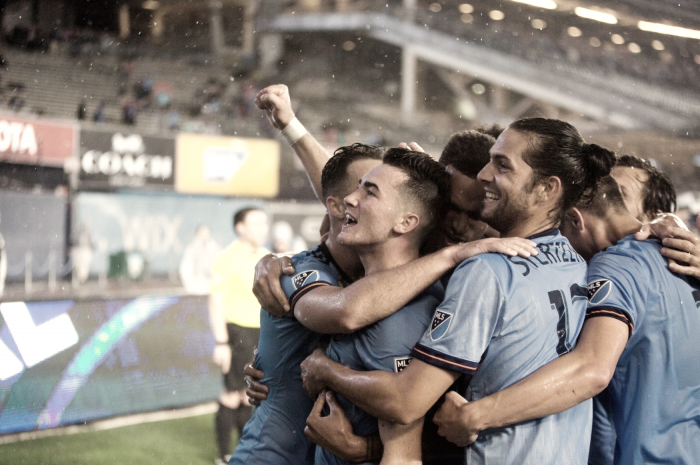 New York City FC welcomed Sporting Kansas City to Yankee Stadium on Wednesday night in hopes of extending their home unbeaten streak into double digits. NYCFC had gone nine straight unbeaten at Yankee Stadium heading into Wednesday's match winning seven and drawing two.
However, beating this Sporting KC side would be no walk in the park. Prior to the match, SKC had conceded just 19 goals in their opening 25 games of the season. Terrific performances in goal from Tim Melia paired with a strong back four adds up to a tough side to beat.
With all this in mind, NYCFC were also forced to play a severely weakened side. In fact, NYCFC could not even fill the bench. They were only able to get six players on the bench, two of which were goalkeepers. David Villa was also forced to make a rare absence due to an injury he picked up on international duty with Spain.
Scoreless First Half
A somewhat boring first half saw no goals and almost no opportunities. Sporting KC took five shots, none of which found the goal and NYCFC took seven shots in which just two forced Tim Melia to make a save. Perhaps the best chance coming from Maxi Moralez with one of the very last kicks of the first half. Some clever footwork from Jack Harrison right outside the box eventually led to a Maxi Moralez chance in which he struck his foot through and forced Tim Melia to prove his worth. Cristian Lobato had a strike earlier in the half that went just wide of the right goalpost which was probably the visitor's best chance of the half.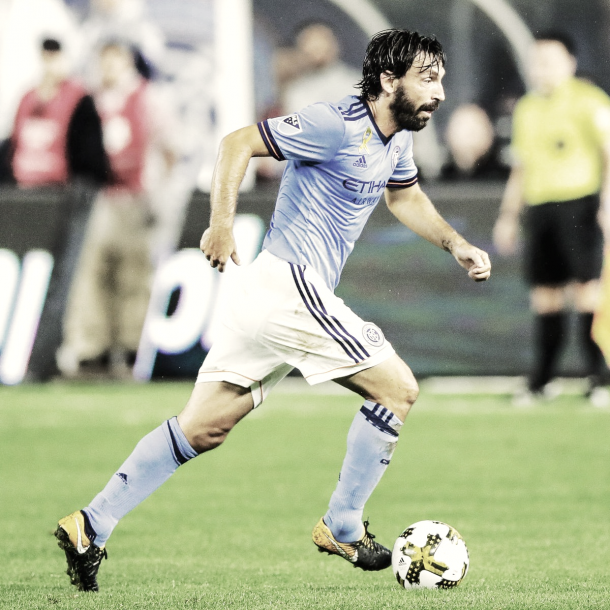 Exciting Start
After the scoreless first half in the Bronx, both sides came out fighting even harder than they did in the first 45. Sean Okoli came close to breaking the deadlock when he got in front of his marker and hit the near post with a powerful strike off of a low RJ Allen cross. Okoli's minutes have been limited, as anybody's would be if you were behind 2016 MLS MVP that is David Villa.
A few moments later saw the newly introduced Khiry Shelton conceded a foul in a dangerous area. Benny Feilhaber of SKC stepped up and banged a free kick inches over the crossbar.
NYCFC Dominance
New York City FC had a period in the match where they could have tucked home two or three goals. Maxi Moralez found Sean Okoli at the back post but the ball somehow stayed out of the net after deflecting off of Khiry Shelton. A few minutes later saw Jack Harrison force a great save out of Tim Melia. These were perhaps the two best opportunities of the match up until this point. NYCFC were desperately missing the presence of their captain, David Villa in and around the box. Both Maxi Moralez and Jack Harrison had no trouble creating for their teammates, but it seemed as if their teammates didn't want to slide it into the back of the net.
Deadlock Broken
Persistence pays off. The 20-year-old Englishman proved that to be true on Wednesday night. After a brilliant lofted cross from RJ Allen, Jack Harrison chested the ball in hopes of setting himself up for a clean volley, and he did just that. Harrison grabbed his ninth goal of the season to go along with his six assists. Jack is second only to David Villa (not bad company) in goals on the season for NYCFC. This was Jack's fifth game winning goal of the season.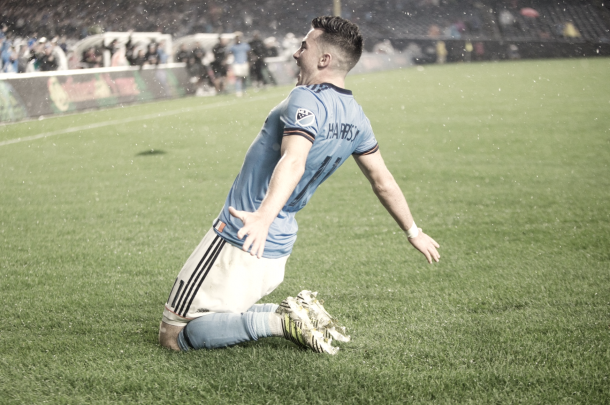 Fortress
New York City FC has turned Yankee Stadium into a fortress that clubs will not be looking forward to visiting anytime soon. Ten straight unbeaten at the makeshift home of the New York side. NYCFC also proved that they are more than just a one man team. While David Villa's excellence and importance is unmeasurable, NYCFC proved that they can compete at a very high level even without Spain's all-time leading goalscorer.
What's Next?
Following the loss in the Bronx, Sporting KC will have just a few days to prepare before traveling to Mapfre Stadium to take on the Columbus Crew SC on Sunday. After the match in Columbus, they'll prepare to host the New England Revolution. Once all of this is done, Sporting KC will be hoping to lift silverware as they take on the New York Red Bulls in the U.S. Open Cup final.
New York City FC, on the other hand, will have even less time to prepare for their next match as they'll be hosting the Portland Timbers on Saturday. Following that, NYCFC will travel to Colorado to face the Colorado Rapids in Dick's Sporting Goods Park. NYCFC will be hoping to build off of the great win over Sporting KC and plan on carrying that form into the Portland and Colorado games.