The Portland Thorns (12-5-4, 2nd place) are on the road for the next two games, away from their Providence Park fortress, and their first stop is Jordan Field against the Boston Breakers (3-11-7, 9th place), a team trying to finish on a positive note after being eliminated from the postseason for the fifth year in a row.
The game is scheduled for Sunday, September 10 with a 6 pm ET kickoff. Live stream can be accessed at nwslsoccer.com and go90.com, including coverage on the go90 APP.
Portland is Playoff Bound
The Thorns, with their 4-0 shutout against the Washington Spirit last week and some help from FC Kansas City's 4-1 victory against Sky Blue FC, became the second team this season to secure a spot in the playoffs. Portland now has the opportunity to clinch a home playoff game, and they are also hoping to win the Shield, the award to the team with the best regular season record, which they won in 2016. Portland is only two points away from 1st place North Carolina for the Shield.

A win for the Thorns against Boston would mean a home semi-final at Providence Park for the second consecutive year. Portland is 9-1-1 at home this season.
Boston Woes
The Breakers' season has been full of woes that never allowed them to compete. First, Rose Lavelle was sidelined with a strained left hamstring injury she suffered in a pair of international friendlies in June. She returned last week in a 4-2 loss against Orlando. Then, Norwegian international Emilie Haavi returned home after having trouble adjusting to the U.S. Later, Amanda DaCosta retired from professional soccer.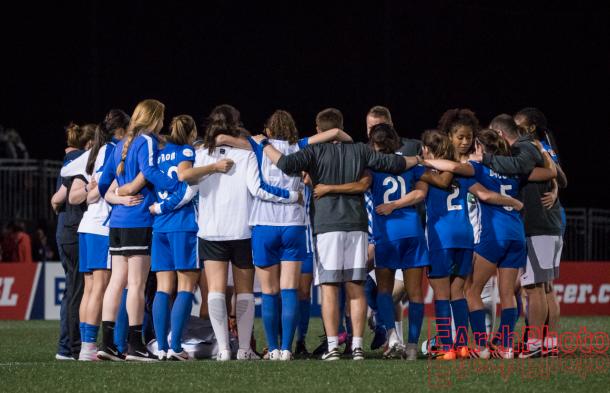 Statistically, the Breakers are on a nine-game winless streak, and they have one win in the last 18 games. If they fail to win against Portland, they will be the first team in NWSL history with just one win in 19 games.
Sunday's Outlook
This is the third and final meeting between Portland and Boston. Their first two meetings were back in May with the first matchup that resulted in a 2-2 draw, and their last meeting was all Portland with a 2-0 win. The Thorns lead the all-time series with a 7-5-1 record. Portland also holds the edge in their last five matches, unbeaten at 4-0-1 and having outscored Boston 15-5.
Portland is one of the teams to beat as they go to Boston with a three-game winning streak. The Thorns have also won seven of their last eight games.
It could be all Portland again, especially if they continue their current form. However, Boston tends to be tougher to beat at home. Three of their four wins this season have been at Jordan Field, and the Breakers put a tougher defensive stand, giving up only 11 goals in 10 games. Also, Rose Lavelle appears to be fully healthy again, which can give Boston the offensive spark they have been missing. If the Breakers play like they do at home and Lavelle gets chances, Boston could very well pull the upset.