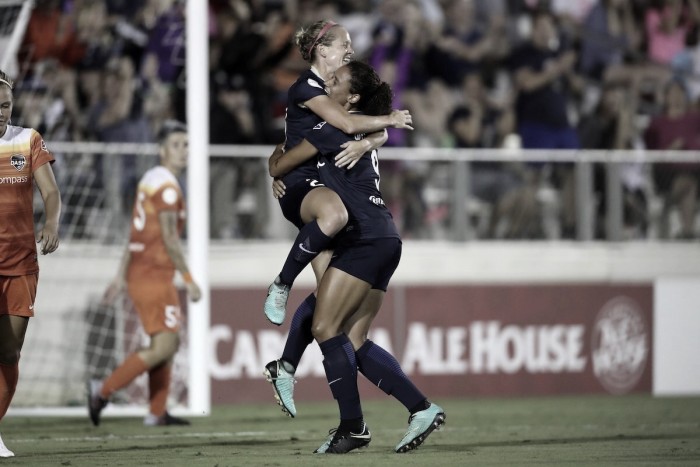 The North Carolina Courage hosted the Houston Dash for Week 20 of the NWSL season and the Courage came out victorious, winning 1-0. With the Courage claiming all three points, have gained a home field advantage for the 2017 playoffs while they continue to remain in their first place standing with 45 points. This match between the Courage at and the Dash marked the first time these two teams met on the pitch this season, as their previous game last Sunday was postponed.
Courage continues to attack
Both teams came out and were mutual in their play against one another. Forward Jessica McDonald saw a shot early on when she crossed the ball to Courage forward Lynn Williams in the third minute, but the Dash defense were ready and on it to deflect their chances from an early goal.
Midfielder Sam Mewis sent in a high cross to Williams in the 14th minute, but Houston Dash goalkeeper Jane Campbell stood her ground and came off her line to clear the danger away.
North Carolina kept going after the Dash back line. In the 26th minute, the Courage finally found the breakthrough. McDonald started the move off with a throw. Kristen Hamilton got on the ball, took a shot and celebrated her goal, which gave the Courage an early 1-0 lead.
The Courage almost scored another goal in the 54th minute. Hamilton's shot flashed just above the crossbar. Although she missed the shot, her only goal gave way for the Courage as they Dash were held off the scoreboard.
Courage goalkeeper Katelyn Rowland currently has eight shutouts and is just two away from FC Kansas City goalkeeper Nicole Barnhart's personal record from within the same season.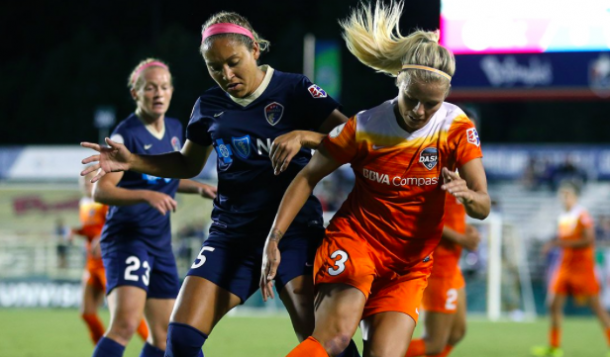 Where this victory takes the North Carolina Courage
This match marked the Courage's 15th win of the season. They are one game away from breaking the Seattle Reign's record for most amount of wins in a season, which happened in the 2014. They also achieved the NWSL record for shutouts within a season totaling 11 shutouts of the season, which is equivalent to FC Kansas City's record in 2013.
The NWSL will take a break for the women's international FIFA break. When returning from the break, the North Carolina Courage will make their way to New Jersey as they face Sky Blue FC on Sunday, September 24th, as kick off is set for 6 p.m. ET.
The Houston Dash will resume play on Friday, September 29th as they travel to Kansas City to compete against FC Kansas City, with kick off scheduled for 8 p.m. ET.