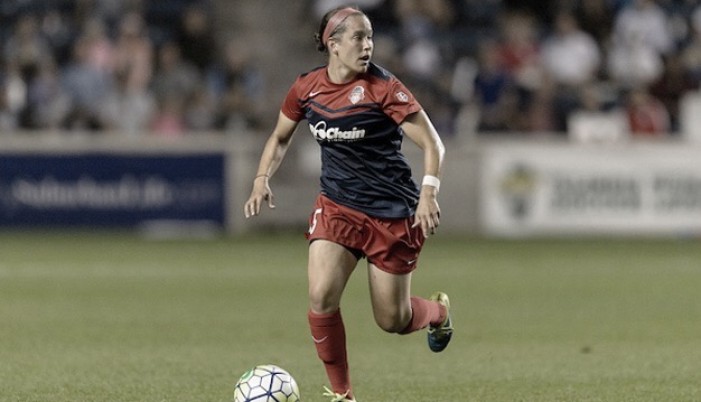 This past Sunday, the Washington Spirit took on Sky Blue FC in New Jersey. Sky Blue were up 1-0 and Washington defender Whitney Church headed in the equalizer with 15 minutes left. That goal sparked the Spirit's comeback which ultimately ended their six game winless streak.
Church's goal was her first in the NWSL goal and was named the NWSL Player of the Week for 20 Week 20 after her outstanding performance.
Church coming in clutch for the Spirit
Church also had several remarkable opportunities during her last performance with one of them being her ability to use her left foot to clear the ball of Sky Blue's forward Sam Kerr, who leads the league in 16 season goals. Church also recorded four clearances, three blocks, and gained possession of the ball 12 times from her previous game against the sixth place team, Sky Blue.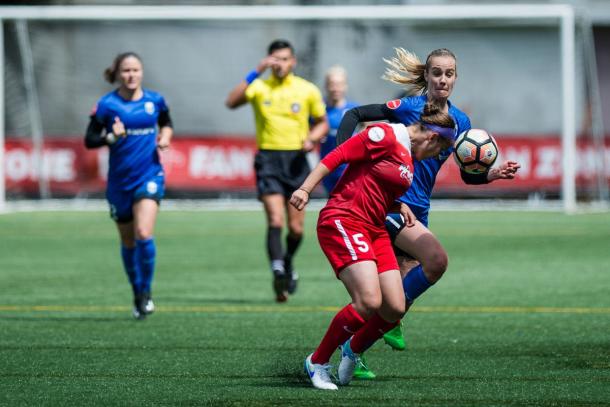 The Penn State alum was the 30th overall pick by Washington in the 2015 NWSL Draft. She has consistently been with the team ever since. After Sunday's match, Spirit head coach Jim Gabarra talked about what makes her great:
"I think she's been our best defender all year. She's not the fastest, but she doesn't get beat that often, she's always in the right place. She not only wins the ball, she possesses it out of pressure. There's a lot of balls that break lines that come from her, or balls that get wide so that player can break lines. She's one of those unsung, unheralded players but we value her extremely highly."
The Washington Spirit were also awarded the NWSL Save of the Week for Week 20 as Spirit goalkeeper DiDi Haracic made a fantastic save.
Forward Kelly O'Hara dribbled the ball near the Spirit's box. The Spirit 'keeper came out as O'Hara took a shot on goal, but was then blocked by Church after she made a run towards the front of the goal. Church was able to deflect the ball to help her goalkeeper, who then blocked several more consecutive shots taken by Sky Blue. The final outcome of the match was a 2-1 win for the Washington Spirit, which marked their third victory of this season.
Previous Winners
The NWSL Player of the Week is selected each week of the regular season by the NWSL Media Association, a collection of writers that cover the league on a consistent basis.