After a 7-0 thumping of New England Revolution on Wednesday night, Atlanta United set their sights on a bigger test as they welcome Orlando City to Mercedes-Benz Stadium on Saturday.
The two sides have developed a strong rivalry due to the close proximity of the sides and both being fairly new to Major League Soccer.
Team News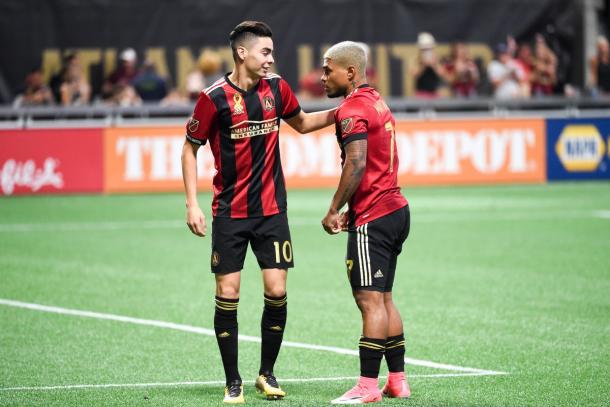 Atlanta United: In the first two games at Mercedes-Benz Stadium, Atlanta has scored 10 goals, including a 7-0 win on Wednesday night. They'll be without a crucial piece in defense as Leandro Gonzalez Pirez is suspended due to yellow card accumulation.
On the injury front, Greg Garza is dealing with a minor muscle problem and will miss Saturday's game due to precaution.
Projected XI: Guzan; Walkes, Larentowicz, Parkhurst, Bloom; Gressel, Carmona; Villalba, Almiron, Asad; Martinez.
Orlando City: A 2-1 win over DC United gave Orlando City a much-needed win last week, but it came at a cost as they suffered some major blows to their starting lineup.
Seb Hines and Servando Carrasco were both sent off last week, meaning they're suspended for the crucial rivalry game. Kaka and Jose Aja will also be suspended for the clash due to yellow card accumulation. Cristian Higuita was injured during Orlando's win in Washington DC, while Will Johnson misses out again due to his domestic violence charge.
Projected XI: Bendik; Toia, Spector, Redding, Sutter; Nocerino, Yotun, Powell; Rivas, Dwyer, Larin.
What to Watch For
Saturday's game is already down in the history books as Atlanta has sold 69,256 tickets, breaking a 21-year-old MLS record for ticket sales. More tickets are expected to go in the coming days, helping Atlanta continue to break MLS attendance records.
Atlanta has enjoyed the first two meetings between the new rivals, leaving it late on both occasions to snatch points. Tito Villalba was on hand in stoppage time during both matches, giving Atlanta four points from two games.
Orlando City are currently sit seven points off of a possible playoff spot while Atlanta United five points above the playoff line in fifth but can gain ground with games in hand.
Atlanta United are unbeaten in their last seven home games and will be at near full strength as they welcome their rivals to town.