Sofia Huerta, age 24, has been granted a one time FIFA Association change. Huerta's association has been changed from Mexico to the USA. Huerta born in Boise, Idaho was able to play for Mexico because of her dual citizenship. Huerta played for Mexico in the U-20 World Cup in 2012, after being cut from the US U-20 side. In 2014 Huerta focused on getting a U.S. call up, telling the Mexican Federation that she would deny any opportunities to play with them. Now, five years later she had gotten the attention of U.S. Women's National Team coach, Jill Ellis. Huerta was called in July for the 2017 Tournament of Nations to train with the USWNT. At that time she was unable to play, but now that her association has been changed she could get her first cap as soon as tomorrow.
It is no surprise that the USWNT wants Huerta after her impressive two, almost three, seasons with the Chicago Red Stars. She has played 60 games, scoring 18 goals and tallying 9 assists. Huerta will be joining five of her Red Stars teammate: Christen Press, Julie Ertz, Alyssa Naeher, Casey Short, and Morgan Brian. Huerta and Ertz (formerly Johnston) played collegiate soccer together Santa Clara University.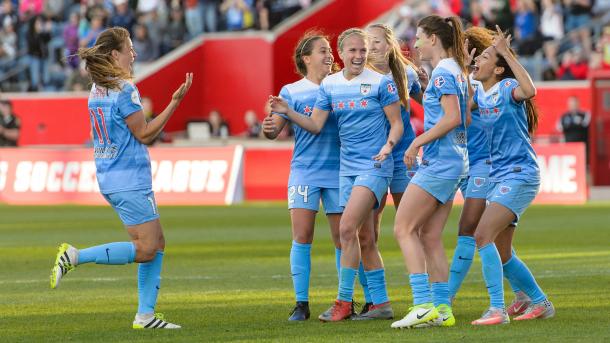 "I want to thank U.S. Soccer for the opportunity and I sincerely appreciate the work that went into getting this change done," Huerta said in the U.S. Soccer release. "Now it's about working to continue to improve and trying to earn my chance to get on the field." Huerta had dreamed of playing with the USWNT since she was a young girl, she said in a recent interview with Lifetime. She also said that she is working to be on the upcoming World Cup and Olympic roster.
The USWNT has two upcoming friendlies against New Zealand. The matches are set for September 15th and September 19th in Commerce City, Colorado, and Cincinnati, Ohio respectively.