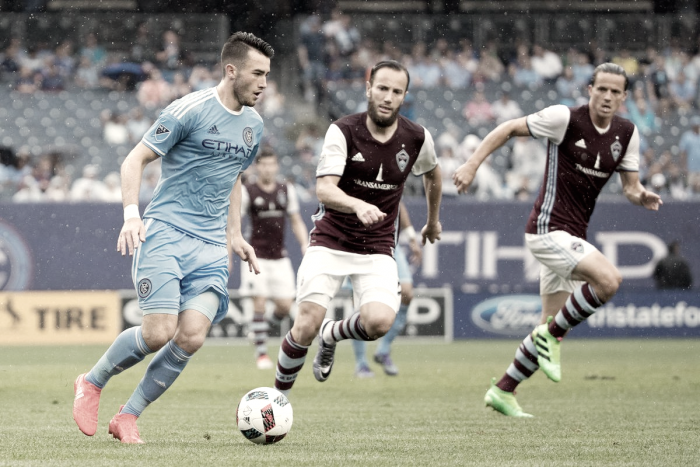 New York City FC travel to Dick's Sporting Goods Park to face off against the Colorado Rapids who recently picked up a win in Houston against a good Houston Dynamo side. That victory ended a winless streak that started back in July.
On the other hand, NYCFC are coming off of a 1-0 loss that they suffered at the hands of an attack heavy Portland Timbers side. This was the clubs first loss since July and it may have been due to the absence of a certain 2016 MLS MVP.
The most recent meeting between NYCFC and Colorado was over a year ago when Colorado traveled to Yankee Stadium. Another game that lacked the 2016 MLS MVP but fortunately for the boys in blue, David Villa wasn't needed. Coming off the back of the MLS All-Star Game, NYCFC were without the current golden boot leader. With one legend absent, another one had to step up and Frank Lampard did just that. Frank Lampard capped off an impressive 3 goal day with a penalty kick. The Englishman slotted the ball in the back of the net and ran off celebrating the first ever NYCFC hat trick.
Team News
Colorado Rapids: The home side have a much shorter injury list than the visitors. Colorado are fortunate to have all but one player available for selection. The one player missing for Colorado is Kevin Doyle as he will be forced to watch from the sidelines as he is battling a concussion. Luckily for them, they'll be facing a very weakened NYCFC side.
New York City FC: As mentioned, NYCFC will be forced to play a weakened starting eleven. The first of the bunch would be Panamanian international Miguel Camargo. While on international duty he suffered a non-displaced hip fracture and will likely miss the remainder of the season.
Maxime Chanot, who was a staple in the backline before his hernia surgery, will watch from home as he is not expected back in the lineup until mid-October. Another player who was a mainstay in the lineup was Ethan White. Unfortunately for him and his teammates he will also be forced to miss the match with a gastrocnemius strain. Ethan picked up the injury in the most recent Hudson River Derby.
Mikey Lopez also picked up an injury that night. The versatile midfielder is suffering from a midfoot sprain and will be forced to sit with the rest of teammates and watch as a spectator on Saturday night.
Yangel Herrera, who is currently on loan from Manchester City will also be forced to miss the match through injury. Herrera is suffering from an athletic pubalgia injury and will not play. Maxi Moralez has formed a terrific trio with both Herrera and Alex Ring but may be without both of them on Saturday as Alex Ring picked up a toe injury while on international duty with Finland. Alex Ring is listed as questionable and will hope he can partner Maxi Moralez as the terrific trio looks to get back to full strength.
Ronald Matarrita made a name for himself last season as one of the best fullbacks in MLS, but unfortunately for both him and his club, he's most most of the season with injuries. The Costa Rican international did give his fans hope as he returned to training this week though. Another player who returned to training and is now listed as questionable is the 2016 MLS MVP, David Villa. Spain's all-time leading goalscorer will be hoping to return to action on Saturday as he missed out on the fun vs Colorado last year.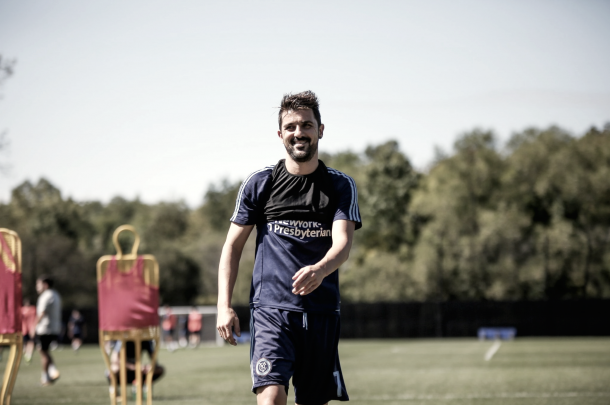 What's Next?
Following their home match against NYCFC, Colorado will travel to BC Place to take on the high-flying Vancouver Whitecaps FC. Following the tough match up North, Colorado will go further south to take on FC Dallas at FC Dallas Stadium. Both tough games off the back of a hard hitting NYCFC side, Colorado will be hoping for as many points as possible over this tough stretch.
New York City FC will also be hoping to be picking up as many points as possible as they are one of few clubs who can still catch Toronto FC in the Supporters Shield race. First, they'll controversially host the Houston Dynamo at Rentschler Field. Following that, they'll travel to Saputo Stadium to take on Igancio Piatti and the rest of the Montreal Impact. Again, NYCFC believe they can catch the uncatchable and still win the Supporters Shield despite Toronto's impressive 10 match unbeaten streak and this stretch is the most important of the season for the Cityzens.