Real Salt Lake are one of those teams that the Timbers always seem to struggle against. Early in Portland's MLS life, they never beat RSL, the lowest point being when Nick Rimando & Co. knocked Portland out of the playoffs early in 2013. Since then, Portland had been playing better against the boys from Sandy...until this year.
Portland was abjectly humiliated by them at Providence Park in July, and games in Sandy are always tough thanks to the cavernous pitch. Altitude also doesn't help - the already-light soccer ball becomes even lighter and flies even further and more erratically in the thin air, making for a tricky environment for any visiting team.
The Timbers didn't play all that badly, but they also didn't play all that well - RSL were also off their game, but they had enough to bag a 2-1 win and resuscitate their faint playoff hopes for yet another week. Portland, thanks to every other Western contender dropping points, remain level with three teams on 44 points, and in second place on the wins tiebreaker, so this was not necessarily a bad weekend to lose if losing had to happen.
THE GOOD
Diego Valeri. I mean, what more is there to say? His picture-perfect header off a picture-perfect Dairon Asprilla cross came in the eighth game in a row in which he has scored, a streak unmatched in MLS history. Diego plays in the upper corner of the US, but not for the biggest team in that corner, so he doesn't necessarily get the plaudits he deserves, but he deserves all of them. Portland would be a lesser place without him - both Portland the team and Portland the city.
THE BAD
Dairon Asprilla. Dairon is not a bad player. He's...decent. But there's no denying that, aside from the lovely cross he fed to Valeri for the goal, he had a bad night. He missed three clear chances at a goal, any one of which would have changed the tenor of the game entirely; his miss that would have been easier to score in the 37th minute after a Nick Rimando parry of a Valeri shot being the worst of the game.
Dairon will have better nights, but this one he'll want to forget as soon as possible.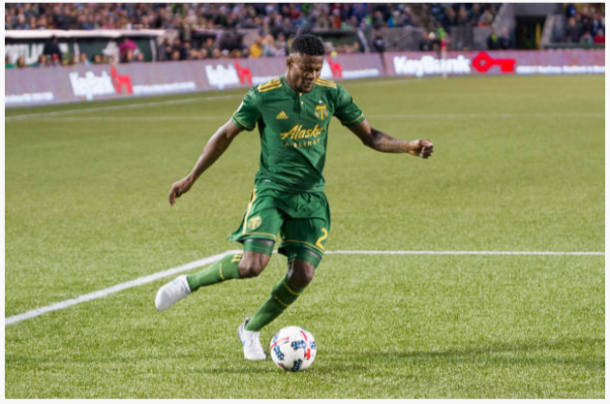 A day he won't want to relive.
Image: Diego Diaz/Icon Sports via Getty Images
Consistency. One of the things that the Timbers have struggled with this year is finding consistency, particularly in their back line, as they have had player after player go down with injury over the course of the season. Over the last four or five games, though, that consistency was built thanks to a relatively stable, if second-string, defensive line that didn't change all that much.
So of course, Caleb Porter went ahead and changed the backline again, restoring the newly-healthy Liam Ridgewell to the back and the captaincy. I have nothing against Ridgewell; I do think that it's a bit shortsighted of the coach, when things are going well with the defensive unit, to change that unit just because Ridgewell is healthy again.
I get that Ridgewell is captain, and I get that he's a good player. But "don't mess with what's working" seems like a more reasonable approach, given the frailty of the Timber defense overall, and I'm not sure why Porter didn't go that route.
THE UGLY
Speaking of "don't mess with what's working", Caleb Porter probably stuck with Jeff Attinella in goal now that Jake Gleeson is healthy because, like a lot of sports people, he believes in the hot hand, even though the gambler's fallacy is pretty much what built all those giant casinos in Las Vegas.
And there's no doubt Attinella has played well and made some nice saves in his time covering for Gleeson. But then, last night, this happened. He was slow off his line, he was slow to react, but even still, he got to the ball - only to see it ping off his hands into the net.
He did redeem himself later in the game, for sure, but I don't think the Gleeson v Attinella debate is as cut and dried as a lot of people have wanted to make it seem in the last few weeks.