The name of Ryan Meara has been written down by New York Red Bulls coach Jesse March as the goalkeeper in goal for the U.S Open Cup Final.
After Monday's practice, Marsch announced that the 26-year-old netkeeper will be starting against the Sporting Kansas City. "We are all excited for a big opportunity for him; we know he will be ready to go".
Throughout this 2017 U.S Open Cup edition, Marsch has trusted Meara's skills over MLS' starter Luis Robles. The Crestwood, New York native has responded to Marsch's confidence vote with transcendent performances like the penalty kick save against Philadephia in the Round of 16.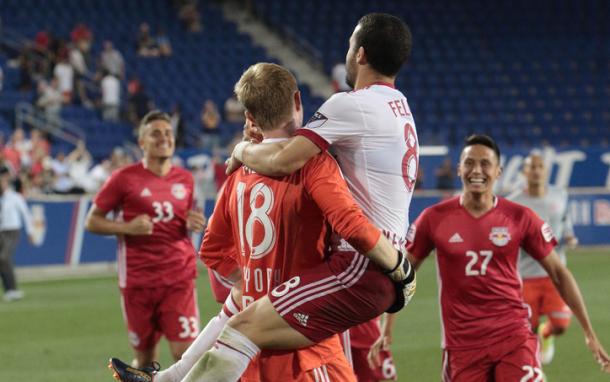 "It's the type of decision that I felt I couldn't it get wrong because we have two such good goalkeepers, but I also knew I couldn't get it right. I knew whoever I was telling, it was going to be really disappointing. But these two have supported each other so well throughout this two years that I have been here", explained Marsch.
The great moment that Meara is going through was, indeed, the reasoning behind the decision. However, this two-year process that the goalkeeper has lived under Marsch's tutelage played a big role.
"In the end, it was just a decision that was based a lot on the fact that Ryan has earned it through how he has played in this tournament and handled himself for two years".
On Wednesday's night, when all the flashlights will be pointing to Meara's #18, Marsch won't have any doubt. "This is his tournament to play. He's going to take us through the final and the trophy".