Be honest. Two months ago, did you think the Timbers would be heading into the last four games of the season with a legitimate shot at claiming first place in the Western Conference? Because I sure didn't. This has been a rather interesting season in the West, which is usually dominant, but this year has been...let's call it inconsistent. The Timbers are perfectly poised to take advantage of said inconsistency and finish the regular season just as strongly as they started it.
The Timbers' four opponents remaining this season are Orlando City, San Jose, DC United, and Vancouver. Three of those games are at home, where the Timbers are averaging two points per game so far this season. The road game, next weekend at San Jose, will be tricky because San Jose are just as tough at home as the Timbers, but realistically, the Timbers should be looking at a minimum of 8 points from the rest of the season - wins against OCSC and DCU, and draws against SJ and Vancouver.
I'd love to see Portland beat Vancouver and get some measure of revenge for the Whitecaps' taking the Cascadia Cup on the last game of last season, but Vancouver's on a pretty great run themselves at the moment, so that game has draw written all over it.
THE TASK AT HAND
But we're not there yet. Tomorrow the Timbers welcome Orlando City to Providence Park as they try to bounce back from last weekend's 2-1 loss at Real Salt Lake. Orlando City's playoff hopes are fading very fast - the team having only won two games since June - but they're coming off a draw against high-flying Atlanta United that will give them some hope, however faint, that they can grab that last Eastern playoff spot.
They come into this match pretty healthy, but will be without the services of Will Johnson, suspended while domestic violence allegations against him are investigated and dealt with.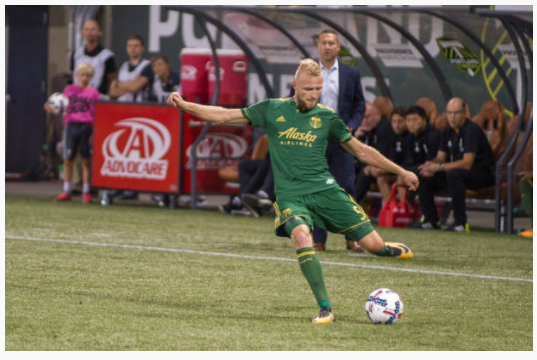 Vytas has quietly been one of Portland's better defenders this season
Image: Diego Diaz/Icon Sportswire
Portland is also returning to health - Liam Ridgewell played last weekend, and reports have Fanendo Adi theoretically available for some minutes tomorrow, probably from the bench and not as a starter. Jake Gleeson is also healthy, and it will be interesting to see whether he gets the start after Jeff Attinella's shaky performance last week.
Oh, and there's also the little matter of Diego Valeri, who will be looking to score in his ninth consecutive game, extending the record he set last week in Salt Lake.
NEW BLOOD
Both Timbers keepers should be looking over their shoulder Sunday, though, because in an attempt to reinforce their ranks, the Timbers signed Derrick Tellez to a contract for the weekend. Tellez comes in just in time to hopefully put the question of "who should be the Timbers' starting goalkeeper" to bed for a while - he's young, he's hungry, and by all accounts he's ready to step up and fill some pretty big shoes.
The Timbers are pretty lucky to have signed Tellez, too - he's already well known around the league, with the likes of Sunday's opponent Orlando City, MLS Commissioner Don Garber, and fellow goalkeeper Nick Rimando welcoming Derrick to the league and recognizing his abilities.
It's safe to say that Portland signed a good one here, and I'm looking forward to hearing more from this young man in the years to come. Welcome to the Timbers, Derrick, and I hope you and your family have an amazing weekend.
PROJECTED LINEUPS
Portland:
Tellez (Gleeson); Valentin, Mabiala, Ridgewell, Vytas; Nagbe, Chara; Asprilla, Valeri, Blanco; Mattocks
Orlando City:
Bendik; Sutter, Redding, Pereira, Toia; Nocerino, Powers, Yotun; Barnes; Dwyer, Larin
Referee:
Baldomero Toledo
WHAT/WHERE/WHEN/HOW
TImbers vs. Orlando City SC
Providence Park, Portland
Sunday, September 24, 2017
5PM PT/8PM ET
TV: FS1
Streaming: MLS Live (subscription service, blackouts apply)