 This has been a long summer in Portland. It was way hotter than normal, until last week there had been no appreciable rain since early June, and the forest fires in the Gorge smoked out the city to a pretty disgusting degree over the last month. The Timbers also haven't had a great summer - it's gotten better recently, but from the middle of June to the middle of August, the Timbers recorded three wins in 11 games.
Fortunately, there were enough draws in there (five, if you're counting the Sounders game on 8/27 as "the middle of August) that the Timbers were able to keep touch with the rest of a weaker-than-usual Western Conference. And now that the Timbers are playing better - four wins and a draw in their last six games - the battle isn't so much to stay in the playoff places as it is to get into one of the top four spots and avoid the Wednesday play-in game.
The Timbers took a huge step in that direction Sunday night, dismantling a very not good Orlando City team 3-0. OCSC was down to nine at the end of the game, but even when they were at full strength, Portland tore them apart - Portland looked solid, looked like they had a game plan, and effortlessly executed said plan to run all over the Lions.
The win keeps Portland in second place, level with Sporting KC on points but with one more win. Portland have the fewest remaining games of any of the top six except Real Salt Lake, so things will continue to evolve, but Portland's doing what they need to do in order to make the games played deficit not matter, which is all we can ask.
THE GOOD
Darren Mattocks. This is in no way a unique or groundbreaking opinion, but I have long been enamored of Darren Mattocks' abilities while being frustrated with his inability to utilize them. I love players like Mattocks - quick, smart, able to read the game really well - but Mattocks has had finishing problems for a while now. But Sunday night, he got a goal, and arguably should have had a couple more, all while dictating a lot of the attack and the pace at which the Timbers threw people at Orlando's defenders.
I want Mattocks to be this every game, but at the very least it was good to see on Sunday, and I'm glad he got the goal his efforts deserved.
Diego Valeri. One of the things that drove Ken Griffey Jr. nuts during his time with the Seattle Mariners was that he felt, with some justification, that fans took him for granted. He felt like he was doing some amazing things, but that fans didn't notice, because "amazing" was his baseline, so people only noticed the spectacular, not the everyday amazing.
I don't want to fall into that same trap with Diego Valeri. That's nine straight games with a goal now for Valeri, and his 20 goals on the season are the most by a midfielder in MLS history. The only "bad" thing about his game is that he didn't get a hat trick, which would have been a) awesome and b) the first hat trick in Timbers' MLS history, despite having a couple good chances at that third goal. But I can't complain, because Valeri was also hustling his butt off the whole game.
Valeri is an amazing player who does amazing things every game. Don't take him for granted.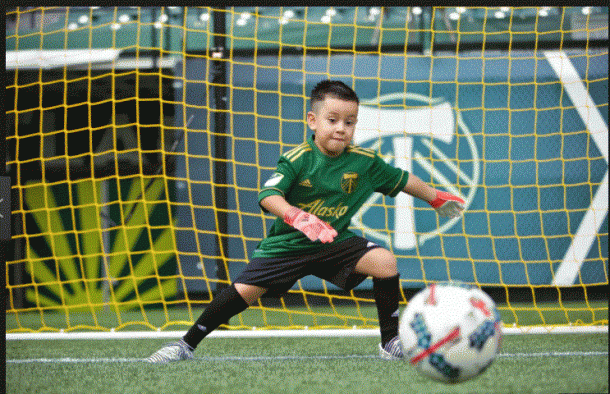 Derrick Tellez, in action for the Timbers
Image: Craig Mitchelldyer/Portland Timbers
THE BAD
Finishing. In addition to the one or two more Valeri could have had, Mattocks could have had a couple more than he did, and Dairon Asprilla could have had at least one. It's nitpicking on a night that went so well to say "this game should have finished 6-0", but it easily could have, and after a summer where chances were few and far between, to see so many go begging Sunday was a bit jarring. But, you can't miss chances if you don't create them, and the creation was in full flow, so that's a positive.
THE MVP
Derrick Tellez. On a picture-perfect night in Portland - ideal temperature, beautiful skies, and a fairly easy Timbers win - the star of the night was undoubtedly the Timbers' newest signing, goalkeeper Derrick Tellez. He had the night that every goalkeeper wants to have - he had nothing to do during the game, and at the end he got to hold up the log slice symbolizing the clean sheet he kept.
Derrick was named the MVP last night, and while Valeri's streak extension and Mattocks' goal and overall performance were worth lauding, I'm not sure there's a person in the city who would dispute Derrick's selection as MVP. He's a fantastic addition to the Timbers family and I hope he and his family had an amazing weekend.