Montreal Impact welcomed one of the league's best in New York City FC to Saputo Stadium on Wednesday night in hopes of grabbing some points and extending their playoff dream. Montreal knew that it was going to be a tough battle as NYCFC are unbeaten in their last three away matches, while conceding just two goals and will be looking to extend that run for as long as they can.
This was the last meeting between these two sides this season, with the first of the two happening back in March at Yankee Stadium. That match ended in a 1-1 draw as Rodney Wallace scored on the brink of halftime to give NYCFC the lead but was later matched by a Dominic Oduro goal which saw both clubs go home with just one point.
Both clubs had a lot to fight for heading into the match, as New York City FC were be hoping to pick up as many points as possible throughout the remainder of the season in hopes of finishing second in the Eastern Conference. A second place finish ensures them a first round bye in the playoffs for a second consecutive season.
On the other hand, Montreal were hoping to win in hopes of reaching the playoffs themselves. The hosts currently sit just three points behind the New York Red Bulls and are battling for the sixth and final playoff spot in the Eastern Conference.
Jack Attack
After about 30 minutes into a 0-0 game, everything changed. Jack Harrison broke the deadlock after a wonderfully played give-and-go with Rodney Wallace. Harrison picked the ball up on the left flank at midfield, took a few steps and played the Costa Rican the ball. Rodney returned the favor with a lofted through ball as Laurent Ciman came crashing in and found Harrison's feet. He took a touch, settled himself and blasted a ball with the outside his foot past an uncoming Evan Bush.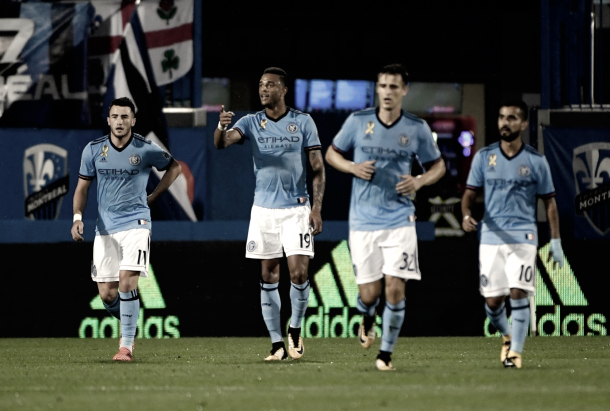 Scoreless Second Half
Both sides battled in hopes of grabbing a goal, whether it be an equalizer or a goal to extend the lead, but neither club found success. David Villa's arrival to the field meant NYCFC were going to continue to create chances but unfortunately for him and the rest of NYCFC, they could not double their lead.
Montreal also struggled to find a way through the NYCFC back line, which resulted in them going home with zero points. Ignacio Piatti could not inspire his team to grab a goal and now his club have lost six of their last seven games after a four game win streak that ended back in August. Montreal's playoffs chances are slowly but surely looking slimmer and slimmer and something is going to need to change if they want to play beyond October 22nd.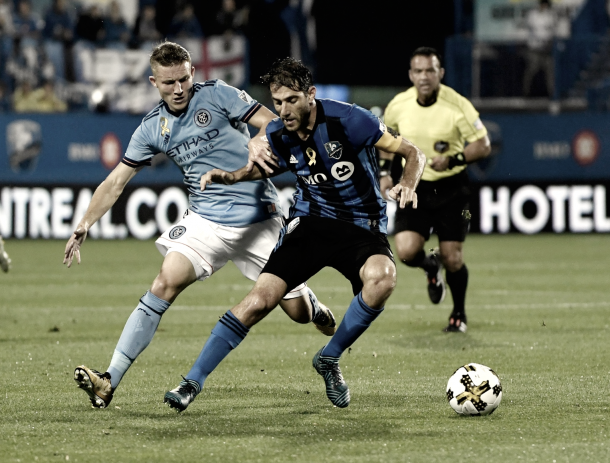 What's Next?
Following the match against NYCFC, Montreal will close out the season with matches in Colorado and Toronto before hosting New England at home to finish the season. First up, the Mile High City. Montreal will travel to Dick's Sporting Goods Park to take on a struggling Colorado Rapids side.
After that, Montreal will go on a trip to face their Canadian rivals, Toronto FC, at BMO Field. Toronto has looked almost unstoppable for much of the MLS season but were recently stopped by Montreal, can they do it again? Finally, Montreal will welcome the New England Revolution to Saputo Stadium for the final match of their regular season campaign. Montreal will need positive results in almost all of these games if they want to reach the playoffs.
NYCFC will also travel two more times before finishing out the season at Yankee Stadium. They'll travel to Toyota Park for the first and only time this season to take on the Chicago Fire. Following that, they'll face off against the New England Revolution at Gillette Stadium. This will be the third and final meeting between the two clubs, and the first away from home for NYCFC. Last but not least, NYCFC will host Columbus Crew SC at Yankee Stadium. NYCFC hopes to gain maximum points from these fixtures as Atlanta United FC are on their heels hoping to steal the first round playoff bye from NYCFC.