After the disaster on the road that was 2016 for the Timbers, 2017 has been much better. They won their first road game 1-0, and have become the third-best road team in the Western Conference this year. Four wins, a total of 16 points, and scorers of 20 goals away from home, it's safe to say that Portland has overcome their road woes this season pretty completely.
And speaking of woes, the Timbers' last road trip of the regular season takes them a short distance down I-5 to San Jose. The Earthquakes currently sit below the playoff line, and have been outscored 8-1 in their last two games, most recently Wednesday night's 4-1 loss at home to the newly resurgent Chicago Fire.
The Earthquakes will want to right that ship quickly, and Portland will want to solidify their playoff position - the Sounders and Sporting KC are level on points with the Timbers right now. The Timbers hold second place behind Vancouver, though, thanks to the total wins tiebreaker. A little separation from the pack would be very helpful, and picking up a win heading into the last couple games of the year would be huge.
SCORING, OR LACK THEREOF
San Jose, as mentioned, is below the playoff line right now. Why is that? Well, part of it could be that through 31 games, the Quakes have scored a mere 33 goals - with Chris Wondolowski accounting for 12 of those. No other San Jose player has even half that many. When you pin all your scoring expectations on one player, and that player's name isn't Ronaldo or Messi, you're going to struggle, and the Quakes have struggled mightily to put the ball in the net.
They've also struggled pretty hard to keep the ball out of their net. They've allowed 56 goals this season, fourth worst in all of MLS. To put that in a small bit of perspective, the Timbers have scored 53 goals this season. The Quakes, clearly, have issues on both sides of the ball, and since they're on short rest after Wednesday's loss, they absolutely look ripe for the picking. The Timbers have struggled in games they should win this year, so there's no way this is a gimme, but this is about as good of a setup as they'd want for this game.
If the Timbers approach this game the way they approached the Orlando City game, they should do well - San Jose defend in a similar fashion to OCSC (read: too high and not well). If the Timbers can exploit the space behind the back line that creates this weekend as well as they did last weekend, this should be a pretty straightforward night's work for Portland.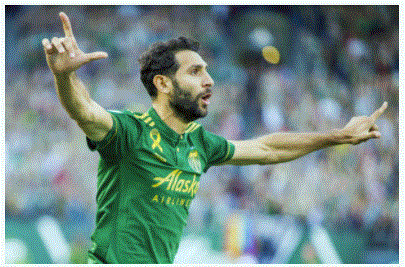 TEAM NEWS/PROJECTED LINEUPS
The Timbers are working their way back to full health. Fanendo Adi's still out "another couple of weeks" according to the team, but other than that, most of the usual suspects should be around. David Guzmán is still out with a quad injury, which probably means Lawrence Olum at DM again unless Darlington Nagbe drops deep. Liam Ridgewell continues to be fit, though, and overall the Timbers are in pretty solid shape for Saturday night.
The Earthquakes are again without Marvell Wynne, who has a heart abnormality, and Fatai Alashe has an injured quadriceps.
LINEUPS:
Portland:
Attinella; Valentin, Mabiala, Ridgewell, Miller; Olum, Chara; Nagbe, Valeri, Blanco; Mattocks
San Jose:
Tarbell; Sarkodie, Affolter, Imperiale, Salinas; Hoesen, Yueill, Jungwirth, Vako; Wondolowski, Urena
Referee:
Kevin Stott
WHAT/WHERE/WHEN/HOW
Timbers v. San Jose Earthquakes
Avaya Stadium, San Jose
Saturday, Sept 30, 2017
7.30 PM
Broadcast:
Portland: KPDX
Bay Area: NBC Sports Bay Area
Streaming: MLS Live (subscription service, blackouts apply)