The regular season home finale of Columbus Crew SC ended with a spot in the Audi MLS Cup Playoffs after they defeated Eastern Conference foes D.C. United by a score of 2-0. The win gives Columbus eight straight unbeaten matches and sets a new club record of home wins at 12.
The match also saw the return of Artur in the starting lineup.
Columbus had a chance to open the scoring early in the match when midfielder Artur stalked a back post off of a corner kick, but former Crew SC keeper Steve Clark was able to get a fingertip on the ball and put it out of Artur's reach.
Williams scores second goal of season
The home team was able to get on the scoreboard when midfielder Federico Higuain whipped in a corner kick ball and found the head of center back Josh Williams.
While there was speculation of the type of reception Clark would get while back in Columbus, the answer was given when the supporter's section belted out in song "Steve Says Yes," which is a parody of the "Steve Says No" chant the fans would sing when Clark made a save while playing for Crew SC.
The goal from Williams marked his second goal of the season in just as many matches for the Black and Gold.
The first half after the goal became a bore. No good chances were created by either team, and Columbus carried the lead into the halftime.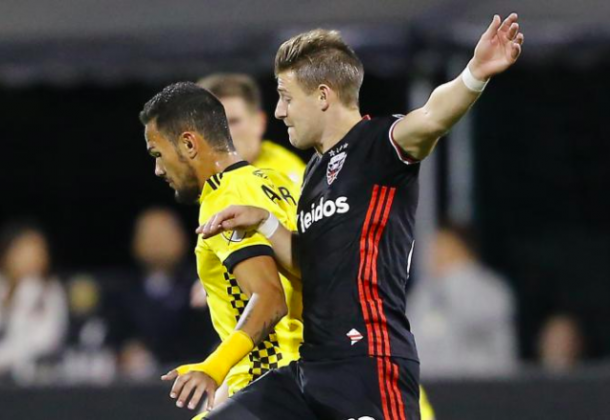 Justin Meram can't stop scoring
12 minutes after the second half got underway, Columbus doubled their lead to 2-0 with a goal from Justin Meram.
Higuain found a trailing Artur behind him. Artur collected, then found Meram open on the left wing after a playful dummy from Wil Trapp.
Meram dribbled into the box and took a curled shot that kissed the crossbar and down into the net.
Near the end of the match, striker Ola Kamara nearly put the game to bed when his open shot inside the 18-yard-box was deflected out for a Columbus corner kick.
Artur also had a shot of his own in stoppage time, but his attempt went high over the crossbar.
Columbus clinch playoffs for third time in four years
Since the appointment of Head Coach and Sporting Director Gregg Berhalter, Columbus has clinched the playoffs three out of four years.
With a little help of other matches, Columbus has a chance to get a better seeding and possibility of having a home match to start.
Columbus takes a week off for the International Break before traveling to Florida to take on Orlando City SC. D.C. United travel West to take on the Portland Timbers as the regular season starts to come to a close.