New Jersey's Sky Blue FC will travel to Massachusetts on Saturday to take on the Boston Breakers in the final week of the NWSL season. A tumultuous season for both teams, both sides will be eager to end the year on a high note. Although a playoff spot was within their grasp for much of the season, even a win on Saturday would leave Sky Blue in fifth place, still out of reach of the Orlando Pride in fourth place. The Breakers have had less than a stellar season, but this weekend's result could be the difference between ninth place and dead last. A home result this weekend would mean wonders for fans and players alike as they enter the offseason.
Sam Kerr and Sky Blue want one last thriller
Sky Blue has provided fans with a whole lot of entertainment this season. Occasionally going down by two goals early in a game just to come back and score four in the second half, more often than not the team left fans and opponents alike with their jaws dropped. It only takes one glance to see that Australian national player Sam Kerr plays a huge role.
The forward has been a fan favorite in New Jersey for years, but her phenomenal performance this season has earned her international acclaim. Although snubbed for FIFA Women's World Player of the Year, she has been one of the top scorers in the league, and likely won't let the season end without some more goals. Combined with Kelley O'Hara in the back and Raquel Rodriquez helping up top, the team will be tough to beat.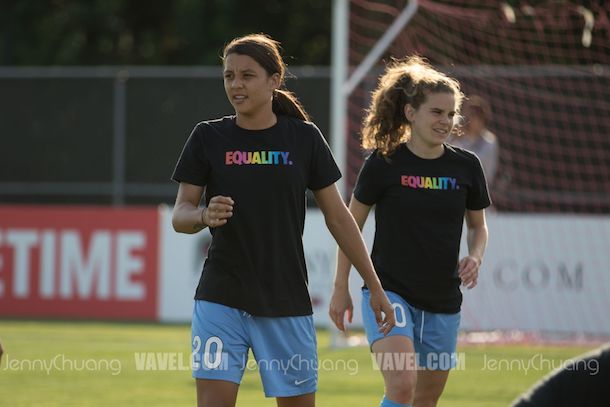 Boston isn't ready to quit
The Boston Breakers haven't had an easy season. Having yet to truly find their footing in the league, the team has bounced around a bit, this year especially. No matter what the result is, the team is rarely shut out, and their 3-0 victory over the Washington Spirit last week was convincing enough in their abilities up top.
With Rose Lavelle, who is considered by some to be one of the USWNT's most promising young players, the team has creativity and energy, and Midge Purce is able to finish the chances her team creates. Despite their rocky season, their fans have held tightly to their beloved home team, and for their last match on Jordan Field in 2017, they'll want to put on a show. What better way than upsetting a north-east rival and keeping them out of the top half of the table?
Game Details
The Match will be played at Jordan Field in Boston, Massachusetts. The game kicks off at 7 pm EST on September 30, 2017. The match will be streamed on the go90 app and website.