Thanks to the Timbers' struggles in June and July, they knew that, going into this last month of the season, they'd have very little margin for error if they wanted a high playoff seeding, and to avoid a Wednesday/Thursday play in game. The West is very tight, and any slip-up could be extremely costly.
As of Saturday night, that margin is gone.
The Timbers returned to their midsummer form against the Earthquakes on Saturday night in San Jose, losing 2-1 to a team that had eight goals hung on them in their last two games. The Timbers struggled defensively, thanks largely to Caleb Porter's decision to keep the same lineup together that played against Orlando City - despite the fact that San Jose are not the same team as Orlando City.
That backfired with spectacular effect in the 16th minute when, after a particularly Timbers piece of "defending", Vako put a quick shot past Jeff Attinella. That set the tone for the game, and the Timbers never really mounted much of a challenge until, early in the second half, David Guzmán and Vytas came on for Dairon Asprilla and Roy Miller.
This double switch, just after half time, resulted in the lineup that arguably should have started the match, and the difference showed. The Timbers played with energy and industry once those two came on, and while it wasn't enough, one good goal (and one goal called for the barest of offsides) was at least a decent showing for a side that looked for all the first half like they were utterly lost.
THE GOOD
Um. Not much? I mean, nobody got a red card, and nobody got injured, so that's a positive, but overall no Timber should feel happy with this game or with their performance in it. With a lot on the line, they came up short, and not in the heroic-but-not-quite-enough sense. This game was very much not good enough, and thankfully they have two weeks now to turn it around before their final two games of the regular season.
I guess one "good" is that everyone who is not Vancouver apparently doesn't want to make the playoffs, so this loss, coming as it did a day before the Sounders lost at Philadelphia, didn't hurt all that much. Crapping the bed and hoping others will wash your sheets isn't really a repeatable skill that I would like to see the Timbers develop, though.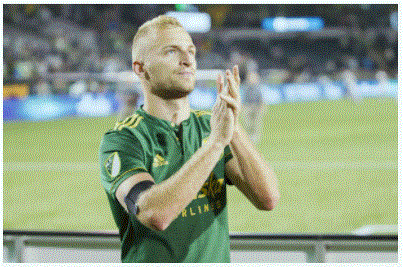 Vytas was a difference maker, but came on too late to make enough of a difference
Image: Diego Diaz/Icon Sportswire via Getty
THE BAD
Diego Valeri is human. I don't really think he belongs in the "bad" category overall, of course, but Valeri's streak of 9 consecutive games with a goal came crashing to a halt in the worst possible way Saturday night. He had some good chances, including this one very early on - but that miss seemed to set the tone for his night. He's Diego Valeri, he'll be good again, but he can't be counted on to singlehandedly push the Timbers to a win every week.
Caleb Porter. He got his team selection very wrong this week. Without Vytas, who has arguably been the team's best defender this season, the Timbers struggled to unlock their own attack and also struggled to contain an Earthquakes offense that hadn't needed containment in recent weeks. Like Valeri, he doesn't get "The Bad" very often, but this one's deserved.
THE UGLY
San Jose's pitch was a mess and the stadium smells like jet fuel all the time, thanks to being directly across the street from San Jose International Airport.