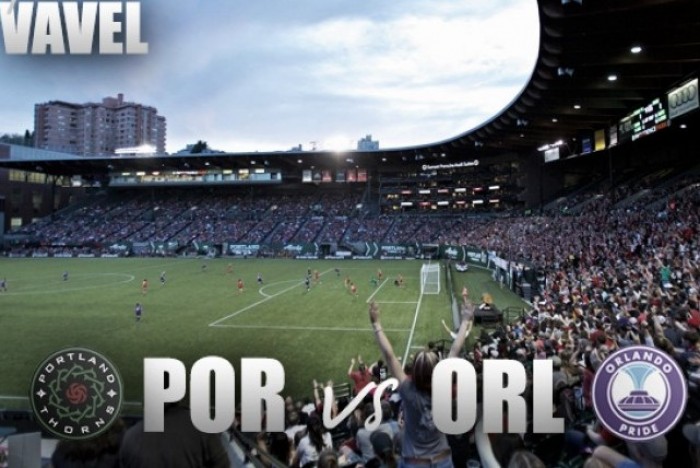 That'll do it! The Portland Thorns defeat the Orlando Pride, 4-1. Portland will now await the result between the North Carolina Courage and the Chicago Red Stars to find out their opponent in the NWSL Championship. Thank you for following along here on VAVEL USA! This has been Cindy Lara. Until next time!
90' + 4' - The referee blows the final whistle! FULL-TIME! PORTLAND WINS! Portland will make their second trip to the NWSL Championship!
90' + 4' - Orlando with one last effort, but Portland again clears away.
90' - The referee indicates four minutes of stoppage time.
89' - The final substitution of the day for Orlando: Danica Evans in for Edmonds.
89' - Klingenberg nearly adds another for Portland! Shot goes wide.
Christine Sinclair scores, making it harder for Orlando to pull any comeback with the game near the end of regulation. Portland leads 4-1. Nadim immediately with the impact as she sends a long ball into the box where it finds Sinclair.
82' - GOAL! PORTLAND! 4-1 NOW!
81' - Another change for Portland: Allie Long subs for Henry.
81' - Two changes. One for each team. Orlando: Jasmyne Spencer in for Weatherholt. Portland: Nadia Nadim in for Heath.
79' - Orlando earns a free kick after a hard takedown by Henry on Weatherholt. Henry is shown the yellow.
74' - Orlando on the counter now. Kennedy shoots from a distance.
72' - Orlando makes their first change: Rachel Hill in for Ubogagu.
After much of the possession and high press was all Orlando this first half, Portland finds an opportunity. Horan sends it high over the Orlando backline where Raso's speed was too much for Krieger. Raso goes one on one with Harris and sends her shot past the Orlando goalkeeper. Portland leads 3-1.
71' - GOAL! PORTLAND!
69' - Orlando with another corner kick. Marta sends it right into the box, but Adrianna Franch leaves her line to grab it from the air.
67' - Portland makes their first substitution of the game: Dagny Brynjarsdottir for Sykes.
66' - Marta playing some beautiful football taking the ball past several Portland defenders. She passes to Steph Catley, who takes it into the box for a cross. Sonnett clears it away.
62' - Orlando earns another corner kick. Again, Portland's defense refusing to give up anything, and it is cleared away.
59' - Morgan returns to the field after getting some attention on the sideline.
58' - Katherine Reynolds and Morgan collide as both go up for the header in the Portland box. Morgan is down.
57' - Orlando earns a free kick after Raso takes down Edmonds. But after some infraction in the box by Orlando, the ref calls a foul and the ball goes the other way.
54' - Klingenberg almost breaks away, but she is called offside.
53' - Marta in the box for Orlando. Portland's defense stops her creativity for a corner kick instead.
51' - Thorns earn a corner kick, but it does not materialize into anything.
48' - Morgan with a chance right away, but her shot goes wide.
46' - We are back for the second half!
Halftime! An exciting first half resulted in three goals in 25 minutes for the first semifinal of the weekend. Portland took an early 2-0 lead in 15 minutes, but Orlando was able to make some formation adjustments and scored a goal of their own to keep this game close. The Pride continue to create chances, but the Thorns hold the 2-1 lead at halftime.
Three minutes of extra time have been added.
45' - Halftime is nearing, and Portland regains possession, but only momentarily as Orlando takes back possession.
41' - A bit of a fight over who gets the ball at midfield as it goes out of bounds. Lindsey Horan pushes Kristen Edmonds. Both players are warned, but referee Timothy Ford does not show a card to either of them.
40' - Raso almost breaks free towards goal, but Krieger catches up, and the effort ends in a corner for Portland.
37' - Orlando with a couple of chances. Morgan almost beats her defender but loses control. Kennedy gets possession, but Portland's stingy defense is there to put a stop. Orlando regains possession and Ubogagu takes a shot that goes high over the crossbar.
36' - They do not. Play is back at midfield with Portland trying to press forward.
35' - Orlando earns consecutive corner kicks. Will they equalize?
29' - Dani Weatherholt almost gives the home side an accidental goal.
On the corner kick, Marta passes to Chioma Ubogagu who passes it back to Marta, and Marta sends it in where Toni Pressley heads it first, and then Alanna Kennedy finishes it with a header into the goal. Portland leads 2-1.
23' - GOAL! ORLANDO!
23' - Orlando is trying to get on the board. A cross in the box leads to a corner kick.
Portland earned a free kick after Raso was taken down. Heath with the kick towards goal and Emily Sonnett's header finds the back of the net. Portland with the 2-0 lead.
15' - GOAL! PORTLAND AGAIN!
Meghan Klingenberg sent a ball into the box, and Amandine Henry got in front of Ali Krieger. With a one-touch, Henry puts it in past Ashlyn Harris. Portland is up first, 1-0.
12' - GOAL! PORTLAND SCORES!
9' - Heath, however, returns after a brief treatment.
8' - Heath is down in the box and looks to be in pain.
7' - Portland with a chance in the box, but Hayley Raso is not given any room and is tugged by the arm, but no call is made.
3' - Alex Morgan is taken down by Ashleigh Sykes, giving Orlando a free kick.
1' - Immediately on the kickoff, the Thorns are on the attack. Heath sends it into the box, but no one is there, and Orlando clears it away.
Kickoff is underway!
Tobin Heath makes her first start for the Thorns for 2017. After recovering from a back sprain, Heath returned two weeks ago in the regular season game against Orlando.
Orlando Pride Starting XI: Harris (GK) (C); Monica, Krieger, Edmonds, Catley, Pressley, Weatherholt; Kennedy; Ubogagu; Marta; Morgan
Portland Thorns Starting XI: Franch (GK); Sonnett; Reynolds; Menges, Henry, Klingenberg, Horan, Sykes, Sinclair (C), Heath, Raso.
The winner of today's game punches their ticket to the NWSL Championship in Orlando, Florida. Portland is looking to return to the NWSL Championship for the first time since 2013 when they won the title for the inaugural season. The Orlando Pride, as an expansion team starting in the 2016 season, would make their first championship game appearance.
We are less than a twenty minutes away from kickoff. It's a beautiful day at Providence Park for some soccer. Both teams are on the field warming up, and the Rose River Riveters, the Portland Thorns supporters group have already filled their seats. The rest of the stadium is starting to fill up.
Prediction:
My fellow VAVEL USA contributor Kudzi Musarurwa predicted a 3-2 Orlando Pride victory. Read her preview of the semifinal here.

Orlando will definitely put up a tough stance, but Portland at home plus a mindset for redemption after last year's home semifinal defeat to the Western New Flash, it's the Thorns' game to win, 2-1.
Game Analysis:
Once upon a time, Portland always seemed to give Orlando trouble, and with three wins in four matches, the Thorns still very well hold the advantage. However, two weeks ago in a 0-0 draw, Orlando tweaked that narrative. The Pride is a completely different team from the one that traveled to Portland on April 15th. Marta and Alex Morgan were not on that trip. The Brazilian international had just been signed to Orlando, and Morgan was playing in France. Orlando is now a team that has the Marta-Morgan combination and a stingy defense led by Ali Krieger and Steph Catley. Morgan is in top form with nine goals, and Marta scored 13 goals for the season. The Pride also carry a nine-game unbeaten streak and bring a top offense that scored 45 goals for 2017.

Portland, on the other hand, has a league-leading defense, allowing the fewest goals. Led by goalkeeper Adrianna Franch and a backline composed of Emily Menges, Meghan Klingenberg, Emily Sonnett, and Ashleigh Sykes, the Thorns recorded three shutouts in September. Menges made 13 clearances, nine tackles, seven interceptions and three blocks for Portland. Franch is also the new NWSL record holder for the most clean sheets in a season with 11. She finished the season with 80 saves and 80% saves-to-shots ratio.
Thorns versus Pride History:
This marks the third meeting in 2017 between the two clubs. Orlando and Portland opened the regular season back in April with the Thorns gaining the 2-0 victory. Two weeks ago, the Thorns and the Pride finished their season series with a 0-0 draw. In the four previous meetings, Portland has won three.
How Orlando Reached the Playoffs:
The Orlando Pride reached their first postseason in their two-year franchise history since becoming an expansion team with an 11-6-7 record, third in the NWSL and clinched a playoff spot on Week 21. On that week, Orlando just needed a win versus the Thorns in the NWSL Game of the Week to secure a playoff spot. However, Portland would not make it easy for the Pride, holding them to a 0-0 draw in front of 7,353 fans at Orlando City Stadium. Orlando would have to wait a day for the result between FC Kansas City and the Seattle Reign. If Seattle either lost or was held to a draw, Orlando would clinch. FC Kansas City, on a Shea Groom goal in the 23rd minute, would get the victory, enough for the Pride to clinch the last playoff spot and also eliminate the Reign from further contention. Last week, the Pride moved up to the third place spot after a Chicago Red Stars loss and an Alanna Kennedy free-kick bent the ball into the top corner of the North Carolina Courage goal to give Orlando a 3-2 victory.
How Portland Reached the Playoffs:
The Portland Thorns finished the regular season with a 14-5-5 record, second in the NWSL and clinched a playoff berth on Week 19 with their 4-0 shutout against the Washington Spirit and an FC Kansas City win over Sky Blue FC. The Thorns became the second team this season to secure a spot in the playoffs. The following week, Portland secured a home playoff game after battling the Boston Breakers to a 1-0 victory. One goal by Christine Sinclair in the 72nd minute for Portland was all they needed to bring a playoff game to Providence Park where they are 10-1-1 for the season.
Welcome to VAVEL USA's LIVE coverage of the 2017 NWSL Playoffs between the Portland Thorns and the Orlando Pride. My name is Cindy Lara, and I'll be your host for this game. We will provide you with pre-game analysis, roster updates, and news as it happens here on VAVEL. This game will be broadcasted on Lifetime with coverage beginning at 3:30 p.m. ET from Providence Park in Portland, Oregon.