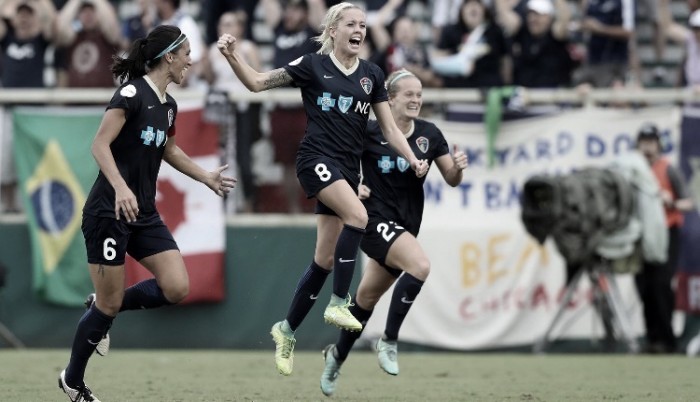 The 2017 NWSL semifinal match took place between North Carolina Courage and the Chicago Red Stars. The Courage hosted the Red Stars for their very first playoff game at WakeMed Soccer Park. The 10,017 fans that were present was the largest crowd and created a new record of the crowd size. The spectators gathered to watch the intensity of this match that would result in one team being advanced for the 2017 NWSL Championship match.
First-half dominance
This was the fourth and final match between the two teams in this season. They have faced each other three times within this season and has resulted in the Red Stars taking home a win each time. With this advantage under their belt, the Courage had to come out and override the losses that they've taken against such a competitive team.
In the first minute of the match, the Courage immediately put pressure on the Red Stars to display dominance early on. The first half was also a challenge as Chicago and North Carolina struggled to see accuracy in their shots and resulted in both goalkeepers only making one save each. There was an opportunity in the three added minutes of stoppage time when Courage defender Abby Erceg headed the ball past Chicago goalkeeper Alyssa Naeher. Defender Katie Naughton of the Red Stars made an incredible save as she cleared the ball from the goal line to switch the field. The match remained scoreless at the end of the half and North Carolina was at a 19-6 advantage in total shots and had a 53.4-46.6 percent advantage.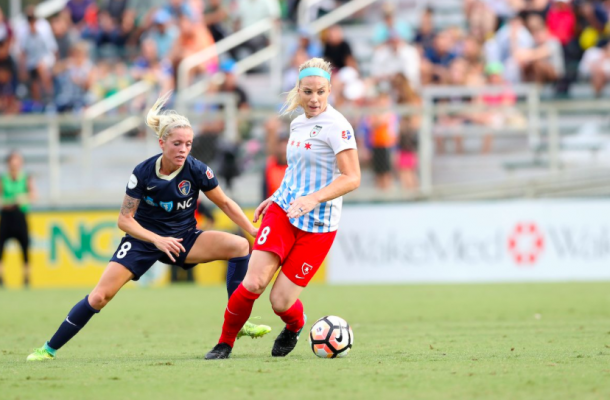 Better late than never
The Courage came out strong in the first half and in the second, the exhaustion for the players started to kick in. In order to stand their guard, North Carolina had to keep up with Chicago since they were defending well and had three wins against the Courage. The seconds drew closer to the 90-minute mark and having to go into overtime for two 15 minute periods and even penalty kicks was a possibility that rose to the surface. The 90th minute came and Courage midfielder Sam Mewis began the play with a corner kick and was received by forward Jessica McDonald and she managed to get a header on the ball. McDonald's move gave a subtle opportunity to midfielder Denise O'Sullivan, who took a shot and went past Chicago's goal. This goal by O'Sullivan marked her first goal in the NWSL and was the game-winning goal to advance the Courage to the Championship game.
The Courage 1-0 victory marked the first win for North Carolina against the Red Stars in a total of four games. With this win, the Courage will travel to Orlando for the NWSL Championship game that will take place on Saturday, October 14th at 4:30 ET as North Carolina will face the Portland Thorns at Orlando City Stadium next weekend.