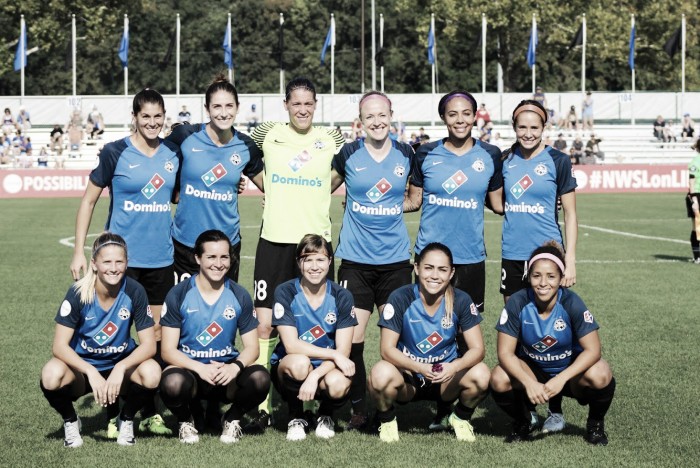 In the first 18 games, FC Kansas City managed only five wins. The 2017 NWSL season for the Blues had not gone the way they had hoped. In April, the season looked promising, and the club hyped the return of two of its key players from maternity leave. Both Amy Rodriguez and Sydney Leroux, two allocated players from the US Women's National Team, returned, immediately contributing to KC's offense. Kansas City scored two goals against the Boston Breakers, one each by Rodriguez and Leroux. The excitement both players showed after their goals inspired its young players and fan base that 2017 could see the return of FCKC returning to championship-contender status.

The celebration, however, would be short-lived. In that same game, Rodriguez went down with an injury. Coaches, fans, and teammates hoped that it was not serious, even though the injury looked dire. Two days later, it was confirmed that Rodriguez had suffered an ACL tear, requiring surgery and ending Rodriguez's season. Head coach Vlatko Andonovski was left to work out the next 23 games without a key offensive player.
A Summer of Ups and Downs
In the weeks that followed, the Blues began to struggle. First, offensively as they could not score the goals they needed to secure wins. Then, defensively, allowing two or more goals in six of seven games. Most notably, Kansas City reached a nine-game winless streak with their last victory on May 27th against the Washington Spirit, and they continued to drop further and further in the standings, reaching the 10th and final spot. They did not win a single game in June and July, and when they were close to a victory in July against Sky Blue FC, Sam Kerr broke the KC defense and scored a hat-trick in 12 minutes.
Soon enough, however, in August, FC Kansas City began to turn their season around. Rookie Christina Gibbons was shifted to the central midfield, a position in which she excelled and helped KC maintain better control of its midfield, young players like Meagan Kelly and Shea Groom became offensive threats. When FC Kansas City was on the verge of another game to be added to their winless streak, which at the moment was at nine, which could have joined the list of teams with 10-game winless streaks in a season, Groom scored in the 83rd minute against the Houston Dash to give the Blues their first victory since May 27.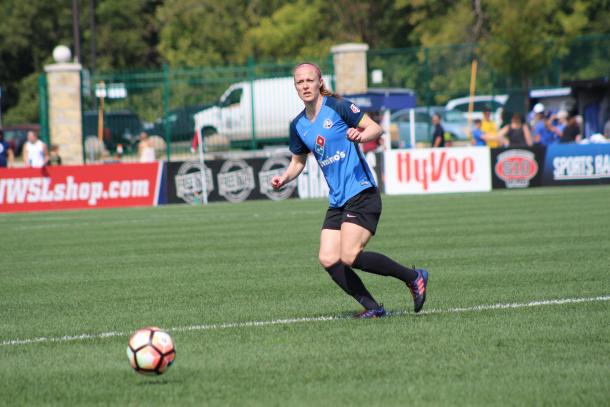 Four days later, after a two-hour weather delay, FC Kansas City hosted the Portland Thorns and pulled the 2-1 comeback victory to keep the Thorns winless at Children's Mercy Victory Field. Then, FCKC traveled to Chicago to take on the Red Stars where they extended their win streak to three after their 3-1 victory. Suddenly, a team that everyone had written out of the playoffs was just six points away from 4th place.
A loss to the Orlando Pride in late August, however, put a bump on the Blues' playoff hopes, but they were still in contention. Though FC Kansas City made a remarkable run, losing only once in six games, a 0-0 tie against the Chicago Red Stars on September 9 would not be enough to keep them in the running. FC Kansas City, the 2014 and 2015 champions, missed the postseason for the second year in a row.
Biggest Win of the Year
FC Kansas City's biggest win of the year occurred during the Labor Day weekend in the 4-1 victory over Sky Blue FC. The last time FC Kansas City and Sky Blue FC met on July 8, the Blues held a comfortable 2-0 lead at halftime. Then, with 12 minutes to go in regulation, Sam Kerr and Sky Blue put together one of the most memorable performances in the 2017 NWSL season. Kerr scored a hat-trick in those twelve minutes, leaving a Kansas City team stunned.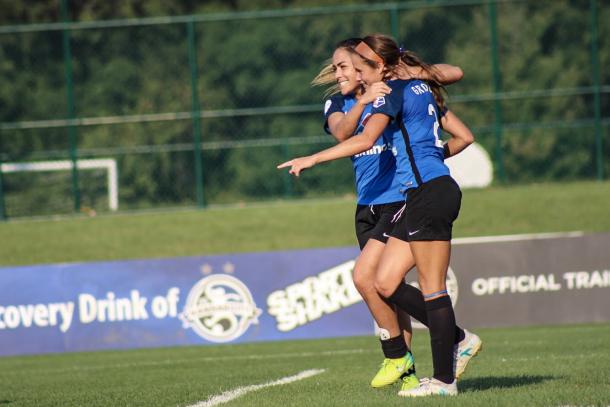 This time around, and with the memory of that comeback two months ago, and with the goal to keep their season alive as much as possible, FC Kansas City did not give Kerr an opportunity to score a single goal. Kerr was held in check for all 90 minutes by the Kansas City defense. Goals from Lo'eau LaBonta, a brace from Groom, and a late goal from Sydney Leroux gave the Blues the convincing victory.
Biggest Defeat of the Year
On FC Kansas City's 100th NWSL regular season game, the Blues suffered their biggest defeat of the year against the Orlando Pride with a 4-1 loss. Coming off that 3-2 loss where Sam Kerr scored three goals in twelve minutes, the Blues were looking to rebound. The Pride, however, came out strong immediately after the whistle, and they relentlessly pressed the KC backline. By the seventh minute, Orlando had two corner kicks, and Alex Morgan had two shots on goal, foreshadowing a long night for FCKC.
Alanna Kennedy would score off a header in the 22nd-minute off a corner kick, and in the 38th-minute Morgan would convert a penalty kick after she was taken down in the box by Katie Bowen. Kansas City gained momentum in the second half on a Meagan Kelly goal, making it 2-1, but the Pride sealed their victory with a dominating performance. Toni Pressley sent a left-footed shot outside the box to the far post that gave Orlando the two-goal lead again.
Veteran goalkeeper Nicole Barnhart made a rare mistake in the 75th minute as she tried to pass the ball outside the box. Kristen Edmonds took advantage and blocked the pass that put the ball at her feet to score on a wide-open net. With the loss, KC recorded their seventh game without a win.
Team MVP
Goalkeeper Nicole Barnhart played every game for FC Kansas City. Without Barnhart at goal, who knows what FC Kansas City's would have looked like after an already challenging season. It is without a doubt that Barnhart guarding the goal for FCKC was a reason for the team's late-season success; three of six shutouts came in the last two months. The veteran goalkeeper also recorded 97 saves, leading the league. Barnhart recorded six clean sheets, increasing her all-time NWSL record to 38 games. Barnhart's save percentage for 2017 was 75%, stopping 17 major chances.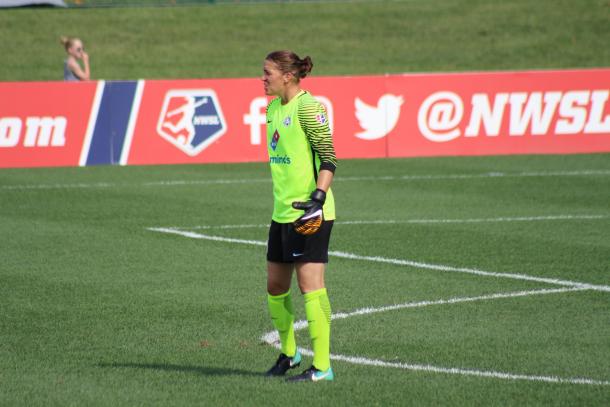 On September 3rd, Barnhart played in her 100th career NWSL match this season, becoming the first FC Kansas City player and the first goalkeeper in the NWSL to reach the mark.
Player with an Off Year
It may seem unfair to name Sydney Leroux as a player that had an off year, especially when she led her team in scoring with six goals. After missing much of the two seasons with an injury and pregnancy, Leroux made a comeback for 2017, and she scored in the Blues' opening game. Leroux would be the first to admit that coming back after pregnancy was not easy as she found herself working towards full fitness. Leroux started in 23 games, totaling 2010 minutes of playing time, but there were times where Leroux looked exhausted and struggled to contribute to FCKC's attack.
Improvements for 2018
Head Coach Vlatko Andonovski made significant improvements in the middle of a winless streak by shifting Gibbons to central midfield from defensive back. The move gave life to the KC offense as Gibbons became comfortable with her new role and controlled the midfield. The shift was not enough nor was the run that FCKC made towards the end as they contended for a playoff spot. The Blues only lost once in their last eight games in the regular season.
Still, Kansas City finished 8-9-7 in 2017, and that is a record they need to improve if they hope to reach NWSL prominence again, along with building their offense again to create more scoring opportunities.

What FC Kansas City looks to improve is also beyond the on-field results. The Blues had an abysmal home attendance record for 2017, dropping 44% in comparison to 2016. Either better marketing or even a better stadium must be improved for 2018.

The future of FC Kansas City is unknown at this moment. There have been rumors of a relocation for the club and Andonovski moving on from FCKC, both of which could impact 2018 for the two-time NWSL champions.