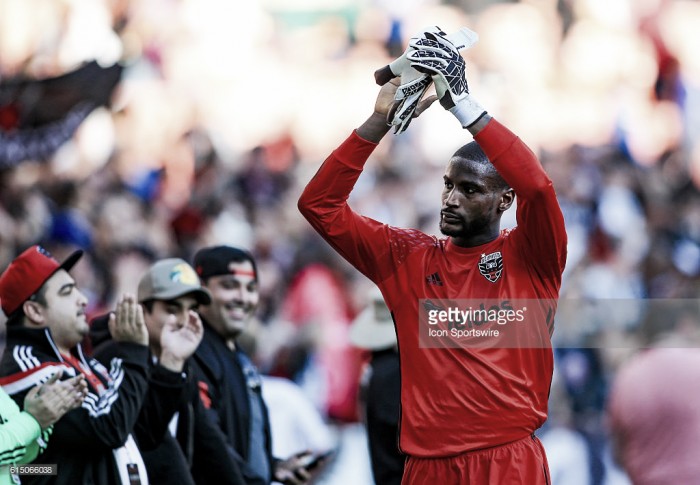 D.C. United's goalkeeper, Bill Hamid, announced today that he will not return to the club next season, and will leave once his contract expires this winter.
Hamid, who is currently 26, will head overseas. The American did not state where he was headed, but the Washington Post's Steven Goff says sources are claiming that FC Midtjylland (Denmark) is the likely destination for Hamid.
A D.C. product looking to grow
Hailing from Annandale, Virginia, Hamid has been with the D.C. United Academy since 2009. Since then, he has broken United's shutout record with 49 clean sheets to his name.
The soon-to-be ex-United man has also earned three starts for the United States Men's National team. He gave his praise to coaches in the D.C. academy and beyond.
"The club helped me get to a level that I never imagined playing for this club and this country."
Hamid also told the Washington Post that he was looking to grow as a player and push himself to see just how far he can go.
"I want to push myself and see how far I can go," said Hamid. "I know I have the work ethic and the hunger to take myself very far in this game. I know I can make it to the next level."
Bittersweet departure
With D.C. United playing their final game at RFK Stadium this Sunday, Hamid knows it's a special time in the club with Audi Field set to open this upcoming Summer.
"I'm sad because I am leaving at a unique time," Hamid said. "But kind of excited to push myself to the next level and go for it."
The move to Europe will help Hamid challenging for a top three goalkeeping spot with the USMNT, and could possibly even get the starting job. Hamid claims that he wants to improve and become "the number one for the national team."
United fans are sad to see their beloved goalkeeper depart from the capital city, but excited to see just how far the hometown hero can go.