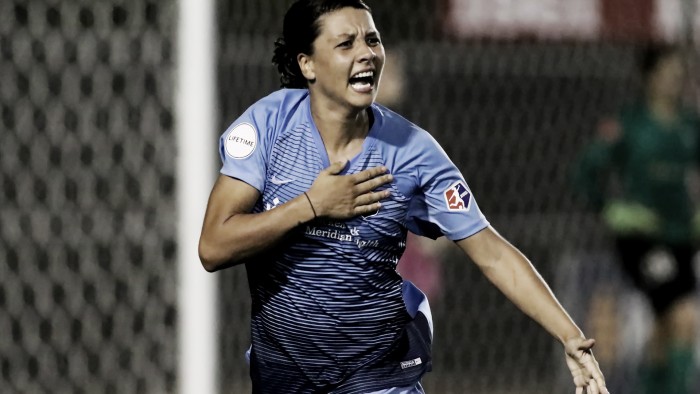 Sam Kerr, after a record-breaking season, has been named the 2017 NWSL Most Valuable Player by club officials, players, fans, and media who cover the league on a consistent basis.
It was the announcement that did not surprise many, especially after the type of season the 24-year-old had in 2017. Kerr's team, Sky Blue FC, though they came close, did not reach the postseason, but the impact of Kerr's game performances, with her hat-trick and goal-scoring heroics, including setting an NWSL record for most goals scored in a single game, led to major victories and comebacks for the New Jersey-based club.
On July 8th, as Sky Blue FC trailed FC Kansas City by two, Kerr scored a hat-trick in the final twelve minutes, putting together one of the most memorable performances of the 2017 NWSL season. On that same night, Kerr became the league's all-time leading goal scorer, compiling 35 goals in her NWSL career at that time; she would finish the year with 43 career goals. Five weeks later, Kerr scored four goals against the Seattle Reign, helping her team pull another improbable comeback after a 3-0 deficit and setting an NWSL record for most goals scored in a single game.
Kerr scored her 17th goal of the year, which came in Sky Blue FC's thrilling 4-3 win over the Boston Breakers in the regular season finale, passing former Seattle Reign FC midfielder Kim Little's previous record of 16 set in 2014, where she earned the 2017 Golden Boot award.
No other player captivated an entire fan base the way Kerr did with her goal-scoring heroics, even if one was not a big Sky Blue FC supporter. Her backflips and goal-scoring bicycle kick also set social media ablaze with replays and GIFs. Without a doubt, 2017 was the year of Sam Kerr.