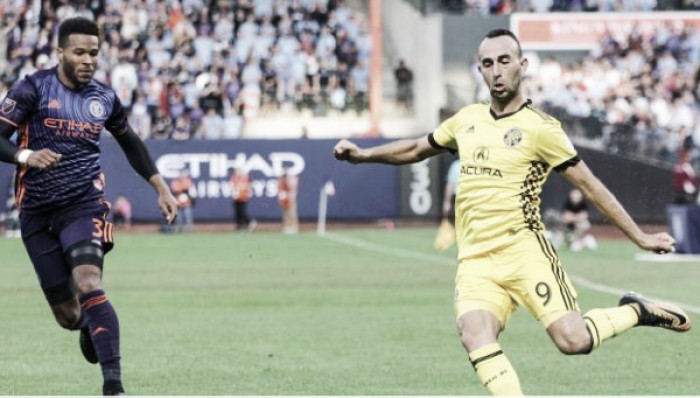 Amongst all the chatter the Columbus Crew SC is more than likely moving to Austin, Texas the team still had a game to focus on in New York City FC. The match would favor more for NYC as both teams played to a 2-2 stalemate.
Ola Kamara opens scoring
Striker David Villa almost got the home side up in minute four but his attempt went high over the crossbar. However, Ola Kamara was able to give Columbus a 1-0 lead from an over the top ball from Federico Higuain.
David Villa equalizes
A scary moment for Crew SC fans when Jonathan Mensah went down awkwardly, after colliding heads with Rodney Wallace. On the ensuing corner kick, David Villa went up for a header against Mohammed Abu inside of the six-yard box and converted an equalizer goal in the 19th minute.
A few minutes later, Jack Harrison hit a left foot shot, but keeper Zack Steffen was able to parry the ball up and over the net. He would have another go just a few minutes on his right foot but sent the ball over the net into the bleachers.
Higuain would have a good look at goal from distance but a half-volley attempt would go wide right of the goal.
David's double
After conceding first, Villa was able to convert twice to give NYCFC the lead as the teams headed into their locker rooms for the half.
Josh Williams scores third in three games
Josh Williams has been making a name for himself, scoring two goals in their last two matches. He ended up tying the game again in the 58th minute when his rising header was able to sneak past goalkeeper Sean Johnson to level the match.
As the match was nearing its entirety, NYCFC would be given a penalty kick. David Villa, who was sitting on a hat-trick, would attempt to give NYCFC another lead to secure their spot in second place. Villa took the kick, but Steffen came up big and saved the attempt.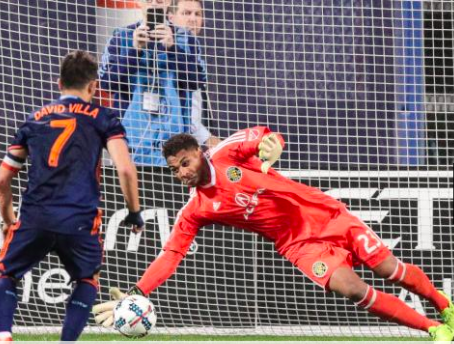 The match ended all square at 2-2. This resulted in NYC securing the second spot in the Eastern Conference, while Columbus remained in fifth.
What does this mean for playoffs?
With NYC staying in second, they are granted an automatic spot in the Eastern Conference Semi-Finals with leaders Toronto FC. For Columbus, they will travel on the road to Atlanta United FC for a wild-card match, to see who will advance to the next round of the 2017 Audi MLS Cup Playoffs.
Columbus missed the playoffs last year as they finished outside of the red line, while NYC faced Toronto in last years Eastern Conference Semi-Finals with Toronto coming out on top.