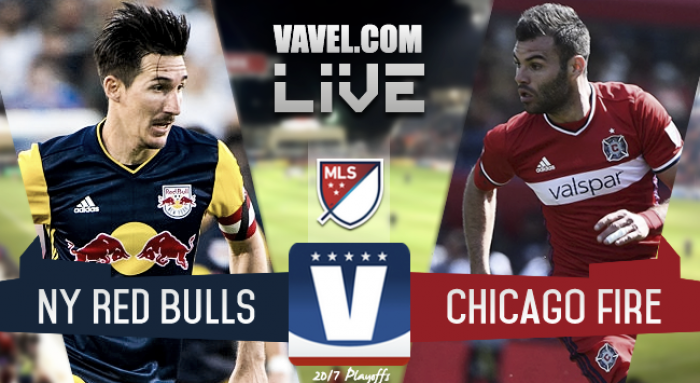 Once again, thank you for joining me tonight. This is Kudzi Musarurwa signing off. Have a great night everybody.
Chicago Fire 0 - 4 New York Red Bulls
Full-time: The home fans have witnessed an unlikely performance from the Chicago Fire tonight and the more experienced playoff team showed why the New York Red Bulls could considered a dark horse for the MLS Cup this year. Chicago's season is done while NYRB move on to face Toronto FC.
90+2' The ball bounces around in the NYRB area and Arshakyan gets the final shot off but it's a whiff of a shot and it rolls away harmlessly. A snapshot of how this night has gone for the home side.
There will be three minutes of extra time left here.
90' I expected the Red Bulls to win but not by such a dominant performance. They have really found their groove tonight.
Chicago Fire 0 - 4 New York Red Bulls
Kljestan puts Gonzalo Verón through with a little chip and the Argentine executes a cheeky chip over Lampson to make it four on the night.
87' GOAL! Verón puts the icing on a fantastic performance by NYRB!
86' NYRB get possession back quickly and Verón goes for goal but it's well wide.
86' YELLOW CARD: Verón gets the first card of the night.
85' Nikoli? thinks he's in but just as he shoots, the whistle goes for an offside flag.
83' SUBSTITUTION: Alex Muyl is the second NYRB change as he comes in for Royer.
82' Chicago have won a free kick in a good area now. Álvarez goes for goal and it's an absolute waste.
80' Arshakyan gets a touch on the ball inside the area but the attack is called back for an offside.
79' Now Felipe needs help coming off the field with an injury.
77' SUBSTITUTION: Gonzalo Verón comes in for Wright-Phillips.
72' A long stoppage occurs as Lawrence seems to be in some pain.
Chicago Fire 0 - 3 New York Red Bulls
Just as the substitutions enter the field, McCarty loses the ball in midfield and it's a three-on-two situation that NYRB take full advantage of. Wright-Phillips plays the ball out wide to Davis who sneaks a pass in to Royer. Royer executes a lovely little 360 turn before finishing well past Lampson.
70' GOAL! Royer makes it three!
70' SUBSTITUTION: David Arshakyan comes in for Juninho and Arturo Álvarez comes in for João Meira.
68' Another Chicago attack ends with McCarty taking a shot from long range that doesn't trouble Robles.
66' CHANCE! Kljestan almost makes in three as he finds space in the box but his shot goes right to Lampson from a tight angle.
65' SUBSTITUTION: Bastian Schweinsteiger comes on for the injured MIhailovic.
64' Fire head coach Veljko Paunovi? has seen enough and is ready to make his first change. Mihailovic is currently receiving medical treatment after some kind of kneee injury.
61' NYRB take a short free kick that almost finds Wright-Phillips inside the penalty area.
60' NYRB finally mount an attack of their own and Davis has a go but Lampson gets down well and picks up the shot.
59' Chicago are pushing the temp here and maintaining possession but so far, they're missing the cutting edge.
57' McCarty tries to set Accam free down the left flank but Michael Murrillo keeps up with the pacey forward and wins back possession.
55' CLOSE! Solignac and Nikoli? combine brilliantly in the attacking third and Solignac cuts the ball back but it's just too far for Mihailovic.
53' Accam uses his pace to try and spring the counter and he's brought down by a late challenge from Damien Perrinelle. The referee keeps his cards in his pocket and the resulting free kick comes to nothing.
49' Matt Polster strides onto the ball from his full back position and goes for goal but it misses the far post.
47' CHANCE! The Fire win an early corner that Mihailovic sends in. He gets a second chance which McCarty gets a head to and Robles produces a big save to keep his clean sheet. The rebound comes back and Robles rises high to catch it under pressure.
46' Chicago kick us off for the most important 45 minutes of their season.
Half-time: In a two minute spell, NYRB have put Chicago behind the eight ball here at Toyota Park and the home side has it all to do in the second half.
45+1' Lawrence swings in another cross that takes a deflection and allows Lampson to gather the ball with ease.
44' Royer starts a counter for NYRB and he gets taken but the referee waves the play on. Sean Davis picks up the pass from Kljestan but his left-footed striker goes over the crossbar.
43' Djordje Mihailovic slips as he takes his shot and the ball almost ends up at Nikoli?'s feet but the Fire have to settle for another corner.
41' McCarty is now on the receiving end of a few tough challenges and wins a free kick in the midfield for his team.
38' The corner goes straight to Robles who then tries to set Royer off but his throw is just too far for the midfielder.
37' Accam gets into the box again but the space around him collapses quickly and the Fire have to settle for a corner.
35' Lawrence gets forward and sends in a great cross that Wright-Phillips almost gets to.
35' Chicago win the ball back before NYRB can counter and then Dax McCarty fouls Felipe and gives possession back to NYRB.
33' The tempo of the game has slowed down a little here as players discuss various fouls with the referee.
31' A Chicago player goes down in the box but Elfath does not signal a penalty. The VAR is now in play.
29' Solignac somehow manages to get by two defenders and swing the ball in towards Nikoli?. The striker has to stoop going backwards to get to the ball and it's easy for Robles to catch.
25' Vincent keeps the ball in play and sends it towards Nikoli?. The Hungarian gets his head to the ball but under pressure from Kemar Lawrence which results in his effort going well wide of the goal.
23' Play is stopped momentarily as Luis Solignac is slow to get up. He doesn't need any medical assistance so play resumes.
22' Adams is having his way out on the right flank and he almost finds Wright-Phillips with his cross. The resulting corner is cleared by the Fire backline.
22' Wright-Phillips sees Lampson off his line and tries to go for the lob but it goes high over the goal.
20' Robles has not been troubled by the Fire yet and a little bit of frustration is creeping in as the referee awards a throw-in to NYRB.
18' The set piece goes over everyone's head and is sent back into the box but right into Luis Robles's hands.
17' Accam tries to break into the box but can't get by the NYRB defenders around him. It ends up as a corner kick to the home side though.
13' Two individual errors and Chicago are now two goals down with less than 15 minutes gone in the game. What a start by NYRB though!
Chicago Fire 0 - 2 New York Red Bulls
Adams completely beats Brandon Vincent out on the right and cuts the ball back for Kljestan who finishes from inside the six-yard area.
11' GOAL!? Kljestan makes it two!
10' There's still a long way to go in this match but that was a sucker-punch for Chicago.
Chicago Fire 0 - 1 New York Red Bulls
The away side retained possession and Royer is in the mix of things as his chip finds Wright-Phillips, who stayed onside. Matt Lampson came out to close the Red Bulls striker down but makes a hash of it and Wright-Phillips finishes into an empty net.
7' GOAL! NYRB go in front through Wright-Phillips!
7' Felipe lobs the ball over the backline into the box for Sacha Kljestan who unselfishly nods the ball across the box but none of his teammates read his intentions.
3' CHANCE! Nemanja Nikoli? drifts out wide and crosses the ball towards Accam. Tyler Adams had stayed with Accam and knocks the ball out for a corner.
2' Daniel Royer almost plays Bradley Wright-Phillips in and he gets to the rebound first but the Chicago Fire have enough players back to clear the danger.
1' And we're off in the first playoff of match of 2017! The New York Red Bulls start us off and play is halted as Felipe checks David Accam.
Our match officials tonight are: center official Ismail Elfath, linesmen Corey Parker and Ian Anderson, and fourth official Silviu Petrescu. Operating the VAR system tonight will be Edvin Jurisevic.
New York Red Bulls Starting XI (3-5-1-1): Robles; Murillo, Long, Perrinelle; Adams, Davis, Felipe, Royer, Lawrence; Kljestan; Wright-Phillips.
Chicago Fire Starting XI (4-2-3-1): Lampson; Polster, Kappelhof, Meira, Vincent; Mihailovic, McCarty; Solignac, Juninho, Accam; Nikoli?.
Good evening everyone. This is Kudzi Musarurwa, your host tonight for what hopefully, should be a great MLS playoff game. Starting lineups are as follows...
In a few moments, we will share the initial lineups of Chicago Fire vs New York Red Bulls live score, in addition to the latest information that surges from the Toyota Park. Do not miss a detail of the match with the live updates and commentaries of VAVEL.
Both clubs have had their highs and lows this season, but none of that matters anymore. All that matters is tonight. Which club wants to lift the cup more, the New York Red Bulls or the Chicago Fire?
On the other hand, the Chicago Fire are playing in their first MLS Cup playoffs since 2012. Bringing in experienced players such as Dax McCarty and Bastian Schweinsteiger was a step in the right direction, but is it enough?
The New York Red Bulls have made the playoffs every year since 2010 but will be hoping for more success this time around as they are yet to lift the cup or even reach the MLS Cup final. With a good mix of veterans and youngsters, could this be the Red Bulls year?
Prediction: Chicago Fire 1 - 2 New York Red Bulls
Prediction: Either team is capable of turning up on the night and putting on a show as they have the quality within their rosters to put in a dominant performance. Both teams are also missing key players due to injuries which makes picking a winner even more difficult. If I had to find an eventual winner, I would go with the more experienced playoff team and that would be the New York Red Bulls. They should have enough tactically and technically to come out on top of a close game against the Chicago Fire.
The Chicago Fire will be led by head coach Veljko Paunovi? while the New York Red Bulls will be led by head coach Jesse Marsch.
Projected Lineup for New York Red Bulls (3-3-3-1): Robles; Perrinelle, Long, Murillo; Adams, Felipe, Lawrence; Davis, Kljestan, Royer; Wright-Phillips.
Projected Lineup for Chicago Fire (4-2-3-1): Lampson; Vincent, Meira, Kappelhoff, Polster; Schweinsteiger, McCarty; Accam, Solignac, Álvarez; Nikoli?.
The match will be played at Toyota Park on October 25, 2017. The game will kick off at 8:30 PM EST and will be broadcast on FS1 and UniMas in the United States of America, and on TSN3, TSN5 and TVA Sports in Canada.
Like Chicago, the New York Red Bulls have struggled to find form coming into the playoffs. Their up-and-down results since September do make it difficult to figure out which side of the Red Bulls we will see on Wednesday or how well their backline will cope with the threat of Nikoli?. The other issue that has plagued the Red Bulls all season long is providing Wright-Phillips with good service. For most of the season, the former MLS MVP has either been completely shut down or creating his own chances from poor service. That has to be sorted out before kick-off against Chicago if the Red Bulls want to go deep into the playoffs.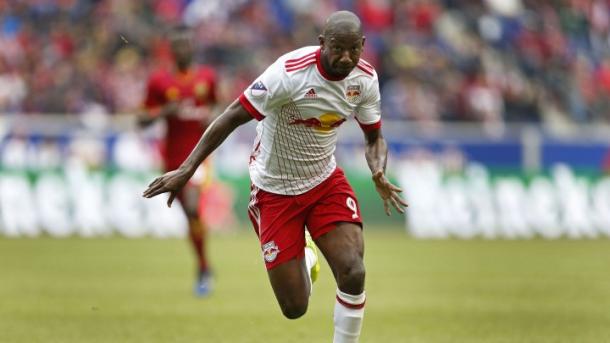 Perennial playoff team, the New York Red Bulls, are back in the knock-out stages once again this year, albeit as the sixth team from the East instead of a higher seed as they usually get. Their last few regular season games may have not been the most convincing but in Bradley Wright-Phillips and Sacha Kljestan, the Red Bulls have two potential match winners in their ranks. Daniel Royer has also had a good season. all things considered, for the visitors and will be a player that they will look to help Wright-Phillips and Kljestan. Lastly, Luis Robles is still one of the best goalkeepers in the MLS and if he can be at his best once again, the Red Bulls know that they can focus on the attack as Robles will take care of the rest.
The question is, which Chicago Fire team will show up on Wednesday night? In their last five regular season games, they showed their true quality in the games against D.C. United and the San Jose Earthquakes but also succumbed to heavy defeats against the Houston Dynamo and the Philadelphia Union. Their defense has been a cause for concern since at least September and their fans will be hoping that Chicago have found a system within the last few days to overcome the weaknesses they displayed against Houston. If they haven't figured it out, the Red Bulls will take full advantage of the opportunities presented to them.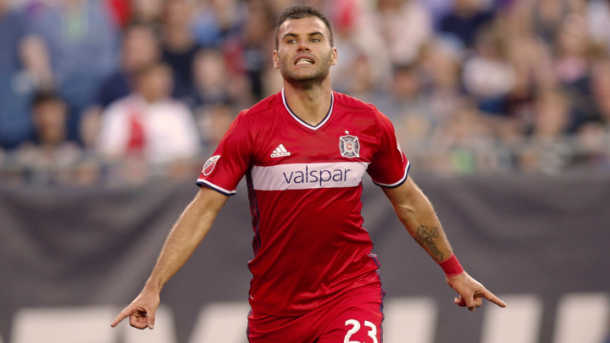 The Chicago Fire come into this game with only two wins in their last five matches. It may not be the way the Fire would have wanted to enter the playoffs but they did finish the regular season third in the Eastern conference. This will be Chicago's first trip to the playoffs since 2012 after some absymal past seasons and they have the goal-scoring feats of Hungarian Nemanja Nikoli? to thank for that. The striker picked up 24 goals this season, winning the Golden Boot award in the process and propelling his team to a playoff appearance. If anyone can swing things Chicago's way, it will be Nikoli?. Behind him are the talents of Bastian Schweinsteiger and David Accram who have been, for the most part, capable assistants to Nikoli?'s remarkable season. If they can continue to provide Nikoli? in and around the penalty area, then Chicago have a great chance of moving on to the next round.
The Chicago Fire and the New York Red Bulls have faced each other twice this season, with the Red Bulls coming out as 2-1 victors at home in the first match, while the second game in Chicago finished as a draw. Both games were tight affairs and we should expect no difference on Wednesday night as the two teams battle in a "win or go home" situation.
Hello everyone to VAVEL USA's coverage of the first of the Audi 2017 MLS Cup Playoffs matches. This live update will be featuring the Chicago Fire as they look to progress to the next round with a knock-out win over the New York Red Bulls. I'm your host, Kudzi Musarurwa, in one of the most anticipated matches set for this week in Major League Soccer.