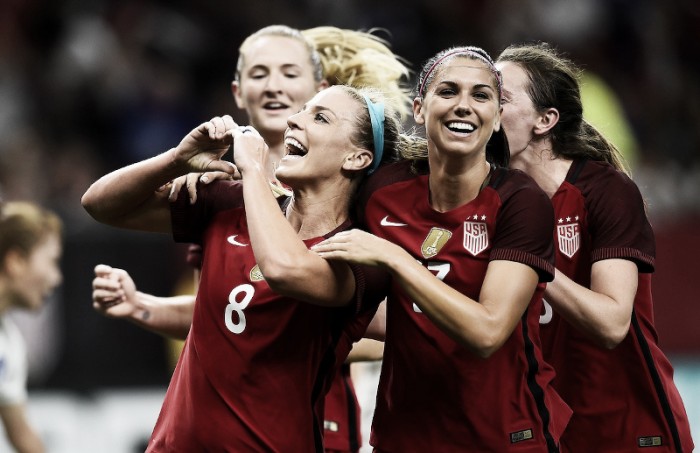 October was a good month for the United States Women's National Soccer Team. In the two friendlies scheduled against the Korea Republic, the United States won both contests without any trouble.
In the first game in New Orleans, the USWNT won 3-1. Three days later in North Carolina, the USWNT completed the series with a decisive 6-0 victory, earning the sweep. The victories improve the USWNT to 11-3-0 for 2017.

What did we learn from these two dominating performances? Here are a few takeaways.
Dominating Wins Equal Confidence Boost
Let's be honest, the USWNT had some struggling moments in 2017. Remember the SheBelieves Cup in March where the U.S. finished last, and the Tournament of Nations where Australia beat the U.S. for the first time ever? Yes, the United States lost to three quality teams this year (France, England, Australia), but those losses are still fresh after Jill Ellis' three-back experimentation system failed to produce significant results (and wins against Russia in April do not really count because the U.S. was rarely tested in those games).

Jill Ellis eventually realized that it was time to move on from the experimentation phase and truly focus on building the team, using the younger players who stood out in the the college ranks (Rose Lavelle, Andi Sullivan) and within the NWSL (Casey Short, Abby Dahlkemper, Lynn Williams, Taylor Smith, Sam Mewis, Sofia Huerta) whom she has called up to camps. Ellis ditched the three-back system and switched to a 4-3-3 system, using Julie Ertz as the central midfielder, and it has yielded much better results. The USWNT has not lost since that 1-0 defeat to Australia in July.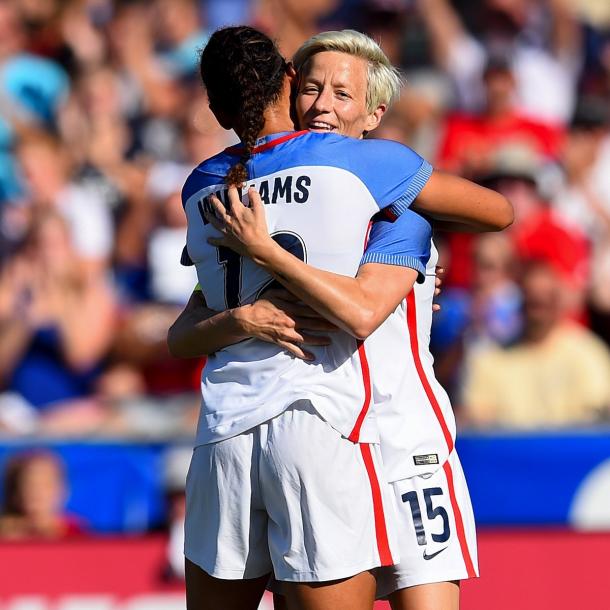 Though the Korea Republic did not present the U.S. any challenges as the U.S. dominated in both contests, except for some physicality in New Orleans, these are the types of wins that give the USWNT a confidence boost as they get ready to close out the 2017 calendar year with two more games left to play against Canada, and as they look ahead to World Cup 2019 qualifying next year.
Sam Mewis is Really Good
On Sunday, Sam Mewis scored her first career brace with the national team. Three minutes in, Mewis scored with a header off an Abby Dahlkemper corner kick, electrifying the North Carolina crowd as they witnessed the Courage teammates connect for the opening goal. In the 20th minute, Lindsey Horan sent a long ball into the box, which Korea's goalkeeper Kang blocked with might, but the deflection bounced right in front of Mewis. The midfielder had no trouble sending it into the back of the net, crediting time spent in practice working on those second balls for the goal.
"It's so cool when something that the team is working on, and that the coaches are saying is going to be important happens and works out for us, so I give the coaching staff so much credit for continuing to have us work on things like that because it pays off," Mewis said post game.

Mewis earned her 33rd cap on Sunday, and she is the only other player to be in the starting lineup of every USWNT game in 2017. She has played 1,102 minutes in 2017 along with Becky Sauerbrunn.

There are reasons why Ellis has chosen the 25-year-old midfielder to start every game. Mewis' presence and vision in the field allow her to maintain possession and create chances, and when she's in the right position, she can score goals like the ones she scored on Sunday. Mewis is now a fixture in the U.S. starting lineup, and she will likely be for years to come.
Were this Games Necessary?
Why do U.S. Soccer and Jill Ellis feel it necessary to play every FIFA international break, especially during and after a grueling and long NWSL season? Sure, preparation for the next World Cup is important, but so is making sure that key players are not sidelined with injuries. This past cycle, Mallory Pugh strained her right hamstring in New Orleans that will sideline her for the next six weeks. Kelley O'Hara was also kept out of the starting lineup on Sunday as a precaution, and she did not see any playing time. O'Hara did not suffer a major injury, but it was obvious, with the athletic tape she wore on her left leg for both games, that she was ailing.
This October international break could have been just that, a break after wrapping the NWSL season. Carli Lloyd was still recovering from an ankle injury she suffered in a game with the Houston Dash in August, and Rose Lavelle and Morgan Brian were both left out the roster due to injuries. Even more, players reported for camp on October 15th, a day after the NWSL Championship where seven of its players faced off in a physical match. Tobin Heath and Taylor Smith, both scheduled to be a part of this cycle, ended up missing these October games due to injuries they sustained during the NWSL championship.
"Even if mentally, physically, emotionally we all might be a little low in those areas, it's just about finding the ability to push through and just bring your best every day," Kelley O'Hara said after a practice leading up to the first game against the Korea Republic when asked about coming into these games right after the end of the NWSL season.

Was the series against the Korea Republic beneficial? Jill Ellis would argue yes, but were they necessary? The U.S. would have been okay missing this international cycle, allowing its players to recharge and rest as they prepare for a home-and-away series against fifth-ranked Canada in November.