 If the MLS regular season is like baseball's - contained in a single calendar year, and very long - the MLS postseason is like basketballs. It's not important how you get there, but once you get there, it's a very long second season (games started on Wednesday, October 25th and the MLS Cup final is on December 9) in which what you did in May and June matters, not a bit.
The Portland Timbers finished first in the Western Conference, and as such have home advantage throughout the playoffs and face the lowest remaining seed in each round. This round, that means they will play the Houston Dynamo, fourth place finishers in the West, who beat Sporting Kansas City in a penalty shootout last week to move on in the playoffs and send SKC home in the knockout round for the fourth straight season.
DYNAMIC
The Dynamo are in a very strong run of form right now - they haven't lost in their last seven games. Almost half of those games were against SKC, but their last loss was September 16 against the San Jose Earthquakes, and they haven't lost at home since the week before that.
Couple that with the fact that the Timbers have never won in Houston (0W, 3D, 3L) and MLS' perceived home advantage becomes a lot more crucial. If Portland can shut down Alberth Elis, Romell Quioto, and Ricardo Clark, they might just sneak a draw in Houston, which would set them up nicely to come back to Portland in good shape.
Houston will have to be a bit careful in this game - in addition to the injuries to AJ DeLaGarza and Leonardo that will keep them out, Philippe Senderos, Adolfo Machado, Clark, Quioto, and Elis are all one yellow card away from suspension. Houston will need to be a bit more conservative than they might like if all these guys want to see the next match, and if the Timbers steal a goal early in Houston, things could get fun.
WHITHER ADI?
As opposed to the Dynamo, who are banged up and on the verge of suspension, the Timbers are in fine health - the only real question going into this game is "How much can Fanendo Adi contribute?". With Darren Mattocks deputizing capably, and giving the Timbers an entirely new dimension in their attack when he plays, though, the loss of Adi hasn't been the crushing blow it would have been in seasons past.
The all-conquering form of Diego Valeri, who really should be voted league MVP this season, has also nicely covered the loss of Adi, but the Timbers will be looking to their big man to come back at some point in this series and hopefully augment Valeri's production, or at least take some of the pressure off him to do all the work. Adi provides a more traditional, back-to-the-goal approach, though, and the risk of playing Adi over Mattocks is that sometimes when he plays, and things don't go well, the rest of the Timbers will do nothing but loft balls in from the wings and hope to find Adi's head.
If they can avoid that temptation and play predominantly on the ground, which is the style that got them here, Portland should be fine, but if they do nothing but put balls in the air from the outside, they could struggle.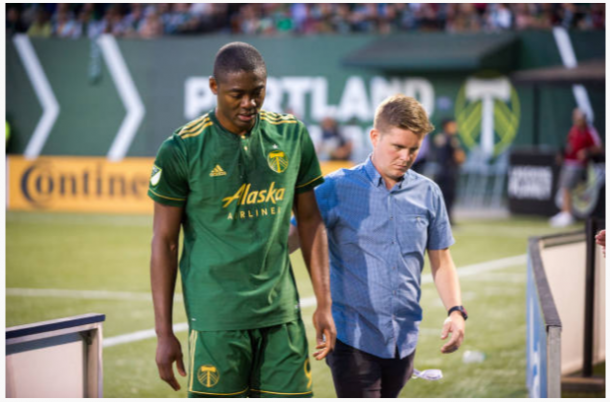 LINEUPS
Portland:
Attinella; Vytas, Ridgewell, Mabiala, Powell; Chará, Guzmán; Nagbe, Valeri, Blanco; Mattocks
Houston:
Deric; Beasley, Machado, Senderos, Anibaba; Cabezas, Clark; Alex, Martinez, Elis; Manotas
Referee:
Mark Geiger
WHAT/WHERE/WHEN/HOW
Portland Timbers v. Houston Dynamo
Western Conference Semi-Final, first leg
BBVA Compass Stadium
Houston, TX
Monday, October 30, 2017
6.30 PT/8.30 CT
TV: Fox Sports 1
Streaming: MLS Live (subscription service, blackouts apply)