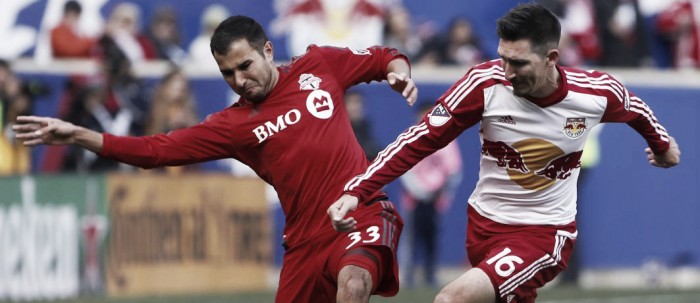 Thanks again for joining me everyone. This is Kudzi Musarurwa once again and see you all here next week!
New York Red Bulls 1 - 2 Toronto FC
Full-time: Toronto have done what they needed to do in this first leg, win the game and they go back to BMO Field with two away goals. The Red Bulls will be kicking themselves for how easily they gave Toronto a chance to score that second goal and will know that they have a mountain to climb now if they want to make it to the next round.
90+6' CHANCE! Adams finds Murillo at the far post and Bono makes a great save to keep the score at 2-1 for his team! The resulting corner is dealt well with by Toronto and Giovinco wins a free kick to ease the pressure off of his defenders.
90+4' NYRB are pumping the ball into the box and Wright-Phillips is stopped from trying to get to the ball due to an offside flag. Mavinga gets a kick in the gut from Wright-Phillips as he attempts to clear the ball away so he's receiving treatment now.
90+3' Cooper, Giovinco and Morrow keep the ball well between before Morrow goes for goal with his right. A deflection makes it easy for Robles to gather.
90+2' Giovinco wins the battle with Murillo and then tries to break before his shirt is tugged by the defender, winning Toronto another free kick.
90+1' Osorio does really well to not only go by a few challenges and then win the corner for his team.
89' Giovinco is off to the races but his pass is short of Osorio and NYRB can recover.
88' CHANCE! Bono comes out and Wrgiht-Phillips almost gets his shot past both Hagglund and Bono. The resulting corner is headed away by Mavinga.
88' Royer goes down looking for a penalty but the referee waves play on.
86' SUBSTITUTION: Altidore ends his night to an almighty round of boos (as he has gotten from the NYRB fans all game long) and Armando Cooper comes in for him.
84' Wright-Phillips tries to find Verón again but his pass is too long and Bono falls on the ball gratefully.
83' CHANCE! Wright-Phillips finds Verón but his effort isn't the greatest and Bono gets to it.
83' SUBSTITUTION: Vincent Bezecourt replaces Perrinelle as the NYRB change formation to try and get the equalizer.
82' YELLOW CARD: Now Giovinco picks up a booking for what I'm assuming is delaying the game? Not sure about that as he did throw the ball over to Robles.
80' YELLOW CARD: Perrinelle earns the first card of the night as he drags back Bradley who was on his way on a counter.
78' A little flashpoint happening here as Giovinco goes down after a swing of the arm by Murillo. Doesn't look like referee David Fischer will do anything more than keep the game going.
76' Verón nutmegs Zavaleta but Delgado covers the space left by his center back and kicks the ball onto Verón for a goal kick.
New York Red Bull 1 - 2 Toronto FC
Exactly what I predicted! The superstar striker bends the ball over the wall and away from Robles dive into the near side of the goal. Murillo tried to get back onto the line but he was too late to stop Giovinco's strike.
72' GOAL! Giovinco produces magic!
72' Toronto break quickly again as Altidore wins the show of strength against long. He finds Giovinco just outside the box and the Italian is brought down in a great area for one of his spectacular free kicks.
70' Toronto counter quickly and Giovinco plays Osorio through. The midfielder is unable to gather the ball at the first attempt and his cut bak doesn't find a teammate in the box.
65' SUBSTITUTION: Vázquez comes off and Jonathan Osorio replaces him.
64' Giovinco keeps the ball and tries to go for it from a long way out instead of sliding in one of his teammates and Long blocks the shot.
63' CHANCE! The substitute's first kick of the game is a shot directly at Bono from the corner kick!
63' SUBSTITUTION: Gonzalo Verón comes in for Davis.
62' Lawrence gets forward and tries to find Wright-Phillips and Hagglund has to make a last ditch tackle to cut out the cross.
61' CHANCE! Royer picks out Wright-Phillips with a ball over the top and Bono comes out sharply to stop Wright-Phillips from giving NYRB the lead!
60' The corner comes in and Mavinga awkwardly clears it out for a throw-in.
59' Perrinelle goes for a goal from a long way out and Bono has to dive over to his right to keep it out of goal.
58' Morrow wins a corner kick for Toronto, their first of the second half which Giovinco walks over to take. NYRB deal with it well.
57' Vázquez comes back onto the field but he's still seemingly feeling the effects of it.
54' Now Vázquez is down and is receiving treatment.
52' The Red Bulls are trying to turn the screws on Toronto but so far, the TFC backline is holding up well.
51' Davis manages to turn Mavinga and tries to find Wright-Phillips but Hagglund is there to head the ball away. The Red Bulls keep the ball and end up winning another corner.
50' A few free kicks go Toronto's way to move them up the field.
48' NYRB push forward and Wright-Phillips swings it in for Adams to attack but all he can do is knock it out for a Tornto goal kick.
46' Sacha Kljestan gets the second half going.
46' SUBSTITUTION: Nick Hagglund comes in for Drew Moor who's night is done.
New York Red Bulls 1 - 1 Toronto FC
Half-time: And that was the last kick of the half. The Red Bulls have been handed a lifeline here after Toronto really should have been at least two goals up. The tie is back in the balance and we have another intriguing 45 minutes to go at Red Bull Arena.
New York Red Bulls 1 - 1 Toronto FC
After a long wait as Moor was receiving treatment, Royer stays calm and places the ball in the middle of the goal to draw NYRB level.
45+2' GOAL! Royer puts is straight down the middle!
45+1' Penalty awarded to New York! The referee says Moor brought down Wright-Phillips and the home side have a chance to edge back into a game that they've been dominated in up until now.
45' Kemar Lawrence tries to use his pace to go by Beitashour but the defender does well and earns a goal kick for his team.
44' Aaron Long cleans out Giovinco and Toronto win a free kick in midfield.
43' NYRB finds some combinations in front of TFC's penalty area but Adams' chip into the box is easily caught by Bono.
42' Sean Davis trips Chris Mavinga and the Frenchmen stays down, clutching his ankle. He eventually gets up on his own and play resumes.
40' Vázquez almost springs Giovinco free on the counter but his pass is just wide of the Italian and Murillo is able to cut it out.
39' Wright-Phillips swivels by Moor and earns his side a free kick in another dangerous position for them. Kljestan takes it but again, it doesn't beat the first Toronto defender.
37' Toronto get forward quickly again with Vázquez, Giovinco and Altidore but they can't quite get that final pass or shot off to make NYRB pay for their mistake in midfield.
36' CHANCE! Vázquez puts in a delicious cross that finds Marco Delgado making a late run into the box and the TFC midfielder crashes his header off the crossbar! It was easier to score than to miss there.
30' Toronto have done a great job shutting down Kljestan in the attacking third and Bono has not had to face a single shot on goal yet because of that.
28' Toronto get a free kick which is headed away by NYRB and then Altidore commits the foul, giving the ball back to NYRB.
26' Alex Bono comes out quickly to pick out a cross out of the air. Even though the flag goes up for an offside, Bono will enjoy having had something to do.
25' Bradley thinks he's won the ball back in the NYRB half but he's adjudged to have fouled Felipe and play is stopped.
23' Tyler Adams, Kljestan and Royer try to combine to create an opportunity for NYRB but all they get from it is a corner. They take it short and end up playing it all the way back to Robles.
21' Wright-Phillips fouls Moor and the away side regain possession once again.
17' Justin Morrow gets forward for the first time in this game and tries to pick out Altidore but Long is there to remove the danger. Toronto stay in possession of the ball though.
16' NYRB get right up the field and Kljestan has a go but it's blocked and sent out for a corner. Altidore is on hand to clear the set piece and regain possession for Toronto.
15' CHANCE! Vázquez almost gets his second! Altidore skips by Perrinelle again and his cross finds Vázquez but his shot is blocked by Murillo.
14' Kljestan tries to find either Wright-Phillips or Royer at the far post but the ball is ushered out by Steven Beitashour.
12' This game is end-to-end as both teams lose the ball in midfield but no one capitalizes on the mistakes.
9' NYRB try to come back with a set piece that Altidore puts out for a corner. A foul is called as the corner comes in and Toronto regain possession.
New York Red Bulls 0 - 1 Toronto FC
The home side get a throw-in that they try to play out of pressure from but Toronto manage to get the ball back and Altidore skips by Damien Perrinelle and sends the ball in low. Luis Robles gets a touch which is deflected right to the feet of Vázquez and the Spaniard finishes well. That was a fantastic build up by Altidore to set up the goal.
8' GOAL! Víctor Vázquez puts Toronto in front!
6' A long ball finds Wright-Phillips in the area but he's tracked every step of the way by Drew Moor. His attempted cut back towards Daniel Royer is cut out by Michael Bradley.
5' NYRB counter well again and Sacha Kljestan finds Bradley Wright-Phillips but Toronto FC's defenders collapse quickly on the striker and stop him from advancing into the box.
4' Jozy Altidore nods the ball towards Giovinco but Michael Murillo is the stronger of the two players and holds off the Italian.
4' A couple of players leave the ball and Felipe goes for it but it goes way over the crossbar.
3' The New York Red Bulls earn their first free kick through Sean Davis in a great spot for a direct shot on goal.
2' Both teams have started with a high pressing game and trying to impose themselves in this game.
1' Sebastian Giovinco gets things underway here!
Kick-off is not far away now as both teams are on the field for the national anthems.
Taking charge of the officiating crew tonight will be center official Drew Fischer. His assistants will be Philippe Briere and Claudiu Badea, the fourth official is Fotis Bazakou, and the man helming the VAR system tonight will be Allen Chapman.
Starting lineup for Toronto FC (3-5-2): Bono; Zavaleta, Moor, Mavinga; Beitashour, Delgado, Bradley, Vázquez, Morrow; Altidore, Giovinco.
Starting lineup for New York Red Bulls (3-5-1-1): Robles; Murillo, Long, Perrinelle; Adams, Davis, Felipe, Royer, Lawrence; Kljestan; Wright-Phillips.
Good evening everyone! In about 15 minutes or so, the New York Red Bulls will face off against Toronto FC in the first of two games of this round of playoff matches. Starting lineups are as follows...
New York Red Bulls 2 - 2 Toronto FC
Prediction: This game could either be a low-scoring tie or a high-scoring one but a draw is the most likely result on the cards. Both teams are lethal in front of goal and are also both vulnerable to a good counterattack due to the system they play. The Red Bulls may want to come out of their shells a little bit more since they are the home team but, Marsch would easily take a draw into Toronto next week, knowing that his team have proven that they can win away from home in a knock-out game already.
The New York Red Bulls will be led by head coach Jesse Marsch while Toronto FC will be led by head coach Greg Vanney.
Projected Lineup for Toronto FC (3-5-2): Bono; Mavinga, Moor, Zavaleta; Beitashour, Delgado, Bradley, Vázquez, Morrow; Altidore, Giovinco.
Projected Lineup for New York Red Bulls (3-5-2): Robles; Perrinelle, Long, Murillo; Adams, Davis, Felipe, Royer, Lade; Kljestan, Wright-Phillips.
The match will be played at Red Bull Arena on October 30, 2017. The game will kick off at 7:00 PM EST and will be broadcast on FS1 in the United States of America and on TSN3, TSN4 and TVA Sports in Canada.
Where Toronto could falter in this first leg, is by examining their record away from home to difficult East teams. Against the Red Bulls, Toronto could only manage a 1-1 draw and that was when the Red Bulls were struggling for consistency. Toronto also had the best defense in the league but if they are not all focused for 90 minutes, gaps do appear for the opposition to exploit. Toronto will want to make sure they do not make any mistakes in this leg, which would allow NYRB to play a counter-attacking game in Toronto a week from now that has proven to be a very effective tool for them.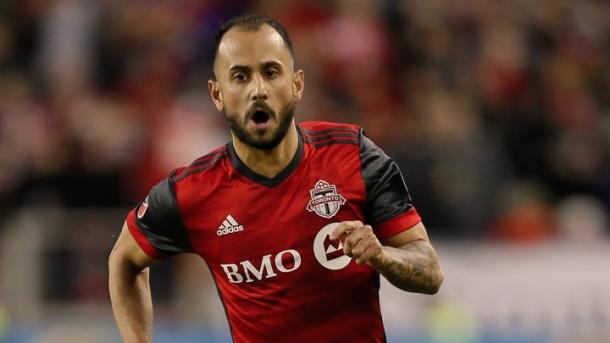 Toronto FC have proven that last year's run to the MLS Cup final was no fluke with a fantastic season that saw them not only book their spot in the playoffs, but also finish out as the 2017 regular season champions. Much has already been said about the exploits of Sebastian Giovinco and Jozy Altidore but the man who may be the difference maker on Monday night, and the cup final should Toronto FC get there, is Víctor Vázquez. Vázquez' eight goals and 16 assists, as well as his ability to connect the midfield and the two strikers up top has helped Toronto finish the regular season with a 20-win game statistics. With him playing at his very best, Toronto have a man who, if the defense focuses on shutting down Giovinco and Altidore, can easily punish them and win the game for Toronto.
It didn't happen too often, but when it did, the Red Bulls defense did show some cracks in it especially in transition. A 3-5-2 formation leaves gaps behind the wing backs and had Chicago been better in their offense, Luis Robles and company would have had a tougher night on Wednesday evening. The Red Bulls defense does give teams the opportunity to get at them if you play the transition well and that will be something the home side will want to prevent from happening too often when they come up against the 2017 MLS Supporters Shield champions.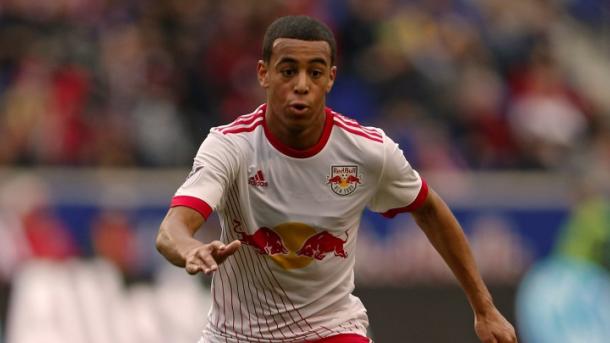 The Red Bulls are coming into form just at the right time. Their dominant 3-0 win over the Chicago Fire in the previous round is a testament to that. Sacha Kljestan and Bradley Wright-Phillips were at their very best but it was the play of youngster Tyler Adams that really caught the eye. Playing in a right wing-back role, Adams was able to not only take on the Chicago defense time and time again, with positive results but when he was needed to get back and defend, he did so with the experience of a veteran player. The Red Bulls' fans will look to him and the rest of the team to put in a similar effort against a potent Toronto FC attack.
It doesn't get much more attractive than this in the Eastern conference as perennial playoff team, New York Red Bulls, go up against the best team in the MLS this year, Toronto FC. The two teams will do better over two legs in what could be the decider of who will win the MLS Cup this year. In the two meeting during the regular season, the Red Bulls got a 1-1 draw at home while Toronto won 4-2 over NYRB on their own home turf. The first leg promises to be another great showcase between two teams capable of producing magical moments at any time.
Welcome everyone to VAVEL USA's coverage of the first leg in this Audi 2017 MLS Cup Playoffs match. This live update will be featuring the New York Red Bulls as they look to use home field advantage against Toronto FC. I'm your host, Kudzi Musarurwa, in Major League Soccer's premier action.