 Let's get two things out of the way right now:
1. BBVA's pitch was horrifically bad, to the point of near-unplayability
2. BBVA's pitch did not break three Portland Timbers.
Yes, it is completely possible to have both of those things be true. The person who can draw me a straight line from that pitch to those injuries will be the first, and will also become rich and famous because no such line exists. The Houston Dynamo, who last I checked played on the same pitch, made it through the entire match without anyone getting injured.
There are two conclusions that one can draw from that information. Either a big part of Houston's match preparation is a detailed mapping session, in which all the players memorize where the holes and divots are and learn how to run around them, all while still playing productive soccer, or the pitch isn't really the problem when it comes to injuries. Injuries happen for a variety of reasons, and unless it's a player-on-player contact injury, it's a fool's errand in most cases to try to determine why an injury happens.
This is, as I mentioned, in no way excusing the condition of the pitch. It was terrible. Even the players - on both sides - said so. But it's also a pitch that got an ungodly amount of hurricane water dumped on it, followed by a very large amount of use. While the field didn't get submerged by Hurricane Harvey, all that rain and all that use have a cumulative effect that isn't good. In short, though, the pitch should not be used as an excuse for anything, because at the end of the day, the Timbers still had to execute and play their game.
And they played...OK. Any team will struggle when they lose that many starters and the Timbers certainly didn't look at peak efficiency for most of this game, but they did what they could and they came out OK, result-wise.
THE GOOD
Fortitude. The Timbers knew their job in Houston was to not give up many, or any, goals. And their solid defensive form from the last few months did not let them down. Before Larrys Mabiala went off injured, he was his usual marauding self, and his turns-out-not-to-be-a-penalty-call play to deny Alberth Elis a chance was a great example of what he brings. Hopefully, his injury isn't too serious, because the Timbers really need Mabiala if they're to make a deep run in these playoffs.
Zero. The Timbers didn't score, but neither did Houston. But they did enough to get a 0-0 draw out of it (an odd sentence, to be sure), which means that as long as they continue their good run of form at home, they should have enough in the tank to advance, even short several starters.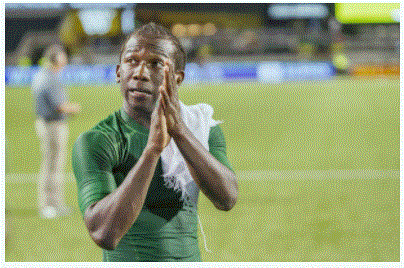 You will definitely be missed, Diego
Image: Diego Diaz/Icon Sportswire via Getty Images
THE BAD
Injuries. Before the game even started, news of Sebastian Blanco burning his foot with boiling water and being unable to start...I mean, ow ow ow ow ow ow ow. David Guzmán didn't even make the trip, so the Timbers were down two (three, with Adi's expected absence) before even starting. Then the Cavalcade of Horror started. Mabiala went down right before halftime, and shortly after that, most Timber fans' worst nightmares were made manifest when Diego Chará crumpled in a heap and immediately made an "it's broken" motion with his hands.
Then, shortly after halftime, Darlington Nagbe limped off the field, and there went all three Timber substitutions. Mabiala's injury is still mysterious, but Nagbe's was described as a "tight hamstring", and Caleb Porter's hopeful he'll be ready for Sunday.
Chará, though...he's done. He broke the fifth metatarsal in his foot, and that's a couple months of inaction right there. He'll be ready for next season, but if the Timbers want to bring another MLS Cup to Portland, they'll have to do it without the guy who makes so much happen for the Timbers in the midfield, and prevents so much from happening for their opponents.
THE UGLY
Pitching. It is really hard to overstate how bad the pitch was. I understand people need to pay for their stadia, but Houston's ownership should really look into either limiting the number of events that play at BBVA Compass or at the very least prioritizing MLS in its scheduling so there's not as much heavy use of the pitch before an MLS showcase game.