 The Timbers and Dynamo played out a tense, tight scoreless draw on Monday night in Houston. Now, in the second leg, the teams head to Portland to decide who gets to advance to face the current MLS Cup holder Seattle Sounders in the Western Conference final. It's the same situation as Seattle faced against Vancouver - Portland must win to advance. A Timbers loss or scoring draw will see the Dynamo go through on away goals.
WHO GOT NEXT
The Timbers had a few injuries going into last weekend, and they picked up three more during the game - Diego Chará had surgery Thursday on a broken fifth metatarsal, so his season is over. Darlington Nagbe and Larrys Mabiala went off with a calf and hip injury, respectively, and Sebastian Blanco and David Guzmán are both also questionable for Sunday. If you're keeping score at home, that's almost half of Caleb Porter's preferred starting XI.
All this leads, of course, to the question "who can play?". Coach Caleb Porter was either being cagey or truly didn't know about the status of the Blanco/Guzmán/Nagbe/Mabiala injuries, so we have no idea who's ready and who's not. If those four can't go, though, expect to see Lawrence Olum in midfield, Roy Miller and Amobi Okugo at the back, and, uh, someone else who's not Nagbe in the midfield. Maybe that would drop Asprilla back and Darren Mattocks and Jeremy Ebobisse share the load up front?
DYNAMIC
Houston, meanwhile, came through the last leg unscathed, injury-wise. They did, however, lose their starting goalkeeper Tyler Deric, who was suspended midweek while a charge of domestic violence against him is being investigated. Otherwise, though, the Dynamo should be able to field the same team they did Monday night. Whether that team has enough to beat the Timbers at home, where the Timbers have only lost twice this season.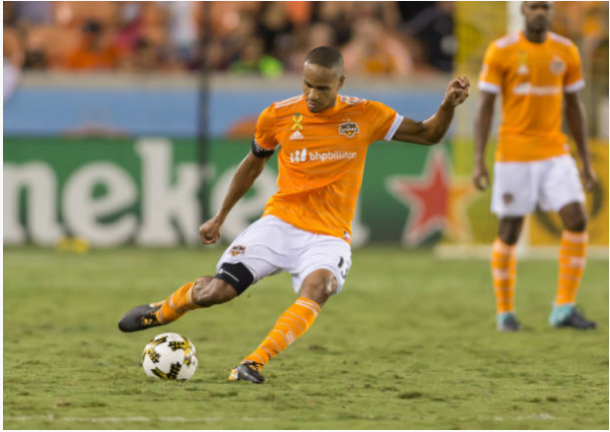 Ricardo Clark is always dangerous
Image: Leslie Plaza Johnson/Icon Sportswire via Getty Images
The Timbers Army will be loud, the team will be ready, and this will be a tough test for a Dynamo team trying to get back to their first MLS Cup final since 2012.
PROJECTED LINEUPS
Portland:
Attinella; Vytas, Ridgewell, Miller, Powell; Okugo, Olum; Nagbe, Valeri, Asprilla; Mattocks
Houston:
Willis; Beasley, Machado, Senderos, Anibaba; Cabezas, Clark; Alexander, Martinez, Elis; Manotas
Referee:
Ismail Elfath
WHAT/WHERE/WHEN/HOW
Portland Timbers vs. Houston Dynamo
Western Conference semifinal, second leg
Providence Park, Portland, OR
Sunday, November 5, 2017
4.30PM PT/6.30 CT
TV: Fox Sports 1, Fox Deportes
Streaming: MLS Live (subscription, blackouts apply)