 Caleb Porter's departure from the Portland Timbers was, to say the least, unexpected. By all accounts, it wasn't a firing, nor was it adversarial or contentious - he just felt it was time to move on. And I can't fault him for that, because sometimes when you take a step back, you see things differently, and that changes your feeling on a thing you didn't think your feelings would change about.
So here we are, coachless. "What's next" is for another post - in this one, I'm going to try to see if I can put some clarity on "why did this happen". My challenge there, though, is that I'm a complete outsider. I have no access to the team, I've never even been in the same room with Coach Porter (unless you count my seat in Providence Park as a 'room'), much less met him, and I have no insight into the inner workings of the Timbers in any way, shape, or form other than what I see in social and traditional media.
What I do have, though, thanks to my day job analyzing stuff, is a desire to figure stuff out. So let's get to some figurin'!
As mentioned, by all accounts, Porter's decision to leave was his. Which leads me to the question of why he made that decision. Let's look at his points of interaction with the Timbers world, and maybe that'll give us some insight. I'm not looking to place blame; I'm looking to understand the not-understandable.
MERRITT PAULSON
The Timbers' owner was the one who was instrumental in bringing Porter to the Rose City back in 2012. In fact, he brought Porter in several months before the 2013 season, just so Porter could get the lay of the land, get his family settled, and take a good look at the team he would be inheriting during the season, so he'd know what needed to be done over the winter to prepare for 2013.
There were never any public (or leaked) indications that Paulson was unhappy with Porter or the job he was doing, even in 2016 when the Timbers defended their MLS Cup by going winless on the road and meekly surrendering the Cascadia Cup on the final day of the season, or even this season when the Timbers struggled their way through summer before turning it on late and making the playoffs.
Neither Porter nor Paulson ever said anything critical about the other at all, at least in public, so it wouldn't seem like an adverse relationship with Paulson, who for all his foibles with Twitter seems to be a pretty hands-off owner as far as roster construction/team setup issues go, would be a thing that would drive Porter out of town.
GAVIN WILKINSON
This is where things get a little murky, and where I wish I was a fly on the wall of a lot of Timbers rooms. It's never been clear from the outside what the org-chart relationship between Wilkinson and Porter is. Wilkinson is, by title, the GM, and in most US sports, that means he picks the players and buys them, and the coach deploys them.
Soccer, though, operates a little differently. The fluid and almost completely subjective nature of the game means that a coach, to fully be able to implement his style, would by necessity have some input into player personnel decisions. The question, in Portland's case and in the case of any team with a similar setup, is how much? How much of the on-field product was Porter's expressed desire for specific players, and how much was his desire for a specific style of player that Wilkinson then went out and found, and that might not have been quite what Porter wanted?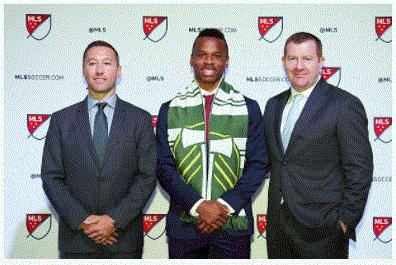 Caleb Porter, Jeremy Ebobisse, and Gavin Wilkinson
Image: Andy Mead/YCJ/Icon Sportswire via Getty Images
More to the point of my question that underpins this piece: did Porter have enough of whatever he felt he needed in order to succeed as a coach here? If Porter wanted more say in roster building and Wilkinson wasn't willing to relinquish that control, that would automatically give the relationship between Porter and Wilkinson a shelf life. In that scenario, I can see Porter taking a team he was given as far as he could, throwing up his hands, and saying "well, that's all I can build with the tools I have", and realizing that his tenure had a ceiling.
Again: I have no actual insight, and this is all just speculation. But a scenario like that isn't totally out of the realm of possibility - Wilkinson wields a lot of power at the Timbers, Thorns, and T2, and probably has a very specific vision for how he wants to build teams. The big unknown is how much he's willing to share that vision with his coach, and if the answer to that is "not much", again, we're back to the fact that one of them would have to either give or go, and with Wilkinson firmly entrenched as Paulson's GM, the coach is probably not going to win a hypothetical struggle with the GM.
THE FANS AND THE CITY
Porter, again by all accounts, seems to love it here. He gets what soccer means to this city and to the fanbase, understands how rivalries work, and in general had a good relationship with both the fans and the city in general. I don't really see anything adversarial here at all, and while we all understand that new challenges are worth pursuing, we're all sad to see him go, grateful for what he did for the Timbers, and, despite some ups and downs, I don't think he will feel pushed out by an angry fan base in any way at all.
So honestly, I don't think there's a smoking gun here - this just seems like a situation where Caleb Porter took the Timbers as far as he felt he could and decided it was time to find another situation where he could do good work and maybe build a program more in his own way.
Thanks for Columbus. Thanks for Cascadia. Thanks for everything, Coach, and best of luck for the rest of your career. Except against the Timbers.