 The following is part of a series of articles that breaks down each Major League Soccer team's roster ahead of the 2017 MLS Expansion Draft, examining who they might protect, who they won't, and why.
The MLS Expansion Draft, the baby shower for new Major League Soccer clubs with aspirations of victory in their hearts, and a brand-new crest on their chests- the gifts? Players from your league rivals.
Brave New World For MLS?
The Expansion Draft is a scary and exciting time for clubs around the league. They're faced with the possibility of losing key players but also may welcome it as an indicator of the growth of soccer in the United States. In 2018, MLS welcomes Los Angeles Football Club who enter the league, backed by a great deal of money and an ownership list that's longer and more famous than the Nile River. To add to that, LAFC is coached by none other than former United States Men's National Team manager, Bob Bradley, who's MLS and assorted coaching experience is matched by few others in the league.
Bradley recently gave insight into how he's going to build this LA team when he stated, "If you have experience and young talent, that's ideal. I still have that picture in mind."
With that in mind, let's examine one of the many mechanisms that Bradley has at his disposal to build his squad.
So what is an Expansion Draft and how does it work?
Well, the Expansion Draft is a uniquely American concept, not exclusive to MLS, where a new team entering a league gets its pick of players from other teams in the league to build the base or framework of the team for their initial season. While the format has changed a bit since it was first held in 1997 for Bradley's Chicago Fire and Carlos Cordoba's Miami Fusion, the concept is still essentially the same.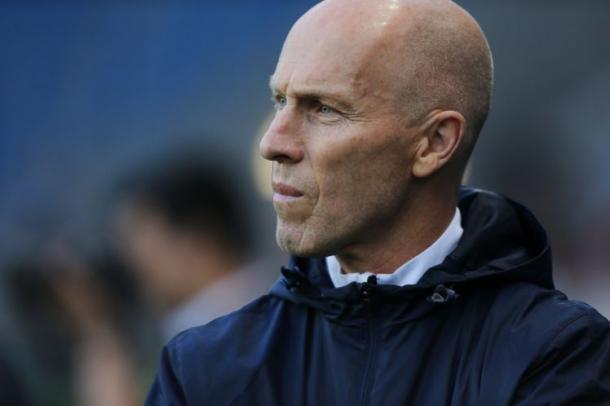 This year's draft will take place on December 12th at 2 PM EST. Here's a brief summary of the rules:
1. LAFC is allowed five picks, no more than one player per team can be selected.
2. Homegrown Players and CURRENT Generation Adidas players are automatically protected. Designated Players are NOT automatically protected, however, if they have a no-trade clause they must be included in a team's protected 11. Free Agents are eligible for selection however retired players are not.
3. Clubs are restricted in the number of international players they make available. That restriction is their current number of international players, minus three.
For the full list of rules click here
With that in mind let's look at the Philadelphia Union:
The 2017 season
Philadelphia finished eighth in the East, a disappointing 8 points off the final playoff spot and failed to build on a playoff appearance in 2016, despite spending to bring in reinforcements at left back, central midfield, winger, and center forward.
Expected departures
The fact that Option Decline Free Agents and Out of Contracts Free Agents are part of the Expansion Draft complicates things for Philadelphia. The Union declined quite a few contracts at the beginning of November, with assistant coach Mike Sorber also departing. Several of the players who had their contract options declined are supposedly in negotiations with the team to return in 2018 at a lower salary including Fabian Herbers who spent most of the 2017 season injured and Ilsinho. Meanwhile, Aaron Jones is likely to sign with the Union's USL affiliate, Bethlehem Steel on a full-time basis.
Of those who are likely to depart entirely or whose situations aren't entirely clear, a few stand out. The ever-frustrating Roland Alberg has already signed with CSKA Sofia, Chris Pontius who qualifies as a free agent is expected to return to his native California with either the LA Galaxy or ironically enough, LAFC, and DP and former captain, Maurice Edu could retire entirely due to injury problems.
Charlie Davies and Ken Tribbett could both drop down a level to the USL in search of playing time. Meanwhile, Oguchi Onyewu, whose departure was a surprise given his 22 starts for the Union in 2017 is supposedly fielding offers from other teams and his departure paves the way for Union homegrown defender Auston Trusty to potentially see minutes in 2018. Finally, Giliano Wijnaldum and Fabinho's departures leave the Union without a recognized left back on the roster. Expect one of the two to potentially return but with Wijnaldum failing to unseat the Brazilian full time in 2017 despite Fabinho's aging legs and greater salary there may be some questions over which of the two returns?
So what's it all mean in the context of LAFC?
Well, the Union have several players automatically protected as per the Expansion Draft rules including center backs Joshua Yaro and Auston Trusty, as well as midfielders Anthony Fontana and Derrick Jones.
If Ilsinho and Herbers have a future with the team, that leaves 17 players vying for 11 protected spots with the others consisting of the following players: Warren Creavalle, Jack Elliott, Haris Medunjanin, Alejandro Bedoya, Keegan Rosenberry, Richie Marquez, CJ Sapong, Andre Blake, Marcus Epps, Fafa Picault, John McCarthy, Adam Najem, Jay Simpson, Ray Gaddis, and Jake McGuire. The status of Eric Ayuk, who's currently on loan to Swedish second division side, Jönköpings Södra IF is currently unclear.
The Absolute Locks
A number of these players who form the core of this team are absolute locks to be protected by the Union. Andre Blake is arguably one of the best goalkeepers in MLS and is a match winner in his own right. Expect him to leave the Union eventually but ideally, it'll be to Europe for big bucks. In defense, Rookie of the Year finalist, Jack Elliott has the potential to marshal the back line for years to come, while Richie Marquez, despite having a poor 2017 is the senior most center back on the roster, expect him to bounce back to 2016 form an be a mentor for Auston Trusty.
In midfield, Designated Player and captain, Alejandro Bedoya and Haris Medunjanin formed a well-balanced midfield partnership that's likely to continue into 2018, Bedoya might get moved around due to his versatility and the quality of Derrick Jones, but he'll be a part of this team regardless.
Finally, up front C.J. Sapong had a stellar 2017 despite the Union overall failing to impress. The Manassas, Virginia native shook off his typical summer goal-scoring slump to hit a Philadelphia and personal best 16 goals this past season. He also led all Americans in goal-scoring in MLS and earned his first USMNT call-up since 2012.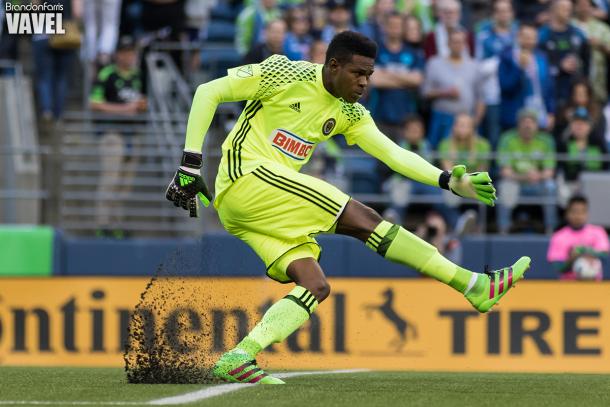 The best of the rest
The remaining five spots are a little less clear. Despite being kind of a horrendous finisher, Fafa Picault had a solid first season in MLS putting up 7 goals and 3 assists in 28 games. His pace is invaluable to an otherwise slower Union team and while he might make way for a DP winger, he'd still provide a great late option off the bench.
As mentioned earlier, the Union are still high on Herbers and likely declined his contract because he was coming off of a Generation Adidas deal that they didn't have to pay for. Despite spending most of 2017 out injured, the German's versatility, stamina, and his rookie year numbers- 3 goals and 7 assists in 32 games show why the Union would be likely to hold on to him.
Keegan Rosenberry's 2017 was kind of a nightmare. Abject performances, loss of his starting spot, and a team suspension for social media comments. However, like Herbers, Rosenberry showed what he's capable of in 2016, finishing runner-up for Rookie of the Year and earning a January camp call-up. At just 23, Rosenberry is still the best option for the Union in the long term and given his fighting character expect him to bounce back in 2018.
The final two spots are where questions begin to creep in. Like Picault, Ilsinho is a bit of a polarizing character. His tendency to make mazy runs to nowhere and not do enough on the defensive end had folks hating him on the wing but when switched to the attacking midfield spot he's shown flashes of brilliance with his vision and passing ability. Having put up 6 goals and 5 assists in 27 matches for the Union this season, the team certainly flourished with him in the #10 spot but his tendency to drift in and out of games and his salary of $470,000 had fans begging for a designated player to replace him. Whether or not that happens, he still has value at a reduced salary, especially with Adam Najem and Anthony Fontana not ready to start on a regular basis.
Finally, rookie Marcus Epps completes the protected XI. While lacking in end-product in 2017 with just 2 goals and an assist in 19 matches this season, Epps was frequently an impact sub for the Union this season, bringing pace and dribbling ability late on in matches. The Union lack depth at winger and at just 22 years old and a $53,004 salary, there's plenty of time for Epps to grow.
Potential picks for LAFC
Oguchi Onyewu- Gooch showed he had plenty still left in the tank in 2017 with 22 starts and 1 goal. He's got an established relationship with Bradley who coached him for the USMNT, provides leadership both on and off the field, and at a league minimum salary could be a nice bargain.
Ray Gaddis- While there are better options around the league, Gaddis is a serviceable stay at home right back with five years' worth of MLS experience who managed to win back his starting spot for Philadelphia in 2017 despite likely not being the long-term guy for the Union. He's a nice option for a defense-first sort of coach like Bradley and he's a consummate professional who's a great locker room presence with his positivity and a good sense of humor. While LAFC could do better, they could also do a lot worse.
Warren Creavalle- Creavalle has been in and out of the Philadelphia starting 11 for the entirety of his Union career. A steady presence at defensive midfield, he's the sort of non-flashy player every team needs and with the emergence of Derrick Jones, he may be expendable for the Union. However, for LAFC, one team's loss in another team's gain.