FULL TIME: Robert Sibiga blows the final whistle. The first leg of the Eastern Conference Championship ends the way it started. We'll see you on the 29th for the return leg at BMO Field in Toronto, Ontario! From MAPFRE Stadium, I'm Tyler Fisher, thank you for joining me tonight!
The fourth official on the side has indicated a minimum of four minutes of stoppage time.
85' BONOOOOOOO goal. Alex Bono comes up with a huge save. Meanwhile, a yellow card was just issued to Edwards of Toronto.
84' Toronto FC sub: Edwards in, Morrow out
82' Manneh making a quick impression. His shot goes just left of the goal. Less than 10 minutes left in the match.
81' Toronto FC Sub: Cooper in, Hasler out
79' Crew SC sub: Manneh replaces Santos
21,289 is tonight's attendance here at MAPFRE Stadium. Looks like more, but it's a sell-out!
Manneh looks to be the man getting suited up for Columbus.
75' Vazquez draws a foul in the left channel. Free kick Columbus
73' The best shot we've seen all night just came from Artur of Columbus. SOOOO close to opening the scoring.
72' Great buildup by Columbus. The cross in by Afful is easily taken by Bono
70' Toronto FC sub: Zavaleta replaces Delgado
69' Free kick taken is blocked by the wall. Higuain hits a volley shot that sails way high of the net.
68' Yellow card caution to Toronto FC Jonathan Osorio.
67' Santos is taken down. Free kick Columbus.
66' Score still 0-0. Both teams look to be playing to the draw it seems like.
Artur makes a recovery run to shoulder Ricketts off of the ball. Great recovery by the Brazilian.
62' Corner kick Columbus.
56' Kamara pulled back on the run. Free kick Columbus.
Looking at the replay on the video board, Bono did indeed take down Santos. The referee got it wrong there.
54' Yellow card caution to Crew SC Jonathan Mensah.
52' Santos is issued a yellow card for embellishment.
START OF SECOND HALF
HT: Columbus and Toronto head into the locker room all level at 0-0
45' Meram sends in a ball that Kamara goes up for, but it hits off his back and out for a goal kick.
33' Artur of Crew SC is issued a yellow card.
32' Corner kick Columbus. Nifty play between Williams and Afful.
28' Corner kick Toronto.
This place is loud. The atmosphere is ridiculous.
Boos ring out among MAPFRE as Bradley touches the ball.
Still working on connectivity issues everyone. Bare with me.
17' Kamara is pulled down inside of the penalty box. No call. Play on.
Willaims favoring his right hand. Meanwhile, Crew SC is awarded a free kick. Definitely in Santos' wheelhouse
12' Robert Sibiga whistles a handball on Trapp. Free kick Toronto in a dangerous spot.
10' Dangerous passing inside their own box Crew SC. Steffen clears it out.
Sorry guys. Having connectivity issues in the outside pressbox. Working to get it resolved.
2' Raitala finds Kamara on the run but he's whistled for offside.
KICKOFF!!!! Toronto starts the first half!
19:56 PM EST: Lines galore at the gates of MAPFRE Stadium. Looking to fill up about the 15-20 minute mark.
19:19 PM EST: Any questions? Catch me over on Twitter (@LWOS_TylerF) and I'll be able to answer them before kickoff!!
19:09 PM EST: Brad Stuver gets a warm ovation as he walks over to the supporters.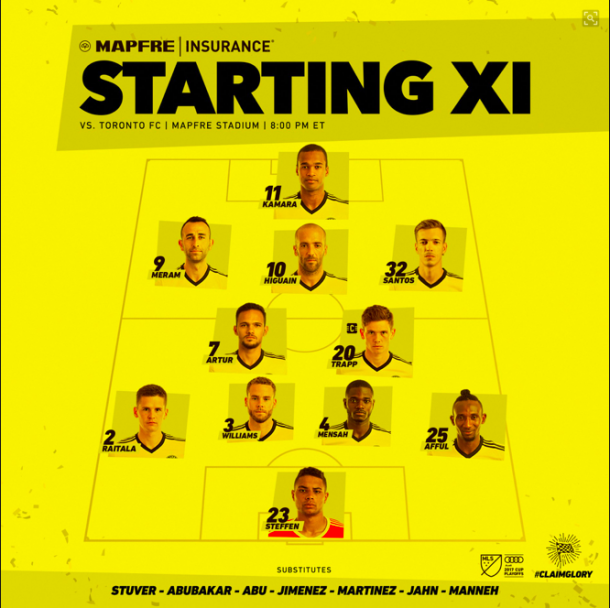 Here is the starting lineup for the home team, Columbus Crew SC.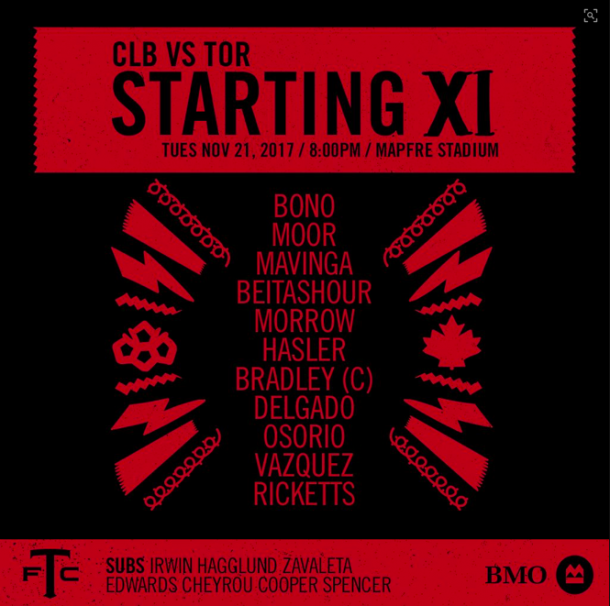 Here is the starting lineup for Toronto FC.
18:51 PM EST: Nordecke right below me, already 1/8 of the way filled up. This place is going to be loud.
18:40 PM EST: Toronto FC players have taken the field for their team walkthrough. Remember, they are without Altidore and Giovinco for tonight.
18:18 PM EST: I'm stuck in an auxiliary press box, due to the high number of media outlets covering tonight's match. I could get used to this to be quite honest.
18:08 PM EST: Coming live from a chilly night in Columbus, as Columbus Crew SC host Toronto FC in the first leg of the Eastern Conference Finals! I'm Tyler Fisher, thanks for joining me!
Columbus Crew SC 3 - 1 Toronto FC
With Toronto being first place in the standings, they are the team to beat this post-season. But Columbus is the underdogs against their Trillium Cup counterparts. It was a big shock when they were able to get past Atlanta United, and almost blew their aggregate lead against New York City. But you can't count this team out, as they are fighting not only for themselves but for the fans and city of Columbus. Columbus will take the game in the first leg of the Eastern Conference Finals.
The match details a lot. The game will be held at MAPFRE Stadium in Columbus, Ohio. Game time is set for 8 pm EST. You can catch the match on ESPN in the US, TSN 1/3/4/5 in Canada, TVAS, MLS Live, the WatchESPN app, and ESPN Deportes. Match officials are Robert Sibiga as the center, assistant referees Peter Manikowski and Ian Anderson. The fourth official is Jose Carlos Rivero while Dave Gantar will be the Video Assistant Referee (VAR).
Bono;
Mavinga--Moor--Zavaleta
Morrow--Vazquez--Bradley(c)--Delgado--Beitashour
Ricketts--Osorio
Here is the projected lineup for Toronto FC. They are led by Head Coach Greg Vanney and will be favoring a possible 3-5-2 formation.
Steffen;
Jimenez--Williams--Mensah--Afful
Artur--Trapp(c)
Meram--Higuain--Santos
Kamara
Here is the projected lineup of the home team Columbus Crew SC. They are led by Head Coach and Sporting Director Gregg Berhalter. They will be sporting the infamous 4-2-3-1 formation.
INJURY REPORT: QUESTIONABLE: Drew Moor (ankle sprain), Victor Vazquez (pelvic injury)
"It's one of the oldest teams in the league. That stadium has been there for so long. I like that kind of stuff, like playing in stadiums like that. When they fill up that crowd, it's really good. I've seen the [US] national team play there against Mexico. The atmosphere looks great. Hopefully, we can get that for our game," said the forward.
Jonathan Osorio, the teams 'football geek' knows that fans won't just be treated with a hefty playoff game, but with an iconic venue in MAPFRE Stadium, which was the first Soccer Specific Stadium in the United States.
"Our supporters have been great all season. It doesn't surprise me at all. To have them in Columbus, pushing us along, is priceless; Especially for a game of this magnitude. We're very grateful," said Reds forward Tosaint Ricketts.
Toronto is coming in full force. More than 1,000 fans are making the trip south of the Canadian/American border to see their beloved Reds play against their rival. The official ticket allotment for an away supporter group is just a little under 300. However, many of the other seats throughout the stadium have been snatched up by other Toronto fans, which would then push that figure to 500, or close to 1,000.
The big story coming into the Conference Championship for Toronto is that they will be without the 'Atomic Ant' in Sebastian Giovinco (yellow card accumulation) and striker Jozy Altidore (red card for tunnel brawl against New York Red Bulls). Toronto is looking for the first treble in league history as they look to make it to the MLS Cup Final for the second time in two years.
The Reds rightfully earned the easy route into the post-season by clinching the Supporter's Shield, all while finishing in first place in the standings. By doing that, they were granted a bye and placed automatically into the conference Semi-Finals, where they would face off against the Red Bulls.
INJURY REPORT: OUT: Alex Crognale (sports hernia surgery) Gaston Sauro (left PCL surgery), Ben Swanson (right ankle surgery), Connor Maloney (L knee meniscectomy)
Columbus is in good hands as they welcomed back Harrison Afful and Ola Kamara from International Duty with their respective countries.
It was announced a week ago that the first leg of this series was sold out, although the official league announcement was made just a few days ago.
"I wouldn't be human if there wasn't a little something extra; I'm not going to hide from that," said Williams with a smile. "The banter is constant. We have a group thread and I've been texting a lot of those guys all year. It's funny, that thread hasn't popped up lately."
For defender Josh Williams, he knows what the opposition is capable of, as he prepares to face off against his former team.
The door of hosting MLS Cup Final for the second time in three years is open for Columbus. Despite finishing the season unbeaten in 11, throughout some -- or all -- of the playoffs, they have been labeled as the underdogs. Keeper Zack Steffen has been stellar in net for the Black and Gold, and the commanding 4-1 lead in the first leg of the Conference Semis against NYCFC, the team will more than likely aim to take an early lead against Toronto FC.
The rivalry became more intense when fans of TFC bought more than 2,500 tickets to the inaugural match at MAPFRE Stadium (formerly known as Columbus Crew Stadium) on March 29, 2008. Columbus would win 2-0 at home. In the next to return fixtures held at BMO Field, both teams played out to a 0-0, then 1-1 draw. Columbus would claim the Cup having the best point score, winning 5-2.
Both respective mayors of both clubs at the time initiated the rivalry. In '08, Columbus Mayor Michael B. Coleman and Toronto Mayor David Miller started a wager on their team during the first installment of the rivalry. Whichever team wins, the losing teams Mayor has to wear the winning team's jersey.
Since joining the league in 2007, Toronto never had a rivalry until the following year, when the Trillium Cup was introduced to both Columbus and Toronto. The Trillium Flower is the official flower of the Canadian Province of Ontario, and official wildflower of Ohio.
The Trillium Cup rivalry between these two teams actually means something for once!
Salutations from a chilly night here in Columbus, Ohio! My name is Tyler Fisher, and I will be your guide through this electric matchup of the Eastern Conference Finals between Toronto FC as they travel south of the Canadian border to take on Columbus Crew SC! So crack open a cold one with the boys, and relax. This is gonna be interesting.