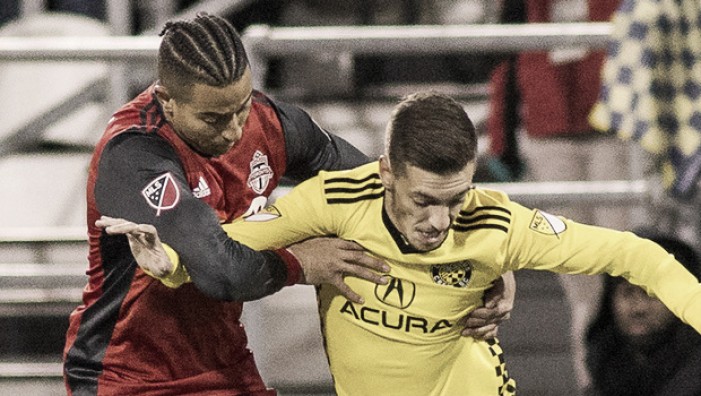 The first leg of the Eastern Conference Final ended in a 0-0 draw as both Columbus Crew SC and Toronto FC failed to find the goal that would give them an advantage in the second leg.
Toronto came into the game missing key men Sebastian Giovinco and Jozy Altidore and their presence was clearly missed as the away side did not register a single shot on target. The Crew made some opportunities later on in the match but they will know that this was a missed opportunity for them to gain an advantage going into next week's match at BMO Field.
A tepid first half sees neither side threaten the goal
The first 45 minutes of this game would not have been great viewing for fans and neutrals alike of Major League Soccer. With supposedly two of the best teams in the East going head-to-head in the Audi 2017 MLS Cup Playoffs, the first half ended up being one that many will wish to forget. The long break in between matches may have been a factor for both sides but ultimately, the use of more defensive tactics by both Gregg Berhalter and Greg Vanney was the root of the lack of goals.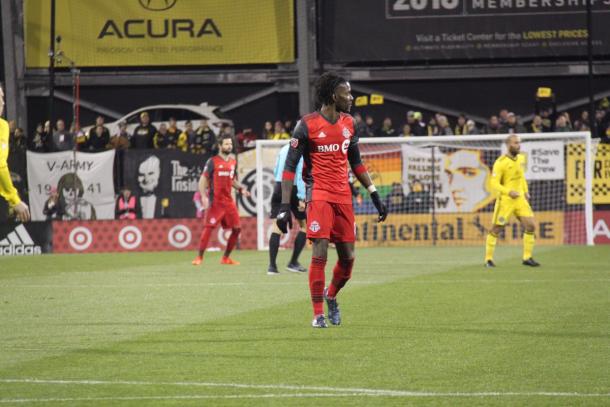 Víctor Vázquez tried to bend in a free kick in the 12th minute and Federico Higuaín almost found a teammate with a great cross in the 16th minute but neither player could stay true to their season form and find the breakthrough for their teams. Nothing else was created from then on and both teams went into the halftime break with nothing to show for their efforts.
Columbus push for a game winner but none is forthcoming
The home side came out of the locker rooms looking to get the goal that would help them in the second leg. After Alex Bono had come out to try and close down a shot, Drew Moor made a fantastic block in the 51st minute to prevent Ola Kamara from handing the Crew the first goal of the night. Midfielder Artur then tried his luck from a long way out but his effort went narrowly wide.
Kekuta Manneh also had a go from distance in the 82nd minute but again, the accuracy was lacking and the shot went wide of the Toronto goal. The best chance of the game fell to Harrison Afful in the 85th minute when a poor clearance by Moor fell to his feet inside the penalty area. Bono made a fantastic save to stop the close-range effort and Kamar's rebound was blocked by the recovering Toronto defenders. Afful will know he should have finished from that range and the miss may come back to haunt Columbus next week.