 The Houston Dash finally have a new head coach. Vera Pauw, who has coached four national teams including Scotland, Netherlands, Russia, and most recently South Africa, will take over in Houston after Randy Waldrum and the organization parted ways back in May, and assistant Omar Morales stepped in as interim for the remainder of the season. The news was reported by Cory Roepken from the Houston Chronicle, indicating that the Dash will make the announcement by Tuesday afternoon.
Pauw becomes the fourth hire in the NWSL in recent weeks after Vlatko Andonovski moved on from Kansas City to the Seattle Reign, Sky Blue FC announced Denise Reddy as head coach, and the new NWSL Salt Lake City-based team hired Laura Harvey. Pauw also increases the number of women head coaches in the league to three.
Pauw is a native of the Netherlands, earning 89 international caps as a defender. She was the first Dutch player to play professionally in Italy in 1988. The 54-year-old last spent time in South Africa, building its women's national team from March 2014 through August 2016. After the 2016 Rio Olympics, she resigned from her duties. Her impact, however, did not go unnoticed, and she was one of 10 shortlisted candidates for FIFA's Best Women's Coach of 2016.
There are major expectations for Pauw coming into the Dash, who despite all of their talent in previous seasons with Carli Lloyd, Morgan Brian, Kealia Ohai, Rachel Daly, Janine Beckie, to name a few, have yet to reach the playoffs. With the hire, the Dash hope that Pauw can make the best of the talented roster.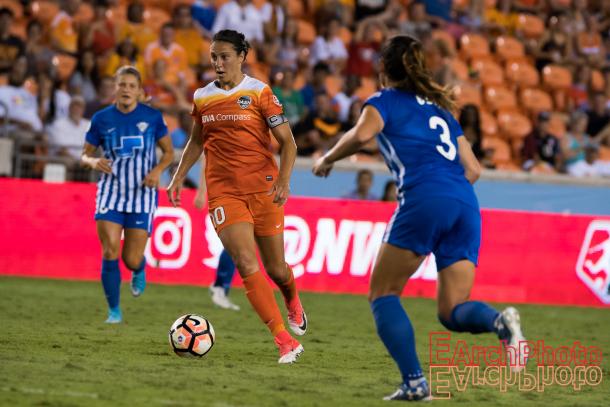 "I work for players everywhere I go," Pauw said. "The choices I make are based on whether I see challenges to get players to another level...What I like about the Dash is that there is a lot of individual potential. You can see they have a lot of talent to solve football situations. There is a lot of diversity in the team. If you balance that with the qualities the team is missing you can really get somewhere."
The Dash have finished eighth out of 10 teams in two-straight seasons. In 2017, Houston enjoyed a six-game unbeaten streak before being eliminated from playoff contention in mid-September.
Pauw quote courtesy of the Houston Chronicle.