 The Seattle Reign have agreed to a new contract with Welsh midfielder Jess Fishlock for the 2018 National Women's Soccer League season. The details of the contract have not been released, as is policy for the Reign and the league. The 2018 season will be Fishlock's sixth season with the league. She is one of just five players that have been with the club since it's inaugural 2013 season.
Fishlock is the second-most capped player with the Seattle Reign, playing in her 98th regular season game at the end of the 2017 season, behind only defender Lauren Barnes. She has scored 24 goals and notched 16 assists in her time with the Reign. Fishlock played and started in 20 games during the 2017 season, scoring seven goals. Her career best in the NWSL is eight goals during the 2014 campaign. Only Kim Little and Megan Rapinoe have scored more goals for the Reign in the club's history.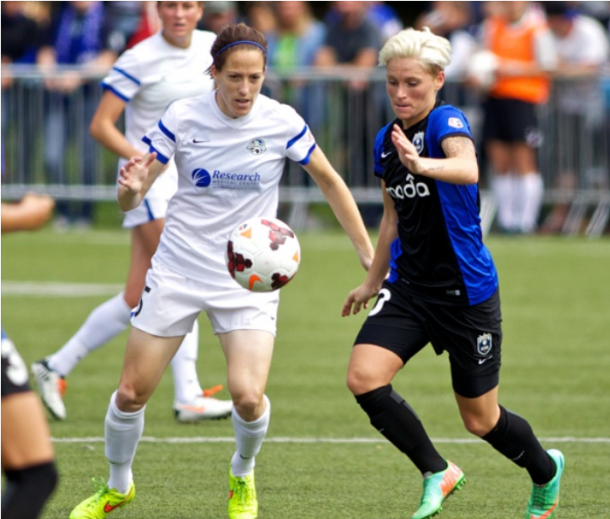 New Seattle Reign head coach Vlatko Andonovski said "Jess is one of the best midfielders in the world — when she is on the field she has an ability to run the show. I think that every coach in the world would like to have Jess on their roster. I'm extremely excited to be able to work with a player of her caliber." Andonovski was hired after former head coach Laura Harvey left the team following the 2017 season. He moved from FC Kansas City, which folded and moved to Salt Lake City. Harvey would later join the Salt Lake team as their new head coach.
Jess Fishlock was a member of the 2014 and 2015 Seattle Reign teams that won the NWSL Supporters' Shield, awarded to the team that had the best record over the regular season. In both years the Reign were defeated by FC Kansas City in the playoff finals. The Reign finished the 2017 season in fifth place with nine wins, seven draws, and eight losses.
Fishlock is currently playing in the Westfield W-League with Melbourne City FC. She has scored two goals this season in her three appearances with the team.